Our 150th birthday
The Howard League for Penal Reform celebrated its 150th birthday throughout 2016.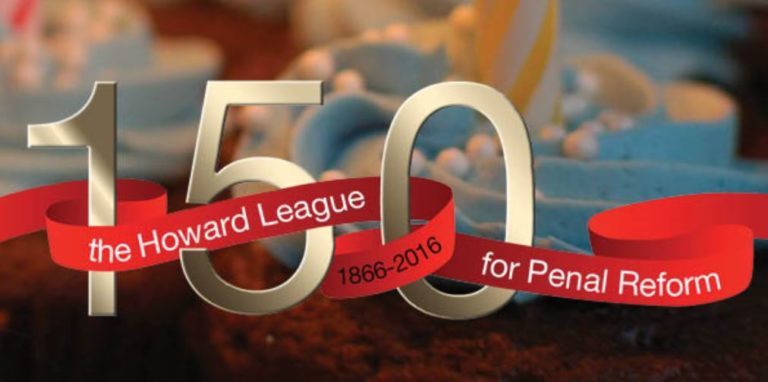 The Howard League for Penal Reform is the world's oldest penal reform charity. We were celebrating our 150th birthday throughout 2016 with a busy programme of events and fundraising activities.
Donate your birthday
Celebrities including historian Bettany Hughes, author Anne Sebba and journalist Deborah Orr became Birthday Ambassadors for the Howard League. They donated their birthdays, asking friends to make donations to the charity instead of giving presents.
Many Howard League members and supporters also donated their birthdays to the Howard League. Read their birthday stories here. Will you help us by donating your birthday in 2017?
Challenge Events
We are giving people the chance to take part in fundraising challenge events.  Our supporters took part in the Vitality Brighton Half Marathon, the Great North Run and the Royal Parks Foundation Half Marathon. If you would like to take part in Virgin Money London Marathon 2017, visit our events page for further information.
John Howard's Birthday
John Howard was born on 2 September 1726. On the 290th anniversary of his birth the Howard League published a pamphlet, Asking new questions: Lessons relearned from John Howard, by Professor Thomas Vander Beken from Ghent University. The pamphlet is based on Professor Vander Beken's research from travelling to prisons across Europe, following John Howard's footsteps.
Today, the Howard League for Penal Reform continues to campaign for change in the criminal justice system, acting as an independent voice just like John Howard. What is salutary for us penal reformers today is how relevant his work and ideas remain.
Prison diaries
To mark the Howard League for Penal Reform's 150th birthday, we invited prisoners to tell us what life is really like in prison by keeping a diary for a day. The day we chose – Friday 2 September 2016 – was significant as it would have been the 290th birthday of John Howard. More than 170 men, women and children, held in prisons across the UK, kept a diary on the 290th anniversary of John Howard's birth.
Justice and Penal Reform conference
We held a conference at Keble College, University of Oxford, which drew academics, inspectors, pollsters and politicians from the UK, Ireland, Canada, Hungary, Philippines, Croatia, Brazil, US, Bangladesh, India, Australia, Turkey, Pakistan, Poland, Netherlands, South Africa, Israel, Slovenia, Belgium and Morocco.
Among the speakers were HM Chief Inspectors of Prisons and Probation, Peter Clarke and Dame Glenys Stacey, who delivered their first major speeches in their new roles.
They were joined in a panel session by the heads of three other major watchdogs: Dame Anne Owers, Chair of the Independent Police Complaints Commission; Sir Thomas Winsor, HM Chief Inspector of Constabulary; and David Strang, HM Chief Inspector of Prisons for Scotland.
More than 100 papers were delivered during the three-day event in March.
Exhibition in the House of Commons
We have led a host of successful campaigns since we began life as the Howard Association back in 1866 – including drives to abolish the death penalty; to set up the probation service; to scrap corporal punishment; and, more recently, to repeal the criminal courts charge and overturn restrictions on sending books to prisoners.
These achievements – and information about the charity's current campaigns – were promoted in an exhibition in the House of Commons from Monday 29 February to Friday 4 March 2016.
The Howard League's 150th Birthday Party
On 30 November we held our 150th birthday party which was attended by our members and supporters. This was an event aiming to raise funds towards the next 150 years of the Howard League.
To help us continue to campaign for less crime, safer communities and fewer people in prison in years to come and would like to make a donation, please do so here.  We are grateful for your support.
Join us

Add your voice to our movement for change. Every voice counts and we hope that you will add yours.

Join us today

Support our work

Everything we do is focused on achieving less crime, safer communities, fewer people in prison. We need you to act now for penal reform.

Ways to support