The John Sunley Prize
A prize to celebrate excellence and impact of post graduate research into penal issues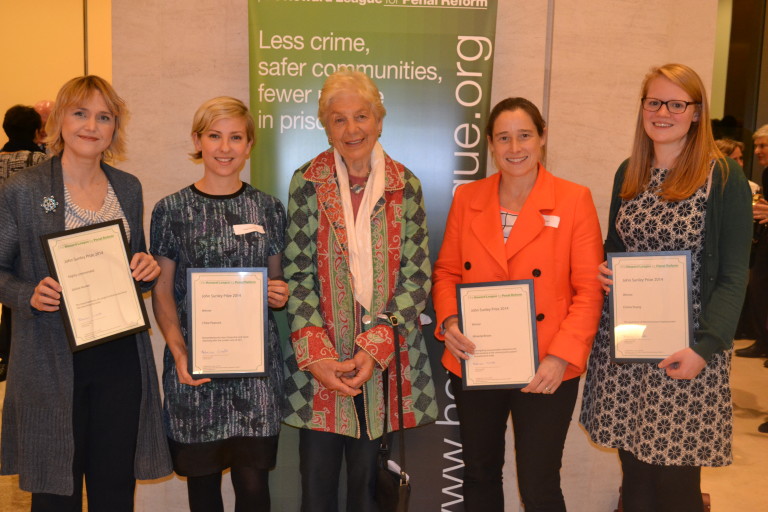 The Howard League for Penal Reform is seeking to reward and encourage Masters students who generate outstanding research dissertations that often are both topical and original; and can also offer genuine new insights into the penal system and further the cause of penal reform.
Each year thousands of exceptional Masters dissertations are researched and written but few are even lodged in university libraries or shared with the wider penal affairs community. Many will be of publishable standard and would contribute to the pool of knowledge about penal issues. The John Sunley Prize has been established to ensure that the best of these dissertations now get the recognition they deserve.
Sunley Prize 2017
The following ten entries have been shortlisted for the Howard League's John Sunley Prize.  The winners will be announced at the Howard League's AGM on 8 November 2017.
The contemporary pains of imprisonment: A study of HMP Grendon
Alisa Bridges, University of Oxford
Rethinking prison radicalisation: Why a new approach is needed
Eleanor Brown, University of Oxford
An exploration of the challenges families experience when a family member is convicted of a sex offence
Michelle Brown, University of Cambridge
Should a direct regulation be used to implement the healthy prisons agenda in England?
Nasrul Ismail, University of West of England
Meaning and effects of yoga in prison
Azra Karup, University of Cambridge
Incentives and earned privileges: Exploring prisoner perceptions of staff in HMP Wandsworth
Zarek Khan, University of Cambridge
Policing 'community': Race and Britain's cohesion agenda
Jordan Konell, University of Oxford
Regulating motherhood: An examination of the legal framework and personal interactions influencing the trajectory of mothers through the German criminal justice system
Anneke Petzsche, University of Oxford
Policing coercive control: A critical exploration in the challenges of policing controlling or coercive behaviour in the implementation of a discrete offence
Sylvie Rosseter, University of Leicester
'Double deviancy': The subjectivities of 'motherhood' and 'criminality' within the criminal justice system
Olivia Tolaini, SOAS
Join us

Add your voice to our movement for change. Every voice counts and we hope that you will add yours.

Join us today

Support our work

Everything we do is focused on achieving less crime, safer communities, fewer people in prison. We need you to act now for penal reform.

Ways to support