The John Sunley Prize
A prize to celebrate excellence and impact of post graduate research into penal issues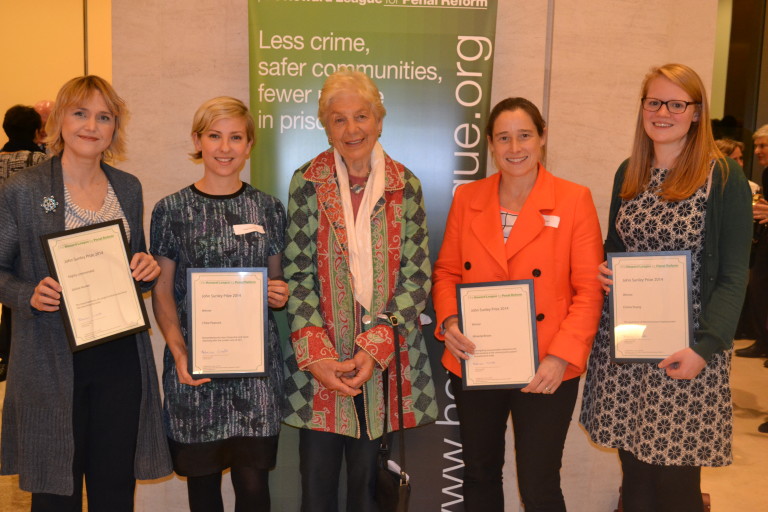 The Howard League for Penal Reform is seeking to reward and encourage Masters students who generate outstanding research dissertations that often are both topical and original; and can also offer genuine new insights into the penal system and further the cause of penal reform.
Each year thousands of exceptional Masters dissertations are researched and written but few are even lodged in university libraries or shared with the wider penal affairs community. Many will be of publishable standard and would contribute to the pool of knowledge about penal issues. The John Sunley Prize has been established to ensure that the best of these dissertations now get the recognition they deserve.
Sunley Prize 2017
Prize
There will be three recipients of the Howard League for Penal Reform's John Sunley Prize, each of whom will receive £1,000.
Each of the winning dissertations will be published on the Howard League's website. We will ask prize winners to write a short article based on the dissertation for publication in the Howard League ECAN bulletin.
Process and time frame
The prize will be judged by a panel (the Competition Panel) made up of representatives from the Howard League for Penal Reform and the Howard League for Penal Reform's Research Advisory Group. The Competition Panel will assess the quality, originality and the potential to add to the pool of knowledge about penal issues and further the cause of penal reform.
Entries
Entries must be submitted by completing Sunley Application Form. All entries must be supported by two university authorities (from a university email account) to (i) confirm your attendance on the course (e.g. head of course/department) and (ii) focus on the work undertaken for the dissertation (e.g. dissertation supervisor).
The deadline for 2017 entries is 24 July 2017. See the application form for details of the application process and documents required.
Due to the expected volume of interest in this competition entries will be shortlisted prior to the final decisions being made by the competition panel.
The three winners will be expected to attend the award giving event and provide a high-resolution digital photograph of themselves for publicity purposes.
Timetable
November 2016
Call opens – applicants receive confirmation once application is received
24 July 2017
Call closes
August 2017
Short listing results – those to be considered by the Competition Panel will be informed
September/October 2017
Competition Panel deliberates – winners informed
November 2017
Award ceremony at the Howard League AGM.
The Competition Panel reserves the right not to make the award in the event that the standard of submissions is not deemed sufficient.
Join us

Add your voice to our movement for change. Every voice counts and we hope that you will add yours.

Join us today

Support our work

Everything we do is focused on achieving less crime, safer communities, fewer people in prison. We need you to act now for penal reform.

Ways to support