Redesigning Justice conference 2018
Redesigning Justice: Promoting civil rights, trust and fairness international conference was held on 21–22 March 2018 at Keble college, Oxford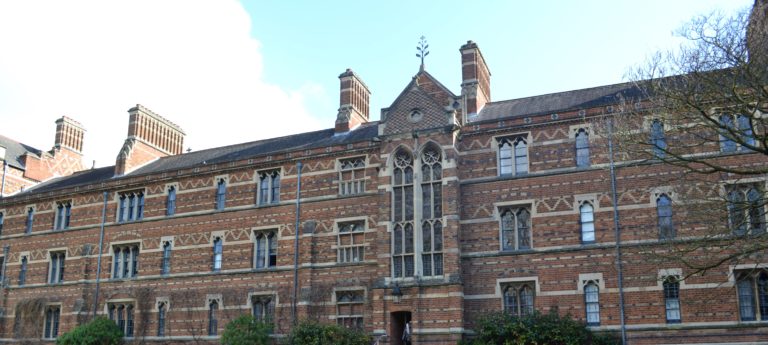 The conference brought together academics, policy makers and practitioners from a variety of disciplines to shine a light on seemingly intransigent aspects of justice systems, including why prison is still so central to justice responses to crime.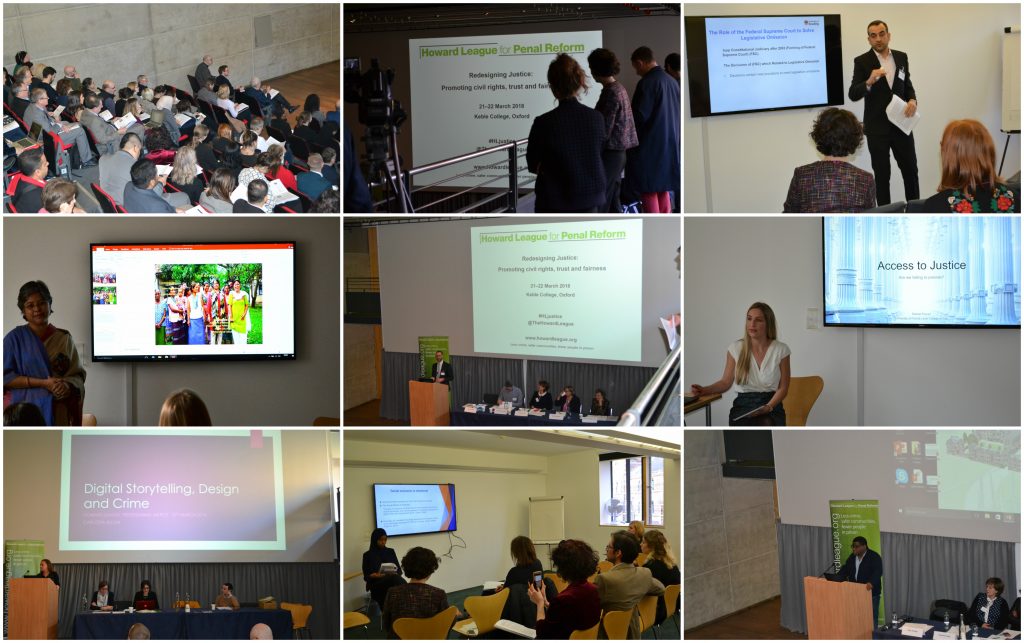 Plenary speakers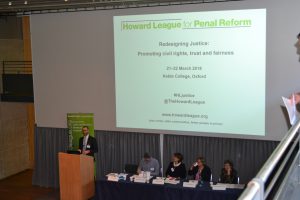 Andrea Albutt,President, Prison Governors Association
Professor Sophie Body-Gendrot, Emeritus Professor University of Paris-Sorbonne, Researcher at CNRS-CESDIP, Co-editor of The Routledge Handbook of European Criminology
Professor Danny Dorling, Halford Mackinder Professor of Geography, Fellow of St Peter's College, University of Oxford – PowerPoint slides
Professor Barry Goldson, Charles Booth Chair of Social Science, University of Liverpool
Professor Nicola Lacey, Professor of Law, Gender and Social Policy, London School of Economics
Professor Elena Larrauri, Professor of Criminal Law and Criminology, Universitat Pompeu Fabra, Barcelona
Professor Ian Loader, Professor of Criminology and Professorial Fellow of All Souls College, University of Oxford
Oliver Lodge, Director, Justice Value for Money, National Audit Office
Professor Tracey L. Meares, Walton Hale Hamilton Professor of Law, Yale University
Professor Fergus McNeill, Professor of Criminology & Social Work, University of Glasgow
Mauro Palma, former President of the European Committee for the Prevention of Torture
Alison Saunders, Director of Public Prosecutions
Gary Younge, an author, broadcaster and editor-at-large for The Guardian
Martine Herzog-Evans, who couldn't join us at the conference, sent us her PowerPoint slides
Find out more about the speakers
Parallel sessions
Over the two days of the conference papers were presented by experts from the UK, USA, Canada, New Zealand, South Africa, India, China, Japan, Israel, Chile and many European countries including: Poland, Slovenia, Spain, Ireland, Italy, Belgium. Over 150 papers were submitted for panel sessions.
One of the papers was presented by Dr Myles Frederick McLellan from Algoma University, Canada who has kindly agreed to share a video recording of his presentation, Innocence compensation: A comparative analysis of the common law and civil law traditions.
Best PhD paper awards
The conference sought to promote the work of early career academics through awarding a prize for the best PhD paper. Best PhD papers were awarded to: Katharine Evans, Liverpool John Moores University and Brie McLemore, University of California Berkeley.
Probationary: The Game of Life of Licence
Probationary: The Game of Life on Licence was created through workshops with men on licence and explores the lived experience of being on probation
What the delegates said:
"It was lovely to meet you and I just wanted to thank you and everyone at the Howard League for such a wonder couple of days and the opportunity to share some very early thoughts and ideas about my research in such a supportive and welcoming environment.  There was some fantastic and thought provoking papers there and I came away having learnt a lot. "
"I enjoyed the conference day and evening I attended. It was a fascinating mix of people and a splendid opportunity to talk and share ideas."
"I just wanted to drop you a quick email to thank you and the rest of the team so much for organising the Howard League conference this year! It was truly a wonderful experience. I am glad I got the opportunity to do my first external conference paper at this conference."
 "This was my first time attending the Howard League conference and I thoroughly enjoyed the sessions I attended were excellent!"
"Firstly, I would like to congratulate you on a successful conference! The plenary sessions were first-rate and I had plenty of interesting conversations with engaged delegates. It was a fantastic two days."
For more information, programme and abstracts download the conference booklet.
For information on previous conferences, including videos and podcasts, see the links below.
Papers published following the conference
We have published three special conference ECAN (Early Career Academics Network) bulletins.
Redesigning Justice conference special No.1 July 2018
In this issue you will find:
Restorative and retributive justice: Could they be parallel streams?
Stephan Terblanche, University of South Africa
Effective prisoner engagement through the promotion of sport motivation: Implications for policy and practice
Hannah Baumer, Royal Holloway, University of London
The Failure of Custody Visiting
John Kendall, Birmingham Law School
Customary law – A challenge to justice in Indian legal framework: A case study of Meghalaya, a state in northeast India
Sanghamitra Sarker, University of Calcutta
Learning from history by seeing it differently: frameworks for understanding the socio-historical development of youth justice
Justin Brett, University of Loughborough
Redesigning Justice conference special No.2 October 2018
In this issue you will find:
A "humanism of justice" through restorative justice: Improving criminal justice systems is not a utopia
Grazia Mannozzi, University of Insubria, Como, Italy 3
Restorative Justice: transforming the way we do justice
Lucy Jaffé, Director of Why me? Victims for Restorative Justice
Confined queers: An analysis of the essentialist legal framework of UK prisons
Giuseppe Zago, Northumbria University
Challenges around preventing torture
Marie Steinbrecher, Royal Holloway, University of London
Begging and freedom: The two (antithetical?) faces of common law
Eleonora Innocenti
Attitudes and identities of young male Muslim ex-prisoners: Prison as a source of respite from community conflict
Tracey Devanna, University of Birmingham
Redesigning Justice conference special No.3 December 2018
In this issue you will find:
Boredom and the Buzz: 'It's all about killing time'
Johanne Miller, University of the West of Scotland
The Disenfranchisement of Ex-Felons in Florida: A Brief History
Sarah A. Lewis, University of Florida, Levins College of Law
Mere Anarchy? or, what Yeats might have told us about colonialism, storytelling and the narrative arc of the British Justice system
Victoria Anderson
Non-statutory experiences of gender-specific services in a post-Corston (2007) Women's Centre
Kirsty Greenwood, Liverpool John Moores University
Social Justice in civil courts for whom? Women, domestic abuse and agency
Kirstin Anderson, University of the West of Scotland
The efficacy of punishment: How the doctrine of Hell has helped shaped our penal system and how that can be undone
Christabel McCooey
Dates for your diary
We will be back in Keble College Oxford from 31 March to 1 April 2020. To find out more about Crime, justice and social harms conference to be held there and for the call for papers visit the conference page.
Join us

Add your voice to our movement for change. Every voice counts and we hope that you will add yours.

Join us today

Support our work

Everything we do is focused on achieving less crime, safer communities, fewer people in prison. We need you to act now for penal reform.

Ways to support