Events · Howard League events
Sentencer and police understanding, awareness and treatment of crime and gambling harms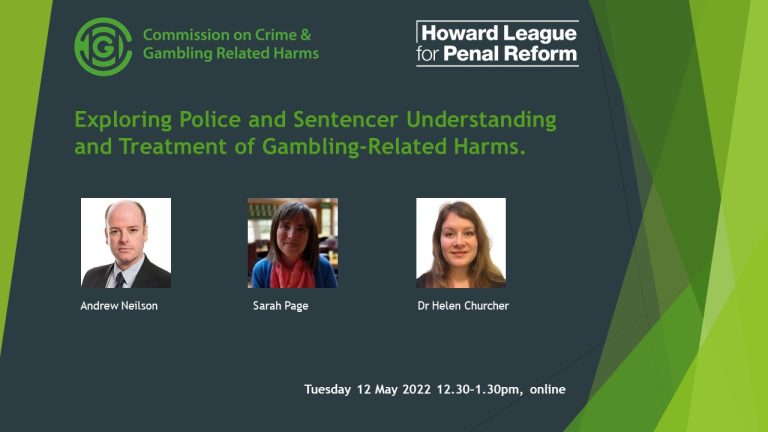 Date: 12 May 2022

Location: Online
Tickets
Book your place : Free (donations welcome)
Book now
Part of HMPPS Insights 22 festival
Sentencer and police understanding, awareness and treatment of crime and gambling harms. Howard League research seminar
Thursday 12 May 2022, 12.30–1.30pm, online
This webinar will be held at HMPPS Insights 22 festival. It is free to attend and open to all, but registration is required.
The event
Chaired by Andrew Neilson, Director of Campaigns, Howard League for Penal Reform, the session will include:
Sarah Page, Senior Lecturer, Sociology & Criminology, Co-Director, Staffordshire University Crime & Society Research Group, exploring:
sentencers' understanding and awareness of problem gambling and gambling related crime,
examples of sentencing practice in magistrates' courts in England and Wales when problem gambling is raised as a contextual factor to the crime
how the research has improved understanding of how problem gambling is understood and approached in court, and
suggestions for future practice
Dr Helen Churcher, Research and Project Officer, Howard League for Penal Reform exploring:
police understanding and practice around gambling harms and gambling related crime
the broader picture of the nature of gambling related crime and harm, challenging narratives
the role of police custody in identification and signposting to support, functioning as criminal justice gatekeepers. Sharing good practice around this; and
challenging narratives about nature of gambling related crime.
Join us

Add your voice to our movement for change. Every voice counts and we hope that you will add yours.

Join us today

Support our work

Everything we do is focused on achieving less crime, safer communities, fewer people in prison. We need you to act now for penal reform.

Ways to support