Events · Howard League events
What if we abolished the dock? Rethinking court design and court ritual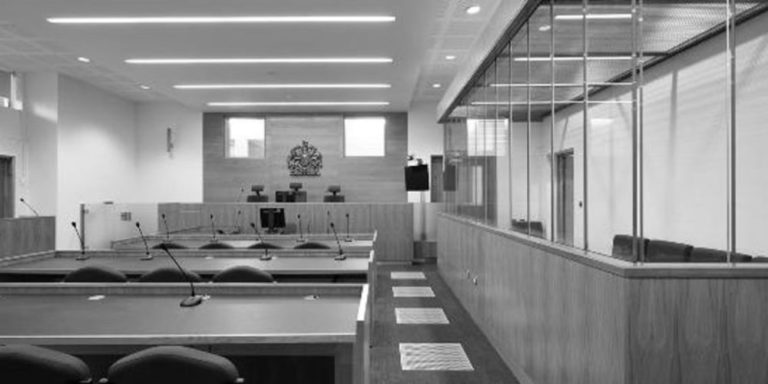 Date: 14 Nov 2017

Location: Clement House, 265 Strand, London School of Economics, London WC2R 1DH
What if we abolished the dock?
Rethinking court design and court ritual
Tuesday 14 November 2017, 6.30–8.30pm
Clement House, 265 Strand, London School of Economics, London WC2R 1DH
This debate will bring together academics and legal professionals to debate the fairness of placing the accused in an enclosed dock during a criminal trial.
The Howard League for Penal Reform has long been concerned with the placement of the accused at a criminal trial, launching an early campaign in the 1970s to abolish the use of dock to confine the accused during a trial. Since that period, docks have become ever more commonplace and fortified, with defendants routinely enclosed in glass during a criminal hearing or trial. This seminar will provide a forum to challenge this practice.
Two speakers will make the case for abolishing docks: Professor Linda Mulcahy (LSE) will present new research on the recent history and use of the dock, drawing on archival data from the Ministry of Justice to challenge the very basis of the widespread implementation of docks across England and Wales. Dr. Meredith Rossner (LSE) will present research from an experiment examining whether the use of docks undermines the presumption of innocence.
Confirmed discussants:
Professor Peter Ramsay, LSE (Chair)
Abigail Bright, Barrister, Doughty Street Chambers
Chris Henley, Vice Chair. Criminal Bar Association
Paula Backen, intermediary with vulnerable witnesses
Professor Linda Mulcahy joined the Law Department in 2010. Having gained qualifications in law, sociology and the history of art and architecture, Linda's work has a strong interdisciplinary flavour. Linda's research interests lie in the field of dispute resolution. Her published work focuses on the evolution and dynamics of disputes, mediated settlement and the trial. Most recently she has written a book on the ways in which the design of law courts conditions the enjoyment of due process rights. Linda is currently the recipient of a Leverhulme Trust grant exploring the recent history of court design and is being conducted with the co-operation of the Ministry of Justice. Linda is co-directing this project with architect Emma Rowden. In addition to her work in the Law Department Linda is the first Director of the LSE's new PhD Academy
Meredith Rossner is an Assistant Professor of Criminology in the Law Department and the co-director of the Mannheim Centre for Criminology. Dr. Rossner's research interests focus on the intersection of social interaction and judicial processes. This has led to a number of research projects on the emotional and ritual elements of the justice process, with a particular focus on the role of lay people. She has conducted research on the emotional dynamics of restorative justice conferences, the dynamics and democratic potential of jury deliberation, and how design and technology impact justice proceedings. Most recently, she is part of an Australian Research Council funded project conducting empirical research into the use of docks and the presumption of innocence in criminal trials.
Abigail Bright is a barrister at Doughty Street Chambers. With a strong academic background, Abigail's practice is diverse. She brings a public law-oriented strategy to her instructions in criminal and civil cases. Abigail has a significant profile in fraud, financial crime, and extradition. She has also represented young offenders who appear in the dock at Crown Court.
Chris Henley is a QC at Carmelite Chambers. He is highly regarded for his keen attention to detail, his imaginative and intelligent approach to challenging issues, and his tenacious and persuasive advocacy. Legal 500 has commended the very broad range of serious cases he undertakes. He has recently been elected Vice Chair of the Criminal Bar Association. His areas of expertise include fraud and financial crime, terrorism, homicide and corporate manslaughter, regulatory and disciplinary proceedings, and organised crime.
Paula Backen is currently working as an Intermediary with vulnerable witnesses, defendants, suspects, respondents in criminal, family and MoD cases. Since 2011 she has advised in over 60 criminal courts, often sitting for several days in a secure dock. Her work as a specialist in communication is based on an original qualification in Speech and Language Therapy, many years' experience in the treatment of both psychiatric and neurological communication disorders and more recently a qualification in delivering Emotional Resilience / Anger Management therapy.  She participates in a variety of conferences and training for practitioners in the justice system.  As an intermediary, she advises the legal profession on best practice in ensuring effective participation of vulnerable people in the justice system.  She recently published the first book about the work of an intermediary  by an intermediary – 'They Just Don't Get it'.
Book your place
There are limited places at this free event.  Book your place here.
Join the Howard League

We are the world's oldest prison charity, bringing people together to advocate for change.

Join us and make your voice heard

Support our work

We safeguard our independence and do not accept any funding from government.

Make a donation