7 May 2014
Books for prisoners: Ministry of Justice cannot shelve our campaign, say top authors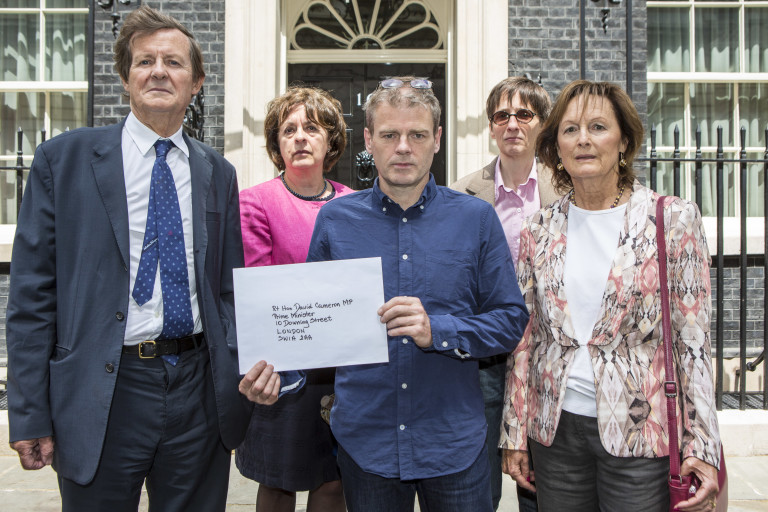 The Howard League for Penal Reform and English PEN have today (7 May) released a letter from an official at a Ministry of Justice agency, that responds to the books for prisoners campaign and a request to meet with the Lord Chancellor and Secretary of State for Justice, Chris Grayling.
The request was sent by the Howard League, English PEN, the Poet Laureate Carol Ann Duffy, Ian McEwan, Julian Barnes and Mark Haddon, following letters in the press signed by over one hundred of the country's leading authors.
The campaign is calling on the government to end restrictions which prevent families and friends sending books, underwear and other essentials to prisoners.
Tens of thousands of people have shown their support for the campaign by signing a petition and sending photographs of bookshelves to the Ministry of Justice's Twitter account using the hashtags "#shelfie" and "#booksforprisoners".
The campaign has received media coverage across the world and the government's stance has also been condemned by international writers and former prisoners of conscience.
In the letter, the official responds on behalf of Ministry of Justice ministers and effectively refuses a meeting to discuss the campaign and the impact of changes to the Incentive and Earned Privileges (IEP) scheme.
Poet Laureate, Carol Ann Duffy, said: "It is atrocious that government ministers will not even meet with the Howard League to discuss our concerns. I am particularly disappointed that this response refers to an open letter to myself which was released to the media one weekend without the Lord Chancellor even having the grace to notify me beforehand. I do not want to engage in a media stunt with the Lord Chancellor in visiting a prison as I, like most writers, have already visited prisons and indeed wrote the foreword to an edition of the PEN Prisoners Writing Anthology. What I and other authors want to see is government ministers taking our concerns seriously and engaging positively and publicly with the Howard League and English PEN to address the issues we have raised."
Frances Crook, Chief Executive of the Howard League for Penal Reform, said: "What does it take for government ministers to discuss legitimate concerns from campaigners and some of the country's leading authors? Despite the overwhelming public response to the books for prisoners campaign, it appears that the Ministry of Justice wishes to shut its eyes and ears to what has become an international scandal. I am afraid it is not so easy to shelve our campaign. If ministers at the Ministry of Justice will not hear our case, and rely on repeating dubious justifications that have been comprehensively trashed in the media, then we will look to take our concerns to Downing Street."
Jo Glanville, Director of English PEN said: "We're extremely disappointed by the government's response and its failure to agree to a meeting. This is a snub to some of the country's most outstanding authors who have demonstrated their commitment to the campaign. The rationale for the ban has already been shown to be flawed – both on grounds of security and in relation to the claim that there is sufficient access to books within prisons. It's dismaying that ministers are impervious to an issue that has created an international as well as a national outcry. I doubt that the campaign's supporters will be convinced by the response or prepared to give up the fight."
Nicola Solomon, Chief Executive of the Society of Authors, said: "We fully accept that there must be controls on parcels coming into prisons. However, it has clearly been possible in the past to allow parcels of books into some prisons and to restrict that simply to create uniformity across the system at the level of the lowest service currently provided seems unduly punitive and counter-productive. We understand that, in many prisons, access to library facilities does not comply with the statutory minimum. Furthermore, we learn that book stock in many prisons is poor, often damaged or out of date, and that inter-library loan requests are often slow or not actioned at all."
Notes to editors
The Howard League for Penal Reform is the oldest penal reform charity in the world. It is a national charity working for less crime, safer communities and fewer people in prison.
The books for prisoners campaign was triggered by an article written for Politics.co.uk by Frances Crook.
About 80 writers and dramatists urged the government to lift the restrictions on sending books and essentials in a letter to the Daily Telegraph. A second letter, signed by 100 leading figures, was published by the Evening Standard. Writers have also sent postcards to the Ministry of Justice, detailing which book they would like to send to a prisoner and why.
The Prison Library Service document Prisons PSI 45/2011 Specification states that not only must all prisoners be allowed access to library books but library visits should be of a minimum 30 minutes' duration and as often as is practical at times that facilitate access by prisoners. Access must be at least once every two weeks as an absolute minimum. Accessibility may be more frequent and for longer duration for prisoners wishing to research legal issues. It is understood that, in many prisons, access to library facilities does not comply with the statutory minimum.
The Specification sets out minimum stock obligations. Reference material must be up to date, regularly refreshed, relevant, appropriate and readily available. The Public Library Authority (PLA) is expected to use links between its prison library service and mainstream library services to operate a book reservation system giving access to the holdings of the PLA and external organisations. Despite this statutory obligation, the Society of Authors has learned that book stock in many prisons is poor, often damaged or out of date, and that inter-library loan requests are often slow or not actioned at all.
Contact
Rob Preece
Press Officer
The Howard League for Penal Reform
Tel: +44 (0)20 7241 7880
Mobile: +44 (0)7714 604955
robert.preece@howardleague.org
Robert Sharp
Head of Campaigns and Communications
English PEN
Tel: +44 (0)20 7324 2538
Mobile: +44 (0)7790 420011
jo@englishpen.org
Join the Howard League

We are the world's oldest prison charity, bringing people together to advocate for change.

Join us and make your voice heard

Support our work

We safeguard our independence and do not accept any funding from government.

Make a donation