12 Jun 2014
Pavilion Books' A Night in the Cells: The "Dirty Dozen" revealed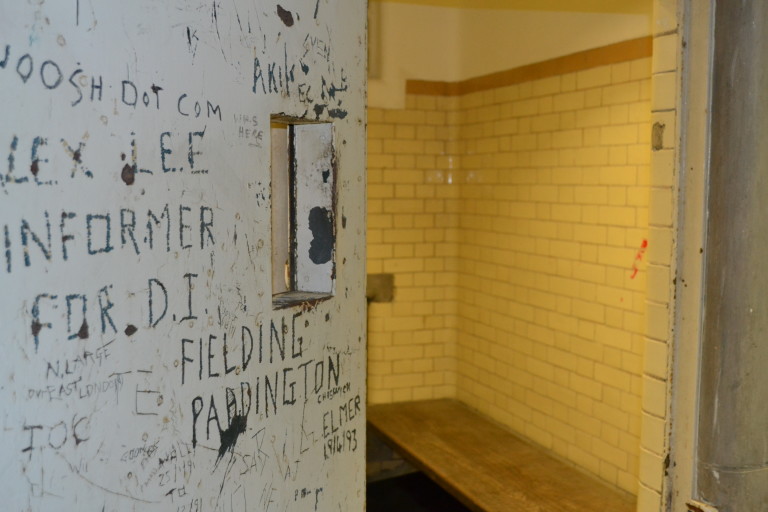 Pavilion Books' A Night in the Cells (#CellNight) has seen 18 high-profile figures from the literary and arts world, including publishers and literary agents, competing in a charity auction to be one of six people locked up in cells in the Pavilion Books offices on the night of Thursday 19 June.
Today this list is reduced to the "Dirty Dozen" as the first eliminations happen. The remaining 12 potential prisoners are listed in the Notes to Editors below. The final six will be revealed on Thursday 19 June.
Between them they have raised in excess of £42,000, through more than 800 donations, with support not only from the literary world, but from celebrities including Benedict Cumberbatch, Jamie Oliver, Gillian Anderson, Harlan Coben, Jemima Khan, Thandie Newton and Grayson Perry, as well as from the public.
Each potential prisoner has chosen a book they would want someone to be able to send to them in prison – an option not available under current legislation.
This event was the brainchild of David Graham, a consultant at independent publisher Pavilion Books and a fundraiser for charities The Book Trade Charity (BTBS) and the Howard League for Penal Reform, to support their work and highlight the Howard League's Books for Prisoners campaign.
Pavilion's offices are situated in the Old West London Magistrates Court, within which are six Grade II listed holding cells, last used in the 1990s. One famous occupant of the cells was former Rolling Stone Brian Jones, after being charged with drugs offences in 1967.
After the six selected fundraisers have spent the night in the cells, Pavilion Books' will host a Press Breakfast at 8.30am – with opportunities for those locked up to describe their experiences and why they support the Books for Prisoners campaign.
Chief executive of the Howard League for Penal Reform, Frances Crook, said: "A book can be a real lifesaver if you are locked in a prison cell for weeks, months or years. Reading books also go hand in hand with education, with rehabilitation, with humanity. If we want to encourage prisoners to read then allowing loved ones to send in books and other essentials to prisoners is surely to be welcomed. The Howard League is therefore delighted that Pavilion Books has organised this fundraiser and we hope the government will take note that the publishing world is not impressed with its spurious arguments and obstructive attitude to our campaign."
Chief executive of The Book Trade Charity (BTBS), David Hicks, said: "All involved in The Book Trade Charity (BTBS) are excited to be involved in this unique and imaginative event. Funds raised will help us to continue to support those in need in the book trade; people who have spent their lives promoting and encouraging reading.  That we can also highlight the iniquitous issue of banning the sending of books into prison is a special bonus."
Chief executive of Pavilion Books, Polly Powell, said: "Pavilion Books is delighted to host this event and to use our strange and powerfully atmospheric cells to support two great charities and such a good cause."
The Books for Prisoners campaign is calling on the government to end restrictions which prevent families and friends sending books, underwear and other essentials to prisoners. A host of leading writers, including Alan Bennett, Salman Rushdie and Ian McEwan, have called on the Ministry of Justice to review the policy, which has been in place since November.
Tens of thousands of people have shown their support for the campaign by signing a petition and sending photographs of bookshelves to the Ministry of Justice's Twitter account using the hashtags "#shelfie" and "#booksforprisoners".
Support from English PEN has seen the UK government's stance condemned by international writers and former prisoners of conscience across the world.
Notes to editors
The fundraising page for A Night in the Cells can be found at: https://www.justgiving.com/teams/anightinthecells
The Dirty Dozen are:
– David Young, CEO of Orion Books, President of the Book Trade Charity (BTBS)
– Anne Sebba, Chair of the Society of Authors, author of nine non-fiction books
– Clare Conville, Literary Agent at Conville & Walsh, Co-curator of the Curious Arts Festival
– Polly Powell – CEO, Pavilion Books
– Carole Blake, Literary agent at Blake Friedmann
– Nicola Solomon, Chief Executive of the Society of Authors
– Jamie Byng, CEO of Canongate
– Seni Glaister, CEO and Founder of The Book People
– Andrew Franklin, Founder and MD of Profile Books
– Deborah Bull, Director, Cultural Partnerships, King's College London
– Kevin McGrath, Co-Founder of The Clink Prison Restaurant Charity
– David Graham – Publishing consultant, Pavilion Books
Book Choices:
-David Young – Harlan Coben – Missing You  (Orion Books)
-Jamie Byng – One Day in the Life of Ivan Denisovich by Solzhenitsyn (Penguin Modern Classic)
-Anne Sebba – A Life Interrupted – Etty Hillesum (Persephone Books)
-Andrew Franklin – Be Careful What you wish for – Jeffrey Archer (McMillan)
-Nicola Solomon – Criminal Law – Smith and Hogan (OUP)
-Kevin McGrath – Wild Swans: Three Daughters of China – Jung Chang (William Collins)
-Polly Powell – National Trust's First World War Poems compiled by Jane McMorland Hunter
-David Graham – The Wild Places – Robert MacFarlane (Granta Books)
-Deborah Bull – Touching The Void – Joe Simpson (Vintage Books)
-Carole Blake – Lady of Hay – Barbara Erskine (Harper Collins)
A Night in the Cells will take place at Pavilion Books, The Old Magistrates Court, 10 Southcombe Street, London W14 0RA.
Pavilion Books is an award-winning independent publisher producing high-quality illustrated books under the Batsford, Collins & Brown, Conway, National Trust, Pavilion and Portico imprints.
The Book Trade Charity (BTBS) is the book trade's own welfare charity, offering help to anyone who has worked in the trade for more than one year in a range of roles and who has a problem, whether personal, financial or health-related.
The Howard League for Penal Reform is the oldest penal reform charity in the world. It is a national charity working for less crime, safer communities and fewer people in prison.
Contact
Rob Preece
Press Officer
The Howard League for Penal Reform
Tel: +44 (0)20 7241 7880
Mobile: +44 (0)7714 604955
robert.preece@howardleague.org
Kom Patel
Senior Publicity & Marketing Manager
Pavilion Books
Tel: +44 (0)20 7605 1466
kpatel@pavilionbooks.com
Claire Walton
The Book Trade Charity (BTBS)
Tel: +44 (0) 1923 263128
Mobile: 07904 680 588
claire@btbs.org
Join the Howard League

We are the world's oldest prison charity, bringing people together to advocate for change.

Join us and make your voice heard

Support our work

We safeguard our independence and do not accept any funding from government.

Make a donation