4 Feb 2016
Howard League pamphlet calls for overhaul of police bail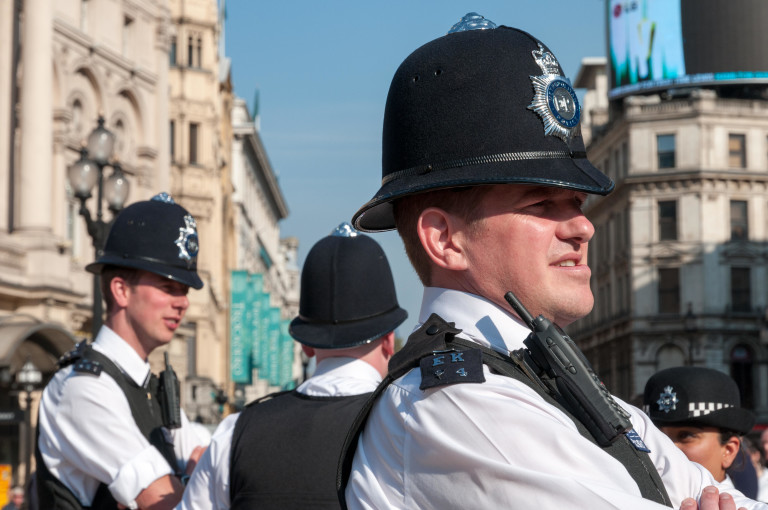 Police bail powers should be radically overhauled as their current use is neither proportionate nor necessary and often punishes innocent people, a criminal law professor argues today (Thursday 4 February).
In a pamphlet for the Howard League for Penal Reform, Professor Ed Cape writes that a person can be placed on police bail having been arrested "on the basis of little or no credible information" and in circumstances "where they are arrested despite the fact that they are willing to co-operate with the investigation".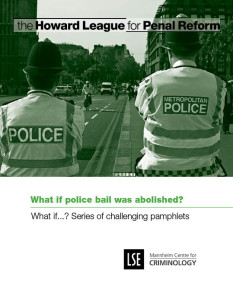 Drawing on the testimonies of people affected, Professor Cape finds that being subjected to a long period on bail can have a massive detrimental impact on a person's physical and mental wellbeing, as well as putting stress on their families.
His recommendations for change are outlined in What if police bail was abolished?, the latest in a series of pamphlets published by the Howard League and the Mannheim Centre at the London School of Economics with the aim of challenging conventional thinking on penal and criminal justice issues.
The pamphlet has been published as MPs and peers prepare to consider new legislation, which the government claims would put a stop to people remaining on bail for months or even years with no independent oversight of the police's investigation.
Professor Cape, Professor of Criminal Law and Practice at the University of the West of England, Bristol, writes: "Police powers to impose pre-charge bail, originally introduced as a safeguard of liberty, have become, particularly with the relatively recent addition of the power to impose conditions, a serious infringement of liberty which blights the lives of many people."
Professor Cape draws a distinction between "street bail" – where police place someone on bail immediately after an arrest, without taking them to a police station –and "pre-charge bail" – whereby someone is put on bail after being taken to a police station, either because there is insufficient evidence to charge or because officers wish to carry out further investigations before making a charge decision.
He argues that street bail should be abolished, while pre-charge bail should be limited to 14 days.
Professor Cape writes: "Street bail should be abolished. We know almost nothing about how it is used, and it is contradictory to require police officers to determine that it is necessary to arrest a person, and then allow them to immediately release the person on bail.
"The power to attach conditions to pre-charge bail should be abolished. They are virtually unenforceable, and court review of their necessity and proportionality cannot work effectively.
"With regard to pre-charge bail itself, since the alternative is unconditional release, there is no effective enforcement mechanism. As a result, ironically, the imposition of pre-charge bail is more likely to adversely affect the lives of law-abiding people than it is to control the conduct of those who have little to lose."
Being subjected to a long period on bail can have a massive detrimental impact on a person's physical and mental wellbeing, as well as putting stress on their families.
Professor Cape adds that, while police, the Crown Prosecution Service and the Home Office have consistently argued that pre-charge bail is a necessary feature of modern police investigation, "they have produced no evidence of its efficacy".
He writes: "It may be a step too far to abolish it altogether, but the time limit should be short and, since the courts have proved themselves unwilling to take responsibility for supervising police investigative decisions, the time limit should be absolute."
Proposed changes to police bail are included in a Policing and Criminal Justice Bill, to be debated in Parliament in the near future.
The Bill would create a presumption that suspects will be released without bail unless it is necessary.
It would initially limit pre-charge bail to 28 days, with an extension of up to three months, authorised by a senior police officer. In exceptional circumstances, police would have to apply to the courts for an extension beyond three months.
Frances Crook, Chief Executive of the Howard League for Penal Reform, said: "This is the latest in our series of influential pamphlets that push the boundaries of traditional thinking on justice issues. These reforms would save money and stop the downward spiral of the reputation of our justice system. The Howard League is expecting government to introduce legislation to mitigate the worst excesses of police bail, but we are urging bold action."
Notes to editors
The Howard League for Penal Reform is the oldest penal reform charity in the world. It is a national charity working for less crime, safer communities and fewer people in prison.
Professor Cape's pamphlet, What if we abolished police bail?, can be read online here.
Previous editions in the 'What if…?' pamphlet series can be read online here.
Contact
Rob Preece
Campaigns and Communications Manager
Tel: +44 (0)20 7241 7880
Mobile: +44 (0)7714 604955
Email: robert.preece@howardleague.org
ISDN line available on 020 7923 4196 – uses a G722 system
For enquiries outside normal office hours, please call +44 (0)7918 681094.
Join the Howard League

We are the world's oldest prison charity, bringing people together to advocate for change.

Join us and make your voice heard

Support our work

We safeguard our independence and do not accept any funding from government.

Make a donation