31 Oct 2017
Sir James Munby delivers the Howard League lecture, held in memory of Lord Parmoor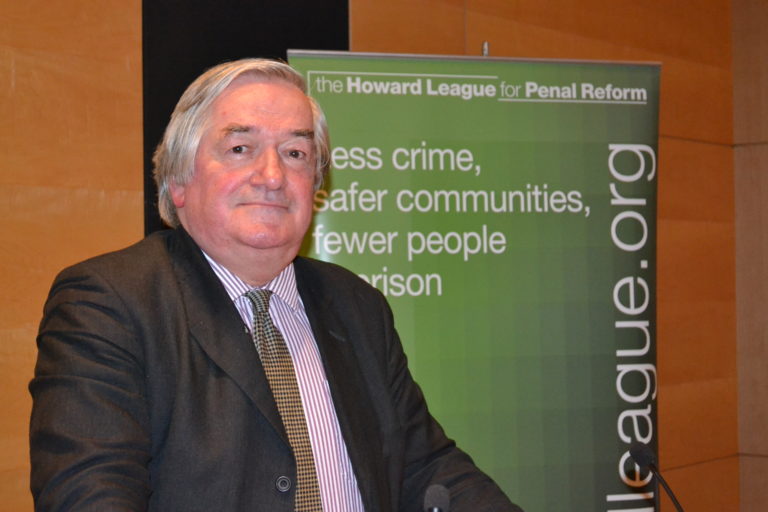 The President of the Family Division of the High Court of England and Wales, the Rt Hon Sir James Munby, delivered the Howard League lecture on Monday 30 October 2017. The text of Sir James's speech can be read here.
Sir James is a leading judicial voice on children and young people. His landmark judgment in 2002 – that children in prison are entitled as a matter of law to support and protection under the Children Act 1989 – was the first major legal case brought by the Howard League for Penal Reform legal team.
The Howard League lecture is held annually in memory of Lord Parmoor, a supporter and donor to the charity.
This year's event, held at the London headquarters of law firm Clifford Chance, also featured the launch of Justice for Young People: 15 years of successful legal work, a report on how the Howard League legal team has transformed law, policy and practice for children and young adults in the criminal justice system.
Justice for Young People: 15 years of successful legal work explains how the Howard League set up a legal team to provide prison and civil law support to children in custody. The service was expanded in 2007 to include young adults under the age of 21.
The Howard League runs a free and confidential legal advice line, which helps more than 1,000 children and young people a year.
The legal team has challenged the use of solitary confinement on children, unlawful punishments, lack of education and the failure of local authorities to provide appropriate support for children on release from prison.
The Howard League has intervened in cases on a range of issues, from the need for appropriate adults for 17-year-olds in police stations to discrimination against women as a result of the sparse geographical spread of approved premises.
A young person, who has been supported by the Howard League legal team, said: "The Howard League gives me a sense of hope. The legal team has helped me through every stage of my sentence. I feel like they make me a priority every step of the way – knocking down barriers as we go along and, without each one, I would never have been able to get to where I am now.
"Through the participation work, I know the Howard League aims for less crime and less people in prison, so they are not just helping me. What they are doing is part of something a lot bigger than just my case, but they always put their heart into it as if they were only doing mine." 
Notes to editors
The Howard League for Penal Reform is the oldest penal reform charity in the world. It is a national charity working for less crime, safer communities and fewer people in prison.
Justice for Young People: 15 years of successful legal work can be downloaded from the Howard League website.
Contact
Rob Preece
Campaigns and Communications Manager
Tel: +44 (0)20 7241 7880
Mobile: +44 (0)7714 604955
Email: robert.preece@howardleague.org
ISDN line available on 020 7923 4196 – uses a G722 system
For enquiries outside normal office hours, please call +44 (0)7918 681094.
Join the Howard League

We are the world's oldest prison charity, bringing people together to advocate for change.

Join us and make your voice heard

Support our work

We safeguard our independence and do not accept any funding from government.

Make a donation