25 Feb 2014
Women in prison: Commission finds evidence of coercive and consensual sex
Women prisoners have been coerced into sex with staff in return for favours such as cigarettes or alcohol, the Commission on Sex in Prison has heard.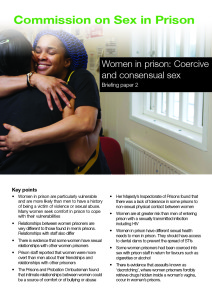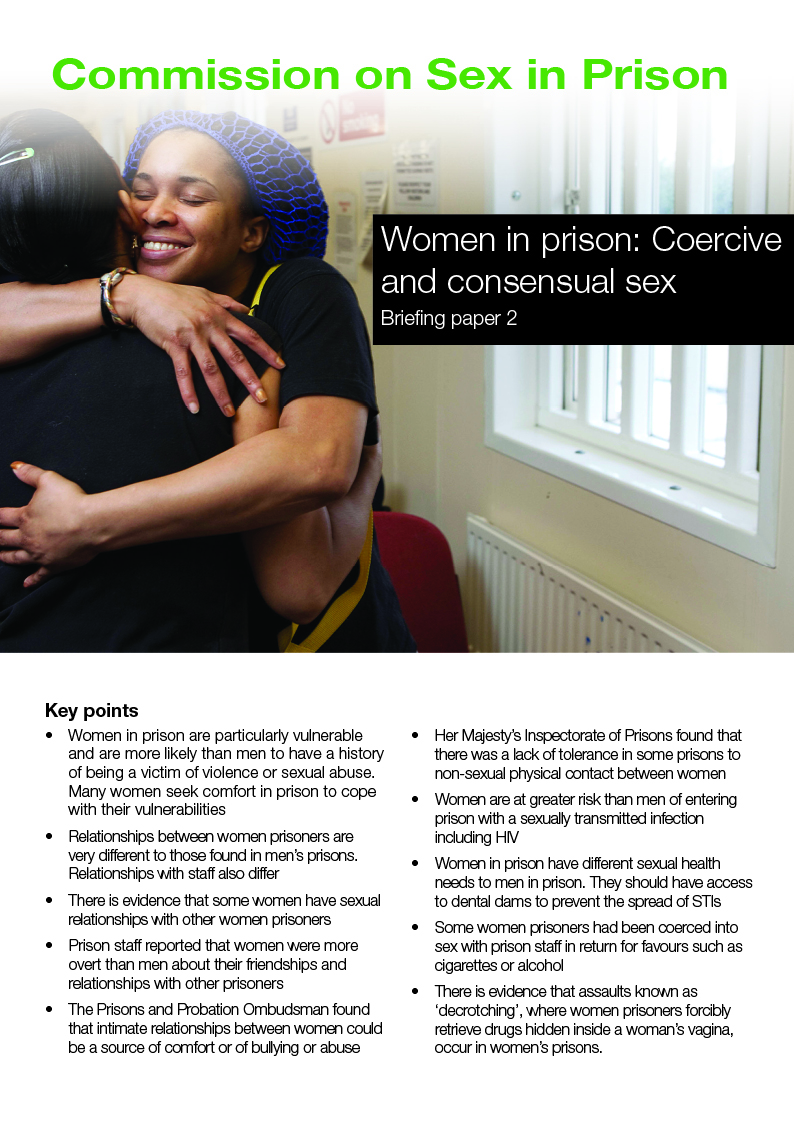 Assaults known as 'decrotching', where women prisoners forcibly retrieve drugs from another inmate's vagina, are also thought to have occurred in jails.
The findings are published in the Commission's second briefing paper, Women in prison: Coercive and consensual sex, which is released today.
The Commission, which comprises eminent academics, former prison governors and health experts, was established by the Howard League for Penal Reform.
It is the first-ever independent review of sex behind bars in England and Wales.
The Commission found that some women form relationships in prison as a source of comfort and support. However, some relationships can become coercive or abusive.
Although prison staff reported that women were more overt than men about their friendships with other prisoners, the Commission heard evidence that they might keep sexual relationships secret for fear of being separated.
Women have different sexual health needs to men and they are at greater risk of entering prison with a sexually transmitted infection such as HIV, the briefing paper states.
The report concludes that staff need training and guidance on how to support women, recognise bullying and identify relationships between prisoners.
Chris Sheffield, Chair of the Commission on Sex in Prison, said: "This is the second in a series of briefing papers produced by the Commission. Women in prison are particularly vulnerable and more likely than men to have a history of being a victim of violence or sexual abuse. It is important that policies recognise these differences and are developed in order to protect the vulnerable. It is equally important that staff in women's prisons receive specific training on working with women."
The two-year Commission is looking at three broad themes – consensual sex in prisons; coercive sex in prisons; and healthy sexual development among young people in prison. It focused on adults during 2013 and will this year study issues affecting children.
The Commission's next seminar, focusing on boys' sexual health, is to be held next month.
Almost all people in prison will eventually return to the community, meaning that sexual health policies are important not just for inmates, but for the public as a whole.
Notes to editors
The Commission on Sex in Prison's second briefing paper, Women in prison: Coercive and consensual sex, can be viewed online here.
The Commission on Sex in Prison has received written and oral evidence from voluntary and statutory agencies, prison governors and serving prisoners. It held seminars on sexual health and consensual sex in prison and heard evidence from key statutory stakeholders including the National Offender Management Service, Her Majesty's Inspectorate of Prisons and the Prisons and Probation Ombudsman. The briefing paper is based on the written and oral evidence submitted to the Commission. Names of prisoners given in evidence have been changed.
Further information about the Commission can be viewed online at http://www.commissiononsexinprison.org/
The Howard League for Penal Reform is the oldest penal reform charity in the world. It is a national charity working for less crime, safer communities and fewer people in prison.
Further information
Rob Preece
Press Officer
Tel: +44 (0)20 7241 7880
Mobile: +44 (0)7714 604955
Email: robert.preece@howardleague.org
For enquiries outside normal office hours, please call +44 (0)7918 681094
ISDN line available on 020 7923 4196 – uses a G722 system
Join the Howard League

We are the world's oldest prison charity, bringing people together to advocate for change.

Join us and make your voice heard

Support our work

We safeguard our independence and do not accept any funding from government.

Make a donation