A Million Days
The world of prison discipline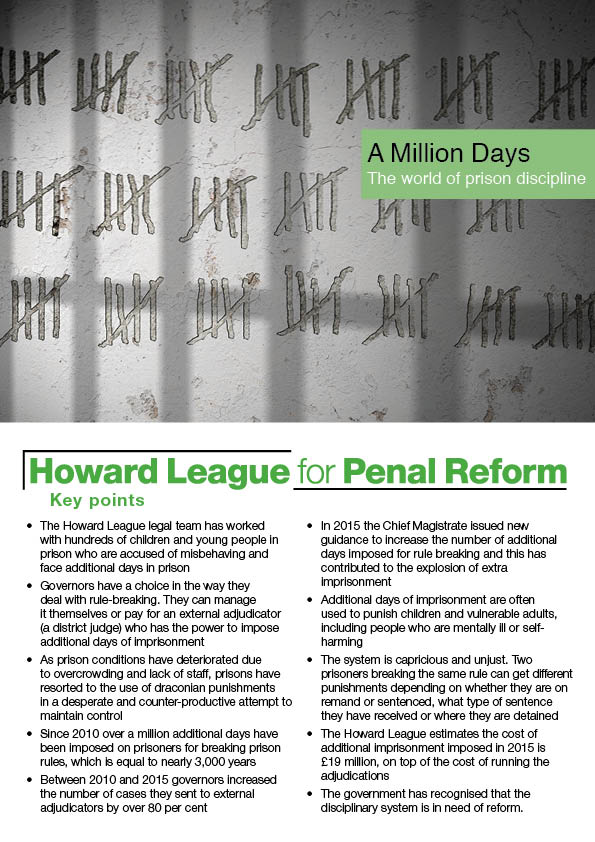 ISBN: 978-1-911114-11-6

Published: 2016

Pages: 6

Publisher: The Howard League for Penal Reform
Downloads
A Million Days
The report looks at how prisons operate disciplinary hearings called adjudications, where allegations of rule-breaking are tried.
These mainly concern disobedience, disrespect or property offences, which increase as conditions in prisons deteriorate.
More than 215,000 days – or 590 years – of additional imprisonment were imposed on prisoners found to have broken prison rules last year.
This report finds that more than 1million additional days – equal to almost 3,000 years – have been imposed on prisoners since 2010.
Ministry of Justice (MoJ) data show that, across England and Wales, the number of additional days' imprisonment imposed has increased by 30 per cent in a year – from 165,856 in 2014 to 215,348 in 2015.
Join the Howard League

We are the world's oldest prison charity, bringing people together to advocate for change.

Join us and make your voice heard

Support our work

We safeguard our independence and do not accept any funding from government.

Make a donation