Breaking point
Understaffing and overcrowding in prisons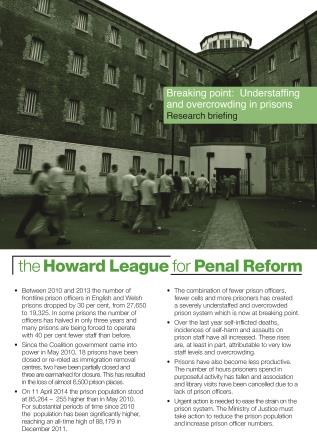 ISBN: 978-1-905994-79-3

Published: 2014

Pages: 6

Publisher: The Howard League for Penal Reform
Downloads
Breaking point
Research by the Howard League revealed that prison officer numbers in England and Wales were cut by 30 per cent between 2010 and 2013.
The drop in officer numbers nationwide coincided with a deepening prison overcrowding crisis and an alarming rise in the number of self-inflicted deaths in custody.
The report warned that suicides, assaults and riots would become increasingly common unless urgent action was taken to increase officer numbers and reduce prisoner numbers.
Join the Howard League

We are the world's oldest prison charity, bringing people together to advocate for change.

Join us and make your voice heard

Support our work

We safeguard our independence and do not accept any funding from government.

Make a donation