Commission on Crime and Gambling Related Harms
Final report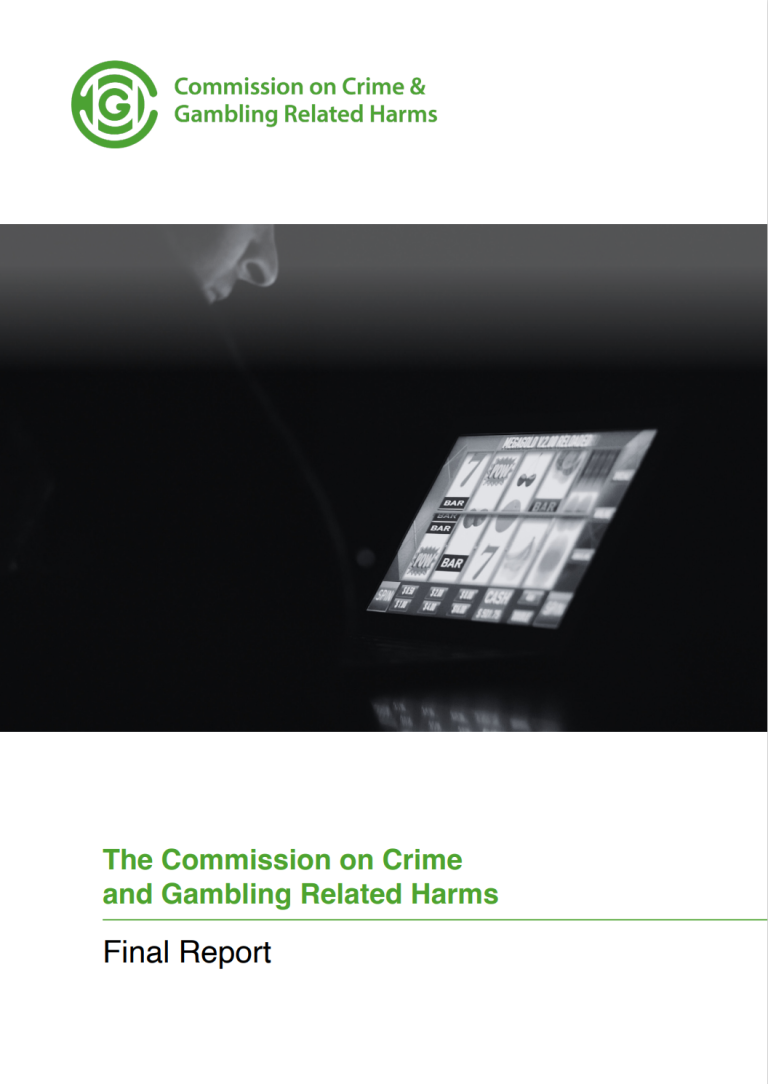 ISBN: 978-1-911114-80-2

Published: 2023

Pages: 67

Publisher: The Howard League for Penal Reform
Downloads
Download the report (26 Apr 2023)
The UK's first-ever inquiry into crime linked to gambling draws to a close, with a final report that calls on the government, health bodies and criminal justice agencies to take a strategic approach to tackling the issue.
The Commission on Crime and Gambling Related Harms, chaired by Lord Peter Goldsmith KC, was set up by the Howard League for Penal Reform in 2019 to investigate the links between crime and gambling-related harms, what impact they have on communities and wider society, and what steps could be taken to reduce crime and make people safer.
Its final report calls for a "greater central drive" from the Home Office and Ministry of Justice, together with more funding to be provided locally and regionally, to develop a treatment and support infrastructure through the police, courts and prisons, which would help to reduce crime and enable more people to access services.
The Commission also recommends the creation of a national board to address crime linked to gambling – including senior representatives from the police, police and crime commissioners, prosecution, courts, probation, prisons, public health, victims' advocates, and representation from those with lived experience of gambling-related harms related to crime.
The report comes as the government prepares to announce planned reforms to gambling laws, with a long-awaited White Paper expected soon. The Commission found that there is "an urgent need for ownership to be taken to reduce gambling harms related to crime both at political and strategic level and at operational policy and professional stakeholder level".
The Commission discovered that there is "appetite for reform" within the police, courts, prisons and probation, but found an "apparent absence of scrutiny" within government, by inspectors of government services and, largely speaking, by Parliamentarians.
Join the Howard League

We are the world's oldest prison charity, bringing people together to advocate for change.

Join us and make your voice heard

Support our work

We safeguard our independence and do not accept any funding from government.

Make a donation