Community Programmes Handbook
Information about effective community programmes from around the country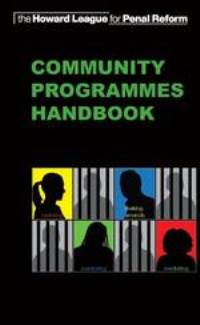 Price: £12.95

ISBN: 978-1-905994-06-9

Published: 2008

Pages: 257

Publisher: The Howard League for Penal Reform
Buy hard copy

(£12.95 + P&P)

2008
The Howard League for Penal Reform has compiled The Community Programmes Handbook which identifies positive, creative and effective community programmes from around the UK.
This handbook has detailed information about more than 20 different schemes: some working with children, others with high-risk offenders; some use restorative justice techniques while others help develop skills or find employment to help reduce the risk of re-offending.
This is an essential read for practitioners and students as well as those commissioning and designing services.
Join the Howard League

We are the world's oldest prison charity, bringing people together to advocate for change.

Join us and make your voice heard

Support our work

We safeguard our independence and do not accept any funding from government.

Make a donation