Education inside penal detention for children in England
An overview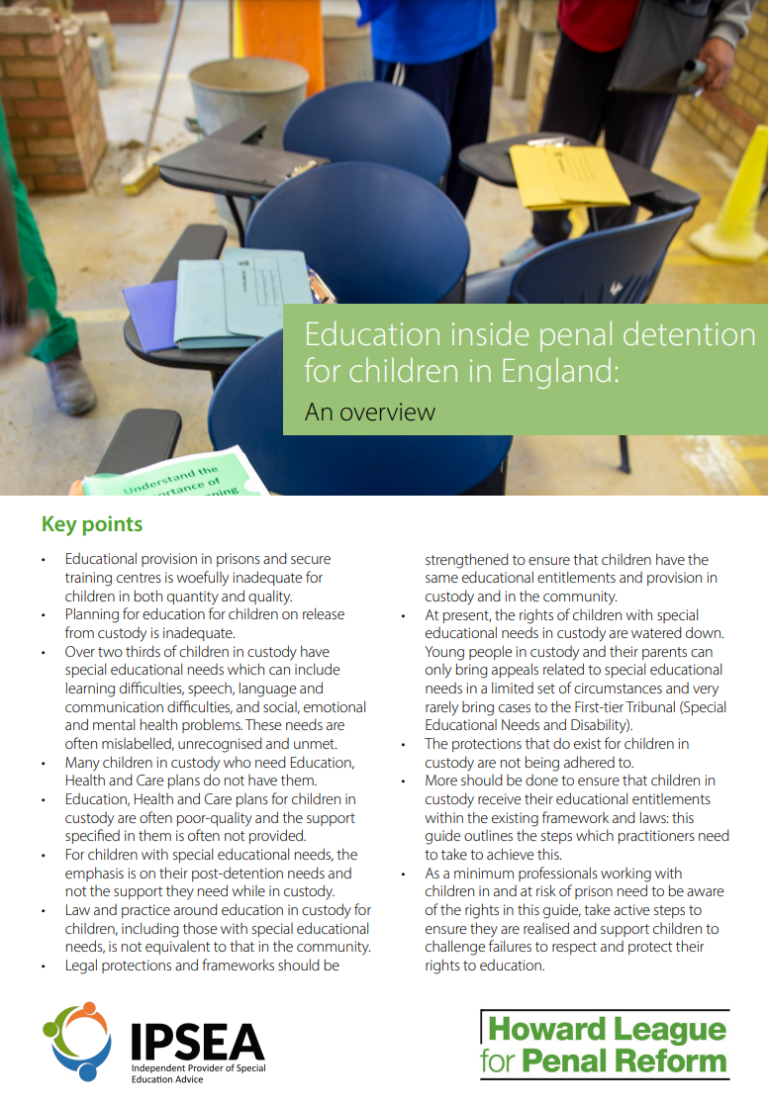 ISBN: 978-1-911114-68-0

Pages: 14

Publisher: The Howard League for Penal Reform
Downloads
Education inside penal detention for children in England: An overview
Special educational needs: Statutory entitlements in the community and the penal custodial estate for under-18s
Educational provision in prisons and secure training centres is woefully inadequate for children in both quantity and quality. This guide outlines key steps that practitioners can take to address the problem.
Published jointly by the Howard League for Penal Reform and Independent Provider of Special Education Advice (IPSEA), it reveals that more than two-thirds of children in custody have special educational needs.
These needs – which can include learning difficulties, speech, language and communication difficulties, and social, emotional and mental health problems – are often mislabelled, unrecognised and unmet.
Many children in custody who require the additional support of an Education, Health and Care plan do not have one. When plans are made, often they are of poor quality and specify support that is not provided.
The guide highlights the work that must be done to ensure that children have the same educational entitlements and provision in custody as they do in the community.
Join the Howard League

We are the world's oldest prison charity, bringing people together to advocate for change.

Join us and make your voice heard

Support our work

We safeguard our independence and do not accept any funding from government.

Make a donation