Embedding Participation
The second U R Boss interim evaluation report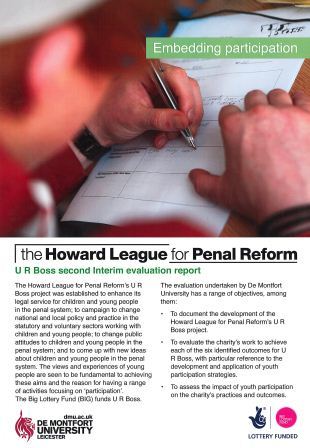 ISBN: 978-1-905994-45-8

Published: 2012

Pages: 12

Publisher: The Howard League for Penal Reform
Downloads
Embedding participation
This is the second U R Boss interim evaluation report.
The report, prepared by the evaluation team at De Montfort University, plots the early experience of the Howard League for Penal Reform's efforts to build the concept and practices of participation across the entire organisation.
The report concludes that U R Boss has "allowed the development of its [the Howard League's] participation activities in a more structured and informed way that ensures the quality and impact of participation for both the young people and the organisation.
This experience and the learning it is generating will be invaluable for other organisations wanting to follow a similar path."
U R Boss was a project led by young people for young people that was part of the Howard League for Penal Reform.
Launched in 2009, U R Boss was funded by the Big Lottery for a period of five years and supported young people in the criminal justice system to secure their legal rights and to have an impact on policy, practice and the services that affect them.
While the U R Boss project ended in July 2014, the Howard League continues to work with young people through our legal service and participation work.
Join the Howard League

We are the world's oldest prison charity, bringing people together to advocate for change.

Join us and make your voice heard

Support our work

We safeguard our independence and do not accept any funding from government.

Make a donation