Ending the criminalisation of children in residential care
Briefing one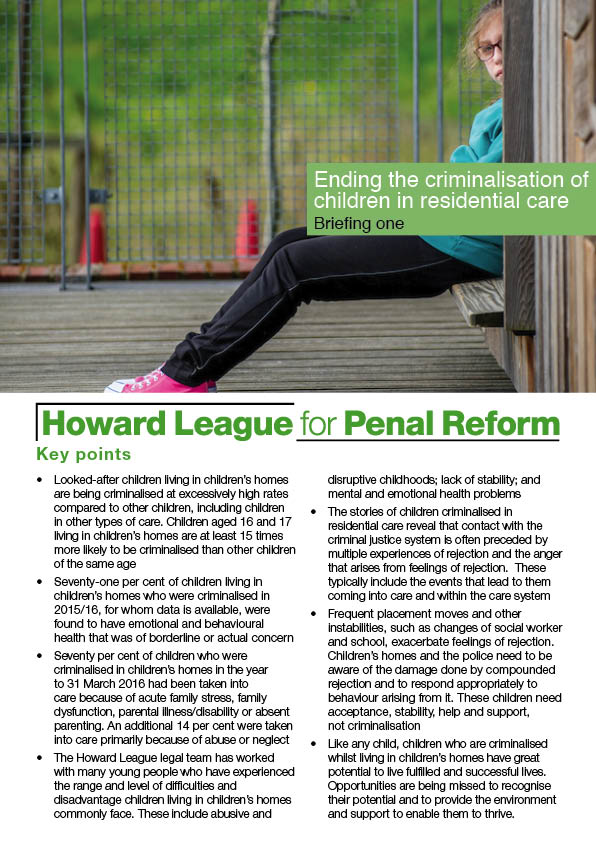 ISBN: 978-1-911114-15-4

Published: 2017

Pages: 8

Publisher: The Howard League for Penal Reform
Downloads
Ending the criminalisation of children in residential care
References
This is the first in a series of briefings to be published alongside a programme of research and campaign work to end the criminalisation of children living in residential care. The project builds on from research we published in March 2016, which found that children living in children's homes were being criminalised at much higher rates than other children, including those in other types of care.
This briefing contains the stories of real young people who have been helped by the Howard League's specialist legal team, all of whom were criminalised whilst living in a children's home. The sources drawn upon, which include social work reports, police witness statements, Youth Offending Team reports and psychological assessments, document the severe problems and extreme vulnerabilities of children who get into trouble with the police whilst they are living in children's homes; they also provide evidence of young people's strengths and good qualities and of the advances and achievements they had made when they were being well-supported and provided with some stability.
The research reveals that the criminalisation of children in residential care risks compounding a sense of rejection and damaging children's mental health and emotional well-being. It recommends that children's homes and police need to be aware of the damage caused by frequent placement moves and other instabilities, such as changes of social worker or school. Children aged 16 and 17 living in children's homes are 15 times more likely to be criminalised than other children of the same age. Instead of being criminalised, these children need acceptance, stability, affection, help and support.
Join the Howard League

We are the world's oldest prison charity, bringing people together to advocate for change.

Join us and make your voice heard

Support our work

We safeguard our independence and do not accept any funding from government.

Make a donation