Faint Hope: What to do about long sentences
This briefing paper shows that there are lessons to be learned from the way other jurisdictions approach long-term imprisonment. In particular, it examines prison systems in Canada, Portugal and the Netherlands.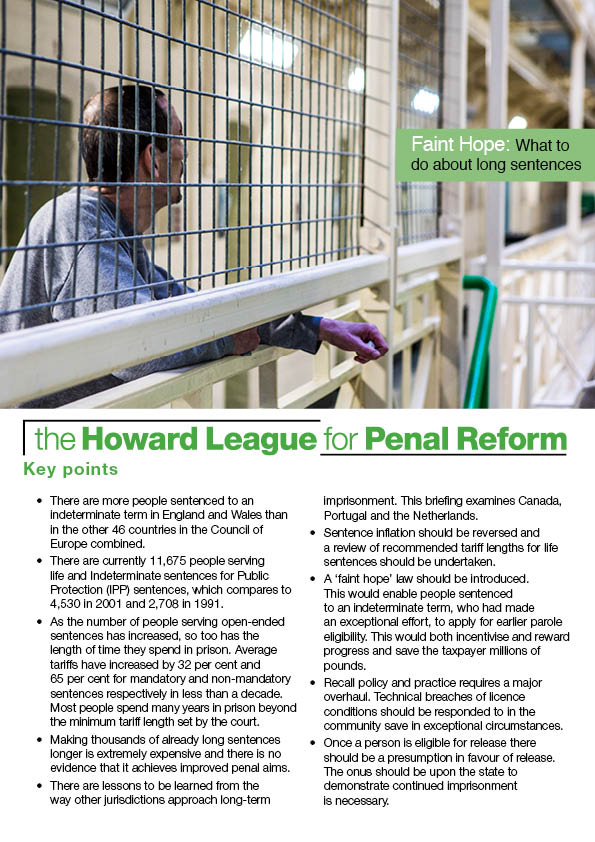 ISBN: 978-1-911114-01-7

Published: 2016

Pages: 6

Publisher: The Howard League for Penal Reform
Downloads
Faint Hope: What to do about long sentences
References
More people are serving indeterminate prison sentences in England and Wales than in the other 46 countries in the Council of Europe combined. Almost 12,000 prisoners are serving either a life sentence or an Indeterminate sentence for Public Protection (IPP) – a rise of more than 250 per cent since 2001.
As the number of people serving open-ended sentences has increased, so too has the length of time they spend in prison.
Most people spend many years in prison beyond the minimum tariff length set by the court.
The paper calls for an overhaul of recall policy and the reversal of sentence inflation. It also recommends the introduction of a 'faint hope' law that would enable people sentenced to an indeterminate term, who had made an exceptional effort, to apply for earlier parole eligibility.
Join the Howard League

We are the world's oldest prison charity, bringing people together to advocate for change.

Join us and make your voice heard

Support our work

We safeguard our independence and do not accept any funding from government.

Make a donation