Lived experiences of gambling, gambling-related harms, and crime within ethnic minority communities
The report of the Commission on Crime and Gambling Related Harms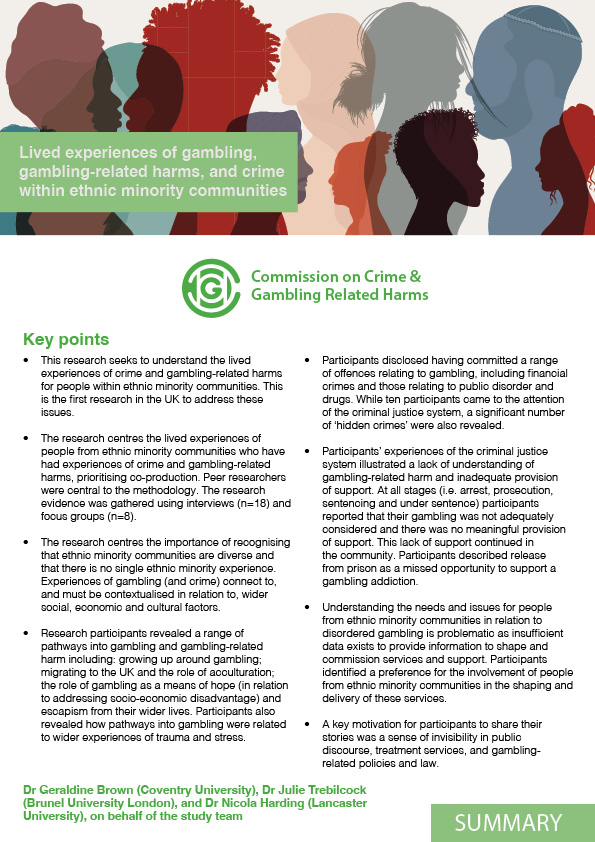 ISBN: 978-1-911114-78-9

Published: 2023

Pages: 9

Publisher: The Howard League for Penal Reform
Downloads
Download the summary
Download the report
The report considers evidence gathered from interviews with people with lived experience of gambling and crime, key stakeholders from organisations concerned with these issues, and focus groups held inside a Category B men's prison. 
The research reveals that there are many different pathways into gambling and gambling-related harm for people within ethnic minority communities, such as: growing up around gambling; migrating to the UK and the role of acculturation; the role of gambling as a means of hope (in relation to addressing socio-economic disadvantage); and escapism from their wider lives. 
But the findings also highlight a lack of understanding of the issue within the criminal justice system. Participants spoke about the inadequate provision of support for people at every stage of the system – arrest, prosecution, sentencing and afterwards. 
Co-produced by a team comprising people with lived experience of crime and gambling, academics at three universities, and colleagues from Betknowmore UK and We Fight Fraud, this is the last in a series of research reports published by the Commission, which was set up by the Howard League for Penal Reform in 2019.  
Join the Howard League

We are the world's oldest prison charity, bringing people together to advocate for change.

Join us and make your voice heard

Support our work

We safeguard our independence and do not accept any funding from government.

Make a donation