No winners
The reality of short term prison sentences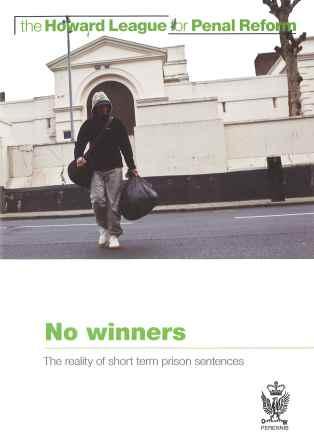 Price: £10

ISBN: 978-1-905994-33-5

Published: 2011

Pages: 43

Publisher: The Howard League for Penal Reform
Downloads
No winners
Report summary
Buy hard copy

(£10 + P&P)

2011
Research conducted for the Howard League and PGA by Dr Julie Trebilcock, Imperial College, London.
Dr Trebilcock worked with a team of retired prison governors in three adult male prisons holding prisoners serving short prison sentences of 12 months and under.  Interviews were conducted with 44 prisoners and 25 prison staff.
This primary research was supported by an extensive online survey of PGA members and other key stakeholders.
Join the Howard League

We are the world's oldest prison charity, bringing people together to advocate for change.

Join us and make your voice heard

Support our work

We safeguard our independence and do not accept any funding from government.

Make a donation