Not hearing us
An exploration of the experience of deaf prisoners in English and Welsh prisons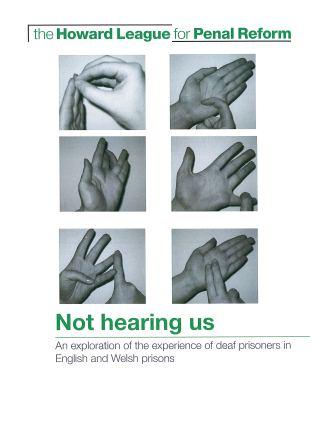 ISBN: 978-1-905994-58-8

Published: 2013

Pages: 44

Publisher: The Howard League for Penal Reform
Downloads
Not hearing us
This research explores the experiences of profoundly deaf prisoners in England and Wales.
It analyses provisions made available for deaf prisoners and uses interviews and case studies to investigate the manner in which provision is delivered in order to make a set of recommendations for improving the treatment of deaf people in prison.
The research was undertaken by Daniel McCulloch, the first recipient of the Howard League Bursary for the MA in Criminology at Birmingham City University.
Join the Howard League

We are the world's oldest prison charity, bringing people together to advocate for change.

Join us and make your voice heard

Support our work

We safeguard our independence and do not accept any funding from government.

Make a donation