Out of control
Punishment in prison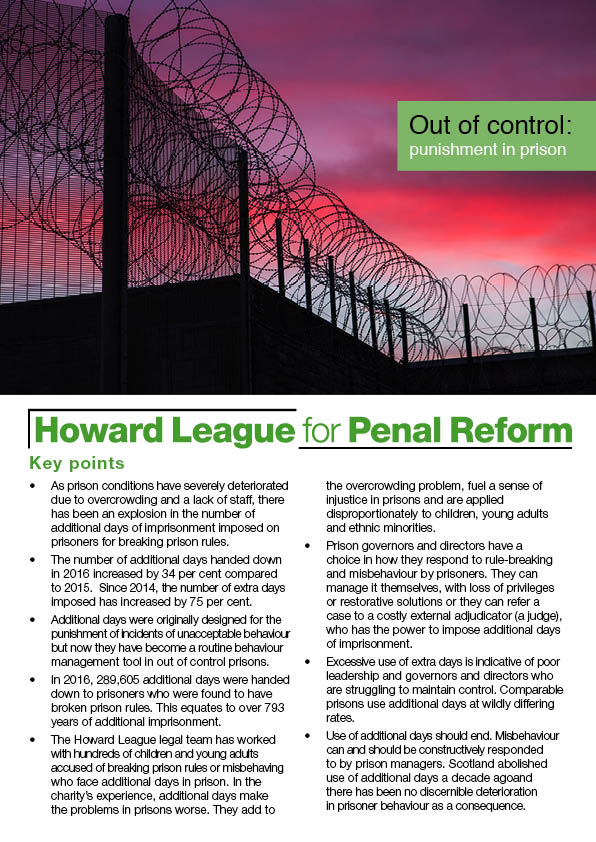 ISBN: 978-1-911114-17-8

Published: 2017

Pages: 6

Publisher: The Howard League for Penal Reform
Downloads
Out of control
References
Research by the Howard League for Penal Reform reveals that prisons are routinely and increasingly resorting to draconian punishments in a counter-productive attempt to regain control.
It shows that almost 290,000 additional days of imprisonment were handed down to prisoners during 2016 – a 75 per cent rise in only two years – as jails have been brought to breaking point by overcrowding and staff shortages. The Howard League has calculated that the additional days imposed in 2016 alone will cost the taxpayer about £27million.
This report reveals how disciplinary hearings, known as adjudications, are used overly and inappropriately, with even minor infractions such as disobedience and disrespect being punished with additional days of imprisonment.
The report calls on England and Wales to follow the example set by Scotland, where the use of additional days of imprisonment was scrapped about 10 years ago.
Officials and governors in Scotland could find no evidence that abolishing the use of additional days had a negative impact on behaviour, and Scottish prisons have become safer since the change was made.
Scrapping the imposition of additional days of imprisonment in England and Wales would stop a vicious cycle. Punishments pile more pressure on the prison population and worsen overcrowding, which in turn creates conditions for drug abuse, violence and other types of misbehaviour.
Join the Howard League

We are the world's oldest prison charity, bringing people together to advocate for change.

Join us and make your voice heard

Support our work

We safeguard our independence and do not accept any funding from government.

Make a donation