Professionalising the probation service: Why university institutes would transform rehabilitation
The What if? series of pamphlets challenges conventional thinking on penal issues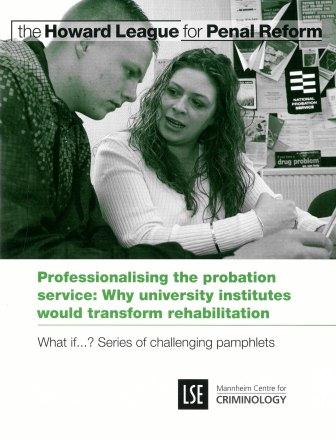 ISBN: 978-1-905994-63-2

Published: 2013

Pages: 18

Publisher: The Howard League for Penal Reform
Downloads
Professionlising the probation service
As part of our What if…? series, Professor Jonathan Shepherd explores the possibility of transforming rehabilitation by professionalising the probation service.
This pamphlet advocates the development of probation institutes in research-intensive universities to innovate and evaluate interventions with and in probation services, and the establishment of a professional body to provide probation with a national voice.
Professor Shepherd argues that such reforms would facilitate innovation and improve service provision and recruitment standards.
Join the Howard League

We are the world's oldest prison charity, bringing people together to advocate for change.

Join us and make your voice heard

Support our work

We safeguard our independence and do not accept any funding from government.

Make a donation