Punishment in prisons
The report looks at how jails in England and Wales operate disciplinary hearings called adjudications, where allegations of rule-breaking are tried.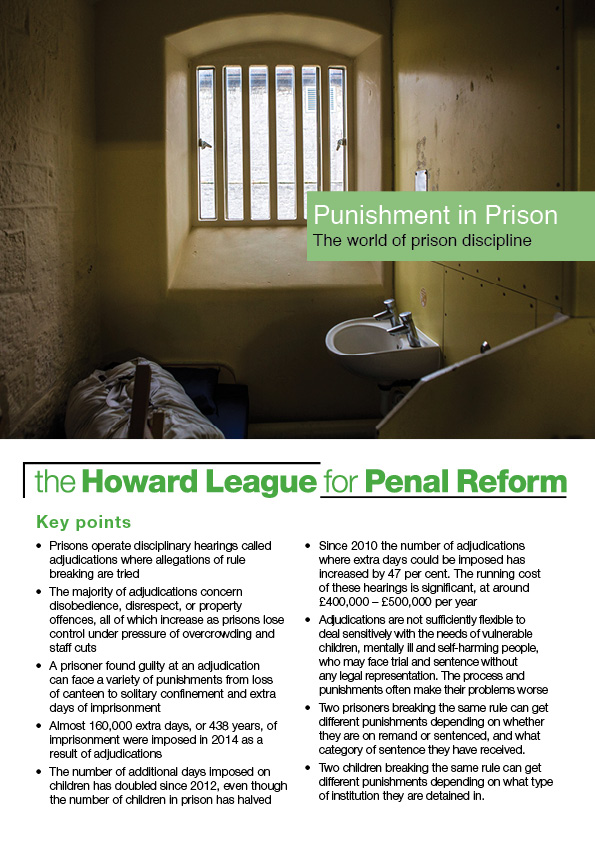 ISBN: 978-1-905994-99-1

Published: 2015

Pages: 6

Publisher: The Howard League for Penal Reform
Downloads
Punishment in prisons
Almost 160,000 days – or 438 years – of additional imprisonment were imposed on prisoners found to have broken prison rules in 2014. The number of extra days imposed on children almost doubled in two years – from 1,383 in 2012 to 2,683 in 2014 – even though the number of children in prison almost halved.
The rise in the number of adjudications in prison has come at a time when prisons across England and Wales are struggling to overcome problems caused by a growing prisoner population, chronic overcrowding and cuts of almost 40 per cent to frontline staffing.
Join the Howard League

We are the world's oldest prison charity, bringing people together to advocate for change.

Join us and make your voice heard

Support our work

We safeguard our independence and do not accept any funding from government.

Make a donation