Representing looked-after children at the police station
A step-by-step guide for lawyers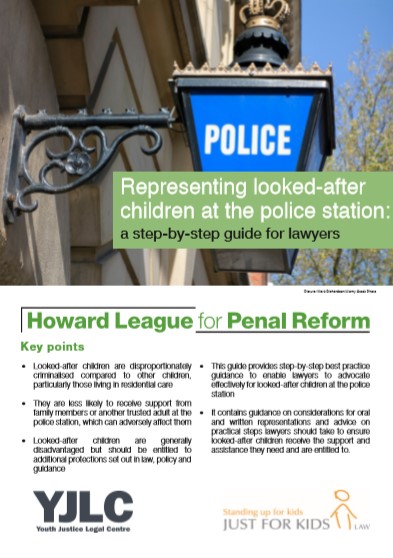 ISBN: 978-1-911114-35-2

Pages: 12

Publisher: Howard League for Penal Reform
Downloads
Representing looked-after children at the police station
Bibliography and further reading
The Howard League for Penal Reform and the Youth Justice Legal Centre at Just for Kids Law have worked together to produce this guide, which offers advice on practical steps that lawyers should take to ensure that looked-after children receive the support and assistance they need and are entitled to.
Looked-after children, and particularly those living in residential care, are disproportionately criminalised, compared to other children. They are less likely to receive support from family members or another trusted adult at the police station, and they should be entitled to additional protections set out in law, policy and guidance.
The guide provides information about the growing number of children coming into care and takes lawyers through the factors that can contribute to their criminalisation.
It then moves on to practical advice, including: how to review the decision to arrest or hold a child in custody; how to communicate effectively with a child; how to advocate for a child's basic rights and entitlements; how to support a child at interview; how to consider whether a child is a victim of exploitation; how to make representations to the police and the Crown Prosecution Service; and how to make sure that a child's community care needs are met.
Join the Howard League

We are the world's oldest prison charity, bringing people together to advocate for change.

Join us and make your voice heard

Support our work

We safeguard our independence and do not accept any funding from government.

Make a donation