The Role of the Prison Officer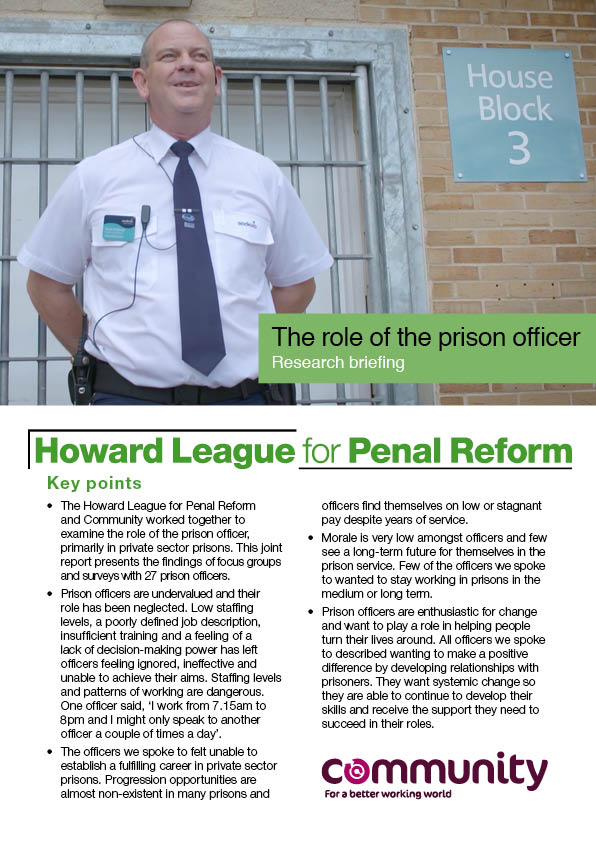 ISBN: 978-1-911114-18-5

Published: 2017

Pages: 6

Publisher: The Howard League for Penal Reform
Downloads
The Role of the Prison Officer
The role of the prison officer, is a joint report by the Howard League and Community, the trade union representing staff across the justice sector.
The report presents the findings of focus groups and surveys with 27 prison officers working in the private sector for a range of companies. A number of officers working in public-sector prisons also gave evidence to the project.
Dangerously low staffing levels, a poorly-defined job description, insufficient training and a perceived lack of decision-making power have left officers feeling ignored, ineffective and unable to achieve their aims. Morale is low among staff in private prisons and few see a long-term future for themselves in the service
Prison officers said that they were enthusiastic for change and wanted to play a role in helping people to turn their lives around. They want systemic change so that they are able to continue to develop their skills and receive the support that they need to succeed in their roles.
The report calls on private companies, ministers and officials to demonstrate that they value prison officers. They must recognise their staff as professionals, fulfil their potential and ensure that officers are able to build rewarding careers.
Join the Howard League

We are the world's oldest prison charity, bringing people together to advocate for change.

Join us and make your voice heard

Support our work

We safeguard our independence and do not accept any funding from government.

Make a donation