To devolve or not to devolve?
The pros and cons of making local authorities financially responsible for children in penal custody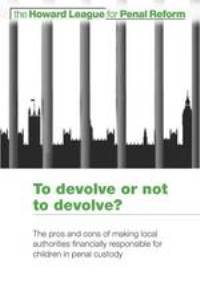 ISBN: 978-1-905994-15-1

Pages: 21

Publisher: The Howard League for Penal Reform
Downloads
To devolve or not to devolve?
This briefing paper considers the pros and cons of devolving youth custody budgets and asks a fundamental question: to what extent can altering the financial arrangements effect real change for the better or is this in reality a problem of law, policy and attitudes?
Join the Howard League

We are the world's oldest prison charity, bringing people together to advocate for change.

Join us and make your voice heard

Support our work

We safeguard our independence and do not accept any funding from government.

Make a donation