The Howard Journal of Crime and Justice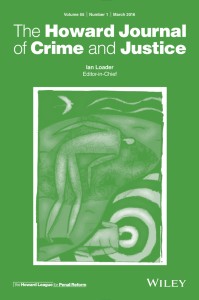 The Howard League for Penal Reform's journal was relaunched in 2016 with a new title, The Howard Journal of Crime and Justice, and a new editor, Professor Ian Loader from the University of Oxford.
Prison staff's perceptions of procedural justice in English and Welsh prisons: A quantitative study
Dr Helen Wakeling and Flora Fitzalan Howard
This study aimed to develop a measure of procedural justice (PJ) perceptions for prison staff, and used this to explore perceptions. A measure of PJ perceptions was created, which had good reliability and validity. Exploration of PJ perceptions found that male, older, more experienced and disciplinary staff held significantly less positive PJ perceptions. Positive PJ perceptions were associated with improved staff motivation and commitment, reduced stress, reduced sickness, and a more positive orientation towards prison residents. Better staff PJ was also associated with better prison residents' PJ. The importance of ensuring staff feel that their workplace is fair is discussed.
Join us

Add your voice to our movement for change. Every voice counts and we hope that you will add yours.

Join us today

Support our work

Everything we do is focused on achieving less crime, safer communities, fewer people in prison. We need you to act now for penal reform.

Ways to support