The Howard Journal of Crime and Justice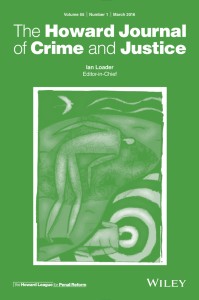 The Howard League for Penal Reform's journal was relaunched in 2016 with a new title, The Howard Journal of Crime and Justice, and a new editor, Professor Ian Loader from the University of Oxford.
Statement of aims and scope
The Howard Journal of Crime and Justice is an international peer-reviewed journal committed to publishing high quality theory, research and debate on all aspects of the relationship between crime and justice across the globe. It is a leading forum for conversation between academic theory and research and the cultures, policies and practices of the range of institutions concerned with harm, security and justice.
The Journal is proud to be associated with, but maintains full editorial independence from, the Howard League for Penal Reform which is the oldest penal reform charity in the world and has consultative status with both the United Nations and the Council of Europe.
The Journal publishes material of a high academic standard but written, so far as possible, in a non-technical style, not unnecessarily burdened with statistical tables and specialist vocabulary. Each issue of the Journal includes a book review section. In addition to published articles, the Editorial Board is open to other formats for fostering dialogue on crime and justice issues, such as special issues, themed debate sections, and interviews with academics and practitioners. The Journal especially welcomes contributions from early career scholars and from authors in the Global South.
All contributions are peer-reviewed by one of the Editors and at least two members of the Editorial Board. The Board aims to have submissions reviewed in a timely manner and typically the time taken from submission to publication is less than 12 months. The Journal also utilises an 'early view' online publication system with three months being the average time taken from receipt for production to publication on early view. Authors should note that the Editorial Board is committed to a policy of anti-racism and anti-sexism in respect of the terminology used in articles in the Journal.
The Howard Journal of Crime and Justice is published by Wiley Blackwell. Please visit the journal website for full details about how to submit papers for review.
Access for our members
Members of the Howard League can access the journal online. If you are a member, email info@howardleague.org to register and get your online access details. Hard copies of the journal are available to full rate members for free. If you are not a member, you can join online here.
We are an independent charity and are funded by donations and membership subscriptions. Please help us secure our future by joining today and adding your voice to our movement for change.
Best article prize 2019 announced

The Howard  Journal of Crime and Justice editors review the articles published each year to identify the best article. This year they decided that the best article prize should go to Professor Dominique Moran, University of Birmingham, Jennifer Turner, University of Liverpool and Helen Arnold, University of Suffolk, for their article: Soldiering On? The prison-military complex and ex-military personnel as prison officers: Transition, rehabilitation and prison reform
This article argues that criminology has inadequately theorised militarism as it relates to the prison system. This agenda-setting article introduces the 'prison-military complex' as a means to initiate examination of militarism in relation to institutions and practices of incarceration. It focuses on a key knowledge gap vis-à-vis the role of ex-military personnel employed as prison staff; and poses key questions about the ways in which military staff and military methods are being directly targeted as a means to reform a prison service reeling from unprecedented levels of violence, self-harm, riots, and escapes. Encouraging criminologists to think beyond stereotypical ideas about the military, the article revolves around a multiscalar articulation of the prison-military complex, discussed here as it relates to reform of the prison system as a whole; the rehabilitation of offenders; and individuals' ex-military transitions to civilian life.
The article is currently free to access on the Howard Journal's website and can be found here.
Previous winner of the best article prize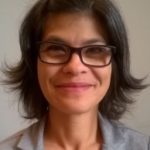 The inaugural winner of the The Howard Journal's best article prize was Professor Sarah Armstrong, University of Glasgow for her article, Securing Prison through Human Rights: Unanticipated Implications of Rights‐Based Penal Governance.
Abstract: Human rights are a dominant framework for regulating prisons. However, there is little critical interrogation of human rights as they are translated into tools for governance. This article develops a critique of human rights by analysing and considering policy as a means of realising rights. It urges sustained and ethnographic attention to policy settings, arguing that policy exerts a form of agency. To do so, it draws on the anthropology of policy and science and technology studies (STS) suggesting that these fields offer useful tools and insights in the study of policy. Finally, three examples of human rights issues are examined in the Scottish penal context to problematise rights‐driven penal policy and suggest directions for research.
Read the prize-winning article: https://onlinelibrary.wiley.com/doi/10.1111/hojo.12270
Howard Journal Event
Are Hope and Possibility Achievable in Prison?
Alison Liebling, Ben Laws, Elinor Lieber, Katherine Auty, Bethany E. Schmidt, Ben Crewe, Judith Gardom, Deborah Kant, Martha Morey all from the University of Cambridge.
There is both hope and frustration in this article. A recent research exercise in a prison found it to be inspirational in its ethos, relationships and mission. Prisoners talked passionately about their experiences in it and its impact on their personal development. But prisoners received very little resettlement support and things sometimes went wrong as soon as they were released, not because of any 'moral failings' on their part, but because they could not even navigate the journey 'home'. It looked like everything we know cumulatively about 'better prisons', but its prisoners were failed as they transitioned out. More 'tragic imagination' is required in penal policy.
Following the publication of this article the lead author, Professor Alison Liebling, agreed to discuss her motivations for conducting the research, the findings and the ideas underpinning her approach.  This conversation with the Howard Journal of Crime and Justice's Editor-in-Chief, Professor Ian Loader and the Governor of HMP Wayland, Sonja Walsh was held on 11 February 2019. Watch the video of the discussion below.
Video abstracts
A new feature introduced by the Howard Journal.
Find out more about articles published in the Howard Journal by watching our video abstracts.
Violence, control and restraint: the harms to young adults particularly upon transition
The transition into the young adult/adult estate at age 18 years is marked by a significant loss of provision and shift in institutional treatment. One of the many harms endured is the change in restraint which is harmful and damaging yet prevailing. The data presented here shows how the distinct needs of this vulnerable population are widely overlooked. This article extends the literature regarding young adults and argues that there should be greater exploration and understanding of their behaviour and the impacts of transitions. This in turn leads to recommendations for changes to practices within the young adult/adult estate.
Rethinking innocence projects in England and Wales: lessons for the future by
Dr Holly Greenwood, Cardiff University
This article draws on original empirical research to explore the rise and fall of innocence projects (IPs) across England and Wales. IPs were university-based projects that sought to educate students, to assist the wrongly convicted and to contribute to research and reform within criminal justice. Thirty-six projects were established between 2004 and 2014 under Innocence Network UK, but following the network's closure, projects appear to be gradually disappearing. Drawing on empirical evidence from key actors, this paper argues the decline of IPs resulted from both emerging tensions within the innocence project movement itself and through the external constraints of operating within a restrictive criminal appeal system. It will conclude by rethinking how surviving projects might play a valuable role in addressing miscarriages of justice in the current climate.
Desistance: A Utopian perspective
Dr David Patton and Professor Stephen Farrall, University of Derby
The written diaries of forty-three adult male respondents from a prison sample that had participated in a restorative justice intervention reveal a nuanced and dynamic process of desistance via their hopes and pains of anticipated desistance.  A utopian reading of the respondents' hopes and pains of desistance is developed which reveal that their diaries express a utopian vision that is not just personal, but also inherently political, radical, collective and transformative.  Their pains of desistance on the other hand, reveal a critique and condemnation of the current societal and structural apparatus.  The necessity for radical and collective change is clear, if desisters and society are to reach their full potential.
'We've all got a big story:' Experiences of a trauma-Informed intervention in prison
Madeline Petrillo, University of Greenwich
Women's experiences of participating in Healing Trauma, a gender-responsive, trauma-informed intervention delivered in women's prisons in England, are examined in this article. Victimisation and trauma are prevalent among women in the justice system but are not perceived to be amenable to criminal justice intervention, and there are compelling arguments that correctional environments are inappropriate settings for trauma-informed programmes.  This article analyses focus group discussions with women who completed Healing Trauma to examine the legitimacy of developing trauma-informed practice in prisons. The women's testimonies indicate that Healing Trauma offers a meaningful opportunity to begin to explore past victimisation that has contributed to their criminalisation.
Rehabilitating Probation: Strategies for re-legitimation after policy failure
Gwen Robinson, University of Sheffield
This article draws on insights from the organisational studies literature to make sense of the recent history of probation in England and Wales in the aftermath of the failed Transforming Rehabilitation reform programme. It considers that recent history as a crisis of legitimacy, necessitating active strategies of re-legitimation aimed at recovering from reputational damage. It argues that top-down plans to restructure the service will only go so far in this endeavour: the expanded National Probation Service must also be prepared to engage in legitimation work on its own behalf. However, this is likely to be challenging for a number of reasons that include the mixed constituency of external stakeholders whom probation seeks to satisfy, and important questions of identity, agency and voice.
The role of needs assessment in the effective engagement of people with conviction
Rachel Horan from The Averment Group and Kevin Wong, Reader in Community Justice, Assistant Director Policy Evaluation and Research Unit, Manchester Metropolitan University
This article argues that potential for needs assessment and sentence planning should transcend their core justice functions and set the tone for effective engagement between probation supervisee and supervisor.  The research tests a new needs assessment and sentence planning tool which aims to integrate the risk, needs responsivity model with desistance principle. This article draws on the lived experience of probation supervisors and supervisees.  Analysis against established models and principles of effective engagement, suggested counter-intuitively,  that disagreement can lead to agreement and more effective engagement.  Additionally, that attention should be paid the potential for the physical case management and supervision environment to positively influence the needs assessment and sentence planning process. These and the other findings have  implications for policy and practice in the United Kingdom and other jurisdictions where probation is a core criminal justice function.
Rushing remand'? Pre-trial detention and bail decision-making in England and Wales
Tom Smith, University of West of England
Deprivation of liberty as part of the criminal process is always a significant step, and arguably even more so when the person so deprived has not yet been convicted of an offence. Remand decision-making – that is, granting bail or requiring detention of a defendant prior to trial – in the courts of England and Wales is a common and important part of modern criminal procedure, yet has been under-examined in the last two decades. This article presents some of the findings of the first empirical study of remand law and practice in this jurisdiction in many years. It concludes that, notwithstanding that the rate of pre-trial detention is comparatively low and practice is broadly in line with domestic and regional standards, there remain significant issues – particularly in relation to the time spent on such decisions and the information provided to courts when considering remands on bail or in custody.
Special Issue:  Can understanding history make a difference to criminal justice policy?
Barry Godfrey, Professor of Social Justice, University of Liverpool
This special issue advocates the potential for historical analysis in the development of contemporary criminal justice landscape.  Far from just providing a narrative to locate criminal justice, history can provide a wealth of knowledge to inform and shape criminal justice policies based on the successes and failures of the past,  This volume includes articles focusing on a range of issues including youth justice, domestic violence, the treatment of first nation peoples and the potential for decarceration.
Towards a Criminology of the Domestic
Pamela Davies and Michael Rowe, Professors of Criminology, Northumbria University
University criminology has paid insufficient attention to the 'domestic' arena, as a locale that is being reconfigured through technological and social developments in ways that require us to reconsider offending and victimisation. This article addresses this lacuna. We take up Elaine Campbell's (2016) challenge that criminology needs to develop more sophisticated models of place and space, particularly in relation to changing patterns of consumption and leisure activity and the opportunities to offend in relation to these from within the domestic arena.
This article is part of a themed section on 'Home' Environments: Crime, Victimisation and Safety which forms part of the June 2020 Howard Journal.
Professional perspectives of youth justice policy implementation: Contextual and coalface challenges
Professor Stephen Case: Social and Policy Studies, Loughborough University, Professor John Drew: Prison Reform Trust, Dr Kathy Hampson: Department of Law and Criminology, Aberystwyth University, Gareth Jones: Cheshire East, Cheshire West, Halton and Warrington Youth Justice Services, and Dusty Kennedy: Early Action Together, Public Health Wales
This paper offers a multi-layered analysis of the subjective perspectives and experiences of key youth justice stakeholders; exploring the inherent dynamism, contradiction, non-linearity and contentiousness of youth justice policy implementation.  We interrogate how professionals make sense and meaning of policy in the real-world and how professional perspectives drive and shape their contributions to policy implementation nationally and locally.  Contemporaneously, these analyses enable us to critically examine the caricatures, stereotypes and assumptions that can (mis)inform common constructions, representations and understandings of youth justice policy trajectories, including those relating to contextual stability, conceptual clarity, robust evidence-bases and purported foundations in stakeholder consensus.
Steven Case introduces the issues raised in this article. The article is available on the Howard Journal's website and can be found here.
From the outside in: Narratives of creative arts practitioners working in the criminal justice system
Ella Simpson, Bath Spa University, Catherine Morgan, Bath Spa University and Laura Caulfield, Wolverhampton University.
The penal voluntary sector is highly variegated in its roles, practices and functions, though research to date has largely excluded the experiences of frontline practitioners. This article argues that engaging with the narratives of practitioners can provide fuller appreciation of the potential of the sector's work. Though life story and narrative have been recognised as important in offender desistance (Maruna 2001), the narrative identities of creative arts practitioners, who are important 'change agents' (Albertson 2015), are typically absent. This is despite evidence to suggest that a practitioner's life history can be a significant and positive influence in the rehabilitation of offenders (Harris 2017). Using narratological analysis (Bal 2009), this study examined the narratives of 19 creative practitioners in prisons in England and Wales. Of particular interest were the formative experiences of arts practitioners in their journey to prison work. The findings suggest that arts practitioners identify with an 'outsider' status and may be motivated by an ethic of mutual aid. In the current climate of third sector involvement in the delivery of criminal justice interventions, such a capacity may be both a strength and a weakness for arts organisations working in this field.
Special Issue: The Criminal Justice Voluntary Sector: In Comparative Perspective
Edited by Philippa Tomczak, University of Nottingham
This special issue contributes to scholarly, practical and policymaking efforts to understand the (potential) activities of voluntary (non-State, non-profit) organisations and volunteers across criminal justice institutions, in jurisdictions around the world.
Tomczak and Buck set the scene by exploring the significant roles played by voluntary organisations and volunteers across criminal justice institutions. They suggest these core criminal justice actors hold unrecognised potential to shore up criminal justice and/or collaboratively reshape social justice.  Samantha McAleese, drawing on Canadian experiences, points out the sector's work supporting criminalised individuals and potential for strengthening relationships between multiple agents (academics, policymakers, advocates, practitioners, and people with lived experience of criminalisation and punishment).
Simpson, Morgan and Caulfield highlight how arts practitioners' 'outsider' status can motivate voices of resistance and shared prisoner-practitioner identities. Hinde and White note how vital the work of peer supporters in Tasmanian prisons is. Drawing attention to the overlooked influence of faith in much voluntary action, Jane Dominey details how community chaplaincy staff invested considerable time responding to the practical and emotional needs of service users, in a way that probation supervisors could not.
But penal voluntary sector action is by no means unproblematic.  Abigail Salole illustrates how the Canadian youth penal voluntary sector operates in tandem with the statutory criminal justice system, and thus holds the penultimate power to trigger exclusionary criminal justice responses. Maguire, Williams and Corcoran raise concerns about the gradual adoption of criminal justice culture, language, and working practices among voluntary sector organisations commissioned to deliver criminal justice services. Consequences include increases in coerced attendance, obligations to report non-compliance, targets to reduce reoffending, and contracts to 'process' high caseloads. Helminen and Mills look at the differing impact of marketisation on penal voluntary organisations in Finland and New Zealand.
PhilippaTomczak concludes that 'criminal justice voluntary sector practices are complex to analyse, fluid, and hybrid. Their future development, and future penal and social policy reforms affecting their work are currently unknown. What is clear is that an array of vital criminal justice work affecting jurisdictions around the world is ill understood.'
Solid foundations? Towards a historical sociology of prison building programmes in England and Wales, 1959-2015
Tom Guiney, Mannheim Centre for Criminology, London School of Economics and Political Science
Between 1959 and 2015 the UK government embarked upon five major phases of prison building in England and Wales. Drawing upon detailed archival research this article offers a historical sociology of prison building programmes. It traces the evolution of prison building as a public policy concern and documents how this key site of penal-policymaking was interpreted, and contested by, policy actors who were themselves embedded within deep institutional structures of power and meaning. It argues that prison building has moved from the margins to the mainstream of penal policy, shaped by strongly held convictions about the liberal-democratic state, the competition for control of finite resources and the complex 'geography of administration' that underpins the British machinery of government.
Full article will be available soon.
Dr Tom Guiney is now a lecturer in criminology at Oxford Brookes University.
Soldiering On? The prison-military complex and ex-military personnel as prison officers: Transition, rehabilitation and prison reform
Dominique Moran, University of Birmingham, Jennifer Turner, University of Liverpool and Helen Arnold, University of Suffolk
This article argues that criminology has inadequately theorised militarism as it relates to the prison system, this agenda-setting article introduces the 'prison-military complex' as a means to initiate examination of militarism in relation to institutions and practices of incarceration. It focuses on a key knowledge gap vis-à-vis the role of ex-military personnel employed as prison staff; and poses key questions about the ways in which military staff and military methods are being directly targeted as a means to reform a prison service reeling from unprecedented levels of violence, self-harm, riots, and escapes. Encouraging criminologists to think beyond stereotypical ideas about the military, the article revolves around a multiscalar articulation of the prison-military complex, discussed here as it relates to reform of the prison system as a whole; the rehabilitation of offenders; and individuals' ex-military transitions to civilian life.
The article is currently available on the Howard Journal's website and can be found here.
Can – and should – lawyers be considered 'appropriate' appropriate adults?
Roxanna Dehaghani and Daniel Newman, Cardiff University
This paper adds to the debate on vulnerable suspects by bringing together research on appropriate adults and criminal defence lawyers. The Police and Criminal Evidence Act (PACE) 1984 forbids all lawyers from acting as appropriate adults. The courts, in very limited case law, have taken a different approach, leaving a space in which lawyers might be considered suitable to fill the gap left by an appropriate adult's absence. Empirical data exploring the views of custody officers on the appropriate adult and its use supports this account. Fieldwork with defence lawyers is then explored to highlight how lawyers might have some of the suitable characteristics of the appropriate adult but could not realistically perform such duties in practice (or conceptually). This paper illustrates that lawyers are ill-equipped to deal with a client's vulnerability and therefore argues that they should never be viewed as an 'appropriate adult replacement'.
Experts, Expertise and Drug Policymaking
Mark Monaghan, Birmingham University, Emma Wincup and Kate Wicker, University of Leeds
Over the past two decades, policymakers have been encouraged to develop evidence‐based policies in collaboration with experts. Drug policy is unique since it has an established inbuilt mechanism for soliciting expertise via the Advisory Council for the Misuse of Drugs (ACMD). Increasingly alternative mechanisms have been used. Based upon detailed analysis of two case studies of drug policymaking using alternative methods to solicit expertise, we argue that the framing of the policy problem, the mechanisms used to involve experts and the type of evidence actively sought, have continued to marginalise the involvement of the drug user in policymaking.
The article is currently available on the Howard Journal's website and can be found here.
Building Bridges to the Community: The Kirkham Family Connectors (KFC) Prison Programme
Lauren Hall, University of Lincoln; David Best, Sheffield Hallam University; Clare Ogden-Webb,  Jacqui Dixon and Rob Heslop, HMP Kirkham
Families represent a form of social capital that can influence effective reintegration depending on the strength of the bond, and the nature of the relationship.  An innovative training programme delivered at HMP Kirkham was designed to mobilise the strengths of prisoners, in the period prior to their release, by engaging family members as bridges to community resources and by a shared planning process designed to build stronger bonds between prisoners and their families. The conceptual framework for the Kirkham Family Connectors (KFC) project is based on the principles of Asset Based Community Development (ABCD) and Assertive Linkage (assisting individuals in engaging with such assets). The project aimed to build prisoner resettlement capital by identifying what each prisoner's skills and strengths were, what enthused and engaged them, and to create partnerships with family members to establish accessible pathways to related resources in the communities they would be returning to on their release. Evaluation data shows that the programme generated hope and a sense of partnership among participants and key lessons for a strengths-based intervention to support the prison-community transition. All three of the participating groups – staff, prisoners and families – reported positive engagement and an emerging sense of hope, and group cohesion through shared goals. There is considerable scope for both peer and probation staff delivery of the programme in the future, and for extending the scale and the scope of the project.
This article is currently free to access here.
From Procedural Justice to Procedural Injustice: Understanding Prison Staff and Inmate Conflict
Rebecca Trammell, Anthony Cook, Maria Deleon Marquez, Paul Hinkle, Lucy Protze and Nathaly Rodriguez, from the Metropolitan State University of Denver
Maria Deleon Marquez discusses the idea of procedural justice in prison.  The article discusses how prison employees' use of respectful language improves their interactions with the inmates.  However, some interviewees describe harsh language and threats used against the inmates.  We identify this as procedural injustice where they force the inmates to comply by threatening them with harsh punishment.  The choice to use respectful behavior is dependent on whether or not inmates question their authority.  Training needs to focus on helping prison workers present themselves as legitimate authority figures rather than authoritarians.
The article is currently free to access here.
Interpreting penal policy: Special issue edited by Harry Annison, John Boswell and Mark Telford, University of Southampton
This special issue seeks to contribute to the understanding and explanation of penal change by exploring and illustrating what it means to examine penal policymaking through a range of interpretive lenses and via a number of specific case studies. Currently there is a renewed interest in the exploration of penal change and the political dynamics that drive, underpin, and relate to, developments in penal policy and practice. This latest wave of scholarship is situated within, and owes great intellectual debts to, a rich extant literature whose foundations, due to the interdisciplinary nature of penological scholarship, span law, sociology, philosophy, social theory, political science, and beyond. Underpinning all of the articles in this special issue is a motivation elucidated recently by Barker and Miller (2017), who have emphasised the value of case study research in examining the complex dynamics between State power and penal order. The articles contained in this special issue demonstrate the value of such approaches and the potential for valuable dialogue between studies that analyse different 'levels' of policymaking and through different theoretical lenses in order better to understand penal change.
This special issue draws issues ranging from the English riots of 2011, through sentencing and prison policy to prostitution and drug laws to examine the process of penal policy making.
Harry Annison's article Politics and Penal Change: Towards an Interpretive Political Analysis of Penal Policy Making is currently free to access.
A more Nordic Norway? Examining penal exceptionalism in 21st century Iceland
Francis Pakes, University of Portsmouth and Helgi Gunnlaugsson, University of Iceland
First published 19 January 2018
John Pratt (2008) put Nordic penal exceptionalism firmly on the criminological agenda describing penal practice in Norway, Sweden and Finland. This was then placed in sharp contrast with Anglophone penal excess in Pratt and Eriksson's subsequent book (2011). Pratt travelled to the Nordic countries to establish why penal practice was restrained, positive and generally form an exception to penal trends worldwide. Ironically, the key ingredient of exceptionalism is in fact its semantic opposite, normalisation. It refers to efforts to maintain in prison life as state of normality, for prison life to be as 'normal' as possible in order to facilitate Nordic prisons' main objective of preparing prisoners for a return to society. The common phrase used is that Nordic prisons are places of punishment but not places for punishment: the deprivation of liberty is in the fact the punishment whilst the stay in prison should facilitate a prisoner's betterment or personal growth.  Using Norway as a comparator, this article explores the Icelandic approach to prisons to see if it has something fresh to offer.
'We Don't do Measure and Quotes': How Agency Responses Criminalise and Endanger the Safety of Children Missing in Care in New South Wales, Australia
Emma Colvin, Kath McFarlane, Alison Gerard and Andrew McGrath, Charles Sturt University, Australia
First published: 27 April 2018
This article is based on qualitative data from interviews with 46 welfare and justice professionals to examine the criminalisation of children who go missing from care.  Everyone interviewed had direct experience of children in residential care either through the direct provision of care services, the development of Out‐Of‐Home‐Care policy initiatives or through their role as law enforcement, legal or justice personnel. The research found that agency practices, which were designed to protect children actually serve to conflate going missing with criminality and that this accelerates children's involvement in the justice system and ultimately endangers children's safety.
Current free to access articles
The following articles in the current issue of the Howard Journal of Crime and Justice are free to access:
Other articles from previous issues of the journal may also be free to access, so it's worth taking a look.
Join us

Add your voice to our movement for change. Every voice counts and we hope that you will add yours.

Join us today

Support our work

Everything we do is focused on achieving less crime, safer communities, fewer people in prison. We need you to act now for penal reform.

Ways to support