The Howard Journal of Crime and Justice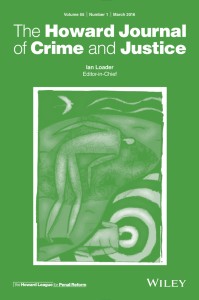 The Howard League for Penal Reform's journal was relaunched in 2016 with a new title, The Howard Journal of Crime and Justice, and a new editor, Professor Ian Loader from the University of Oxford.
Statement of aims and scope
The Howard Journal of Crime and Justice is an international peer-reviewed journal committed to publishing high quality theory, research and debate on all aspects of the relationship between crime and justice across the globe. It is a leading forum for conversation between academic theory and research and the cultures, policies and practices of the range of institutions concerned with harm, security and justice.
The Journal is proud to be associated with, but maintains full editorial independence from, the Howard League for Penal Reform which is the oldest penal reform charity in the world and has consultative status with both the United Nations and the Council of Europe.
The Journal publishes material of a high academic standard but written, so far as possible, in a non-technical style, not unnecessarily burdened with statistical tables and specialist vocabulary. Each issue of the Journal includes a book review section. In addition to published articles, the Editorial Board is open to other formats for fostering dialogue on crime and justice issues, such as special issues, themed debate sections, and interviews with academics and practitioners. The Journal especially welcomes contributions from early career scholars and from authors in the Global South.
All contributions are peer-reviewed by one of the Editors and at least two members of the Editorial Board. The Board aims to have submissions reviewed in a timely manner and typically the time taken from submission to publication is less than 12 months. The Journal also utilises an 'early view' online publication system with three months being the average time taken from receipt for production to publication on early view. Authors should note that the Editorial Board is committed to a policy of anti-racism and anti-sexism in respect of the terminology used in articles in the Journal.
The Howard Journal of Crime and Justice is published by Wiley Blackwell. Please visit the journal website for full details about how to submit papers for review.
Access for our members
Members of the Howard League can access the journal online. If you are a member, email Louise.Scarce@howardleague.org to register and get your online access details. Hard copies of the journal are available to full rate members for free. If you are not a member, you can join online here.
We are an independent charity and are funded by donations and membership subscriptions. Please help us secure our future by joining today and adding your voice to our movement for change.
Video abstracts
A new feature introduced by the Howard Journal.
Find out more about articles published in the Howard Journal by watching our video abstracts.
A more Nordic Norway? Examining penal exceptionalism in 21st century Iceland
Francis Pakes, University of Portsmouth and Helgi Gunnlaugsson, University of Iceland
First published 19 January 2018
John Pratt (2008) put Nordic penal exceptionalism firmly on the criminological agenda describing penal practice in Norway, Sweden and Finland. This was then placed in sharp contrast with Anglophone penal excess in Pratt and Eriksson's subsequent book (2011). Pratt travelled to the Nordic countries to establish why penal practice was restrained, positive and generally form an exception to penal trends worldwide. Ironically, the key ingredient of exceptionalism is in fact its semantic opposite, normalisation. It refers to efforts to maintain in prison life as state of normality, for prison life to be as 'normal' as possible in order to facilitate Nordic prisons' main objective of preparing prisoners for a return to society. The common phrase used is that Nordic prisons are places of punishment but not places for punishment: the deprivation of liberty is in the fact the punishment whilst the stay in prison should facilitate a prisoner's betterment or personal growth.  Using Norway as a comparator, this article explores the Icelandic approach to prisons to see if it has something fresh to offer.
Here is the link article which is currently free to access https://onlinelibrary.wiley.com/doi/10.1111/hojo.12244
'We Don't do Measure and Quotes': How Agency Responses Criminalise and Endanger the Safety of Children Missing in Care in New South Wales, Australia
Emma Colvin, Kath McFarlane, Alison Gerard and Andrew McGrath, Charles Sturt University, Australia
First published: 27 April 2018
This article is based on qualitative data from interviews with 46 welfare and justice professionals to examine the criminalisation of children who go missing from care.  Everyone interviewed had direct experience of children in residential care either through the direct provision of care services, the development of Out‐Of‐Home‐Care policy initiatives or through their role as law enforcement, legal or justice personnel. The research found that agency practices, which were designed to protect children actually serve to conflate going missing with criminality and that this accelerates children's involvement in the justice system and ultimately endangers children's safety.
Emma Colvin and Kath McFarlane explain more about their research.
Current free to access articles
The following articles in the current issue of the Howard Journal of Crime and Justice are free to access:
Other articles from previous issues of the journal may also be free to access, so it's worth taking a look.
Join us

Add your voice to our movement for change. Every voice counts and we hope that you will add yours.

Join us today

Support our work

Everything we do is focused on achieving less crime, safer communities, fewer people in prison. We need you to act now for penal reform.

Ways to support