Events · Howard League events
Crime, care, discrimination & remorse: children in the justice system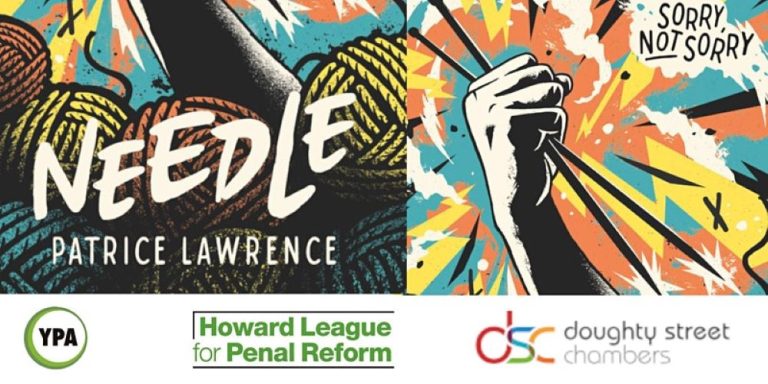 Date: 29 Jun 2022

Location: Doughty Street Chambers 54 Doughty Street London WC1N 2LS
Law and Practice Seminar
Crime, care, discrimination & remorse: children in the justice system
Wednesday 29 June 2022, 5.30–7pm, in person at Doughty Street Chambers, 54 Doughty Street, London WC1N 2LS
About the event
In person book launch of Patrice Lawrence's Needle and practitioner led discussion on children, crime, care, discrimination and remorse.
Speakers
Garry Green, Barrister
Patrice Lawrence, Author of Needle
Claire Salama, Howard League for Penal Reform
Leah Connolly, Youth Practitioners Association
Jordan and Maleekah, Drive Forward policy forum
The Youth Practitioners' Association and the Howard League for Penal Reform invite you to an evening of discussion and reflection at Doughty Street Chambers on how the criminal justice system can compound the existing prejudices faced by children who are care experienced and from minority communities.
Patrice Lawrence's new book Needle explores the treatment of Charlene, a Black teenager in care who loves knitting and her sister from whom she has been separated. She finds herself in a police station and under pressure to say "sorry" after she loses her temper when everything she loves is under threat. The book, inspired by Patrice's work on the Howard League's antiracist legal guide, explores critically important issues affecting children in trouble.
This event will reflect on the book and how practitioners can work to prevent children going through Charlene's experiences in real life.
More about Needle, which will be available to buy at the event:
https://www.barringtonstoke.co.uk/books/needle
Join the Howard League

We are the world's oldest prison charity, bringing people together to advocate for change.

Join us and make your voice heard

Support our work

We safeguard our independence and do not accept any funding from government.

Make a donation