Events · Howard League events
Howard League lecture held in memory of Lord Parmoor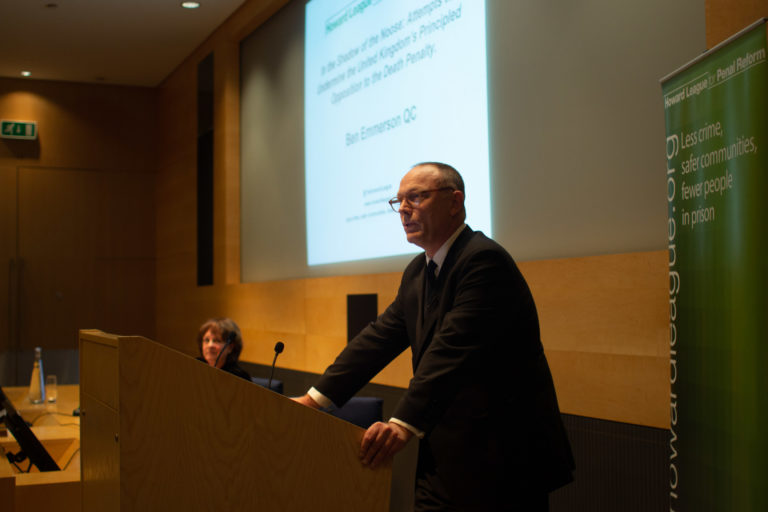 Date: 15 Oct 2018

Location: Clifford Chance LLP, 10 Upper Bank Street, London, E14 5JJ
Tickets
This event has already taken place : £0
Book now
Our annual lecture was held in memory of Lord Parmoor, Howard League supporter and donor.
The lecture was held on Monday 15 October 2018 at 6pm at Clifford Chance LLP, 10 Upper Bank Street, London, E14 5JJ.
Guest speaker: Ben Emmerson QC
"In the Shadow of the Noose: Attempts to Undermine the United Kingdom's Principled Opposition to the Death Penalty."
In this lecture, the former UN Special Rapporteur on Human Rights and Counter-Terrorism examined the British Government's recent record in death penalty cases and asked whether they have fatally compromised the UK's international reputation for promoting the progressive abolition of the death penalty around the world.
Ben Emmerson QC is an international lawyer, specialising in European human rights law, public international law and international criminal law. He was the UN Special Rapporteur on Counter Terrorism and Human Rights from 2011 to 2017. He was a founder member of Matrix Chambers and has 25 years' experience litigating before international courts and tribunals including the International Court of Justice, the European Court of Human Rights, the European Court of Justice, the International Criminal Court and the International Criminal Tribunal for the Former Yugoslavia. Within the UK he is a deputy High Court Judge, a Master of the Bench of Middle Temple and an Honorary Fellow of Mansfield College, Oxford. He also currently sits as a judge of the Appeal Chambers of the International Criminal Tribunals for Rwanda and the Former Yugoslavia.
You can watch the video recording of the lecture below.
Previous lectures
The full text of the 2017 lecture given by The Rt Hon Sir James Munby, President of the Family Division of the High Court of England and Wales can be downloaded here.
The full text of the 2016 lecture given by Professor Nick Hardwick, Chairman of the Parole Board can be downloaded here.
For video recordings of previous lectures follow the links below.
Join us

Add your voice to our movement for change. Every voice counts and we hope that you will add yours.

Join us today

Support our work

Everything we do is focused on achieving less crime, safer communities, fewer people in prison. We need you to act now for penal reform.

Ways to support