Events · Howard League events
Policing the Community Conference and Community Awards 2019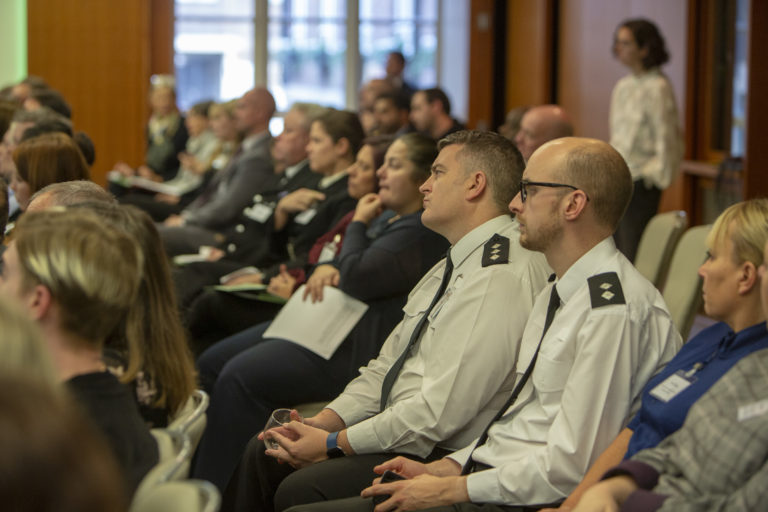 Date: 12 Nov 2019

Location: King's Fund, Cavendish Square, London W1G 0AN
Tickets
Shortlisted projects : £125
Supported rate (voluntary sector) : £150
Commercial rate (statutory and private sectors) : £195
Book now
Policing the community conference and Howard League Community Awards 2019 will be held on Tuesday 12 November 2019 at the King's Fund, 11–13 Cavendish Square, London W1G 0AN.
The Howard League for Penal Reform remains concerned that too many people are being brought into conflict with the criminal justice system and the problematic implications this has for their future lives. We want to explore how they can be diverted to more appropriate services.
This conference will provide an opportunity for delegates to discuss best practice in policing and diversion from crime and custody. It will explore innovations in policy and practice in relation to policing, sentencing and women; criminalisation of children in residential care; and policing the community.
The conference will also include the Community Awards 2019, recognising projects and organisations whose work and practice is delivered above and beyond normal service delivery, showcasing the most successful community projects across the country which are encouraging desistance from crime.  We are delighted to announce that the awards this year will be presented by TV star, Prue Leith.
Speakers and contributors confirmed so far: 
Jon Collins, Chief Executive, The Magistrates Association
Frances Crook, Chief Executive, Howard League for Penal Reform
Anne Fox, Chief Executive, Clinks
Katrina Ffrench, Chief Executive, StopWatch
Prue Leith, broadcaster, writer and TV star
Gerry Marshall, Trustee, Howard League for Penal Reform
Andrew Neilson, Director of Campaigns, Howard League for Penal Reform
Lisa Pascoe, Deputy Director, Social Care Policy, Ofsted
Neil Platt, Clinical Director, Beacon Counselling Trust
Claire Sands, Research and Policy Manager, Howard League for Penal Reform
Lucy Scott-Moncrieff, Managing Director, Scott-Moncrieff and Associates Ltd; House of Lords Commissioner for Standards and, Trustee, Howard League for Penal Reform
The conference will be followed by the Howard League AGM.
Join us

Add your voice to our movement for change. Every voice counts and we hope that you will add yours.

Join us today

Support our work

Everything we do is focused on achieving less crime, safer communities, fewer people in prison. We need you to act now for penal reform.

Ways to support