Events · Howard League events
Redesigning Justice: Promoting civil rights, trust and fairness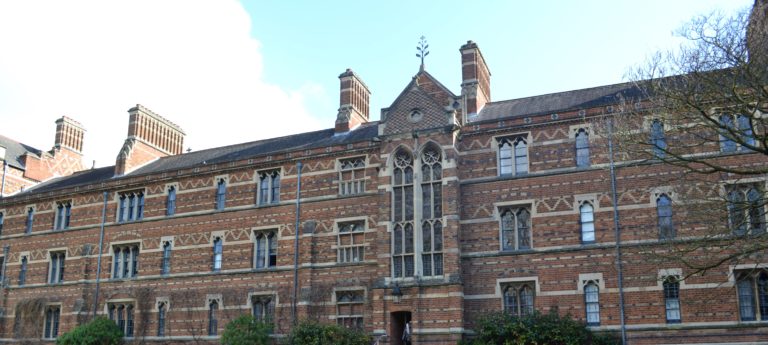 Start date: 21 Mar 2018

End date: 22 Mar 2018

Location: Keble College, Oxford
Tickets
Two days including conference dinner (statutory and private sectors) : £395
Two days without conference dinner (statutory and private sectors) : £345
One day (Wed) including conference dinner (statutory and private sectors) : £245
One day (Wed) without conference dinner (statutory and private sectors) : £195
One day (Thu) (statutory and private sectors) : £195
Two days including conference dinner (charities, NGOs and students) : £360
Two days without conference dinner (charities, NGOs and students) : £297
One day (Wed) including conference dinner (charities, NGOs and students) : £215
One day (Wed) without conference dinner (charities, NGOs and students) : £165
One day (Thu) (charities, NGOs and students) : £165
Book now
Two-day international conference
21–22 March 2018, Keble College, Oxford
Book early for 'Early bird' rates.
Speakers announced so far:
Andrea Albutt, President, Prison Governors Association
Professor Sophie Body-Gendrot, Emeritus Professor University of Paris-Sorbonne, Researcher at CNRS-CESDIP, Co-editor of The Routledge Handbook of European Criminology
Professor Danny Dorling, Halford Mackinder Professor of Geography, Fellow of St Peter's College, University of Oxford
Professor Martine Herzog-Evans, Law faculty, University of Rheims
Professor Barry Goldson, Charles Booth Chair of Social Science, University of Liverpool
Professor Nicola Lacey, Professor of Law, Gender and Social Policy, London School of Economics
Professor Elena Larrauri, Professor of Criminal Law and Criminology, Universitat Pompeu Fabra, Barcelona
Professor Ian Loader, Professor of Criminology and Professorial Fellow of All Souls College, University of Oxford
Oliver Lodge, Director, Justice Value for Money, National Audit Office
Professor Tracey L. Meares, Walton Hale Hamilton Professor of Law, Yale University
Professor Fergus McNeill, Professor of Criminology & Social Work, University of Glasgow
Mauro Palma, former President of the European Committee for the Prevention of Torture
Alison Saunders, Director of Public Prosecutions
Gary Younge, an author, broadcaster and editor-at-large for The Guardian
More information about the speakers.
The conference
Our relationship with justice is complex. Justice and the systems for delivering (criminal) justice are often criticised but rarely is there a credible, achievable challenge to the status quo proposed: most want to tinker around the edges. We are witnessing a global climate of mistrust and challenge to the establishment, political elites as well as justice leadership. The time is right to consider the way we do justice and what we want the justice system to achieve.
The conference will shine a light on seemingly intransigent aspects of justice systems including what equality and legitimacy mean 50 years after the assassination of Martin Luther King and why prison is still so central to justice responses to crime.  It will also seek to develop thinking on the changing dynamics of crime with the increasing prominence of cybercrime and fraud but also the impact of the changing nature of public discourse, with the rise of social media, on justice debates.
This conference seeks to bring together academics, policy makers and practitioners from within the criminological and legal disciplines but we are also keen to include contributions located within areas of study including philosophy, geography, political science and economics.
Call for papers
The Howard League is looking for papers from academics, policy makers, practitioners, PhD students and researchers from within the criminological and legal disciplines, however we are also keen to include contributions from fields of study including philosophy, geography, political science and economics. We will consider theoretical, policy, practice-based and more innovative contributions around a wide range of issues that encompass the broad theme of justice and the wider conference themes, as well as papers with a focus on:
Social justice, human rights and penal policy
Penality and penal reform strategies
The role of the state
Learning from history
Relationship between social policy and penal policy
Local justice and participation
Comparative criminology
Innovation and justice
Policing
Youth justice
Politics and crime
Abstract guidelines
Proposals should be titled clearly and be a maximum of 250 words. Please include the proposer's name and contact details along with the job title or role.
Please submit abstracts via email to: anita.dockley@howardleague.org
Closing date:
We are pleased to announce that the deadline for abstract submission has been extended due to increased interest from overseas delegates and to allow extra time over the Christmas break to Monday 22 January 2018.  Decisions will be made by Monday 5 February.
What happens after submitting?
If accepted, you will receive further details concerning the conference and any other information required.  If rejected, the decision of the Howard League on the acceptance of a paper is final and the Howard League is unable to enter into correspondence on the subject.
Best PhD Paper Prize
The conference seeks to promote the work of PhD students through awarding a prize for the best PhD paper.
Entrants will need to complete the application form.  The deadline for applications has been extended to Monday 22 January 2018.
For application forms please contact: barbara.norris@howardleague.org
The prize-winners will be decided by the conference committee and the winning papers will be announced at the conference.
Conference rates
All conference participants, whether presenting a paper or not, are expected to pay conference fees. 'Early bird' rates have been extended to bookings made by Wednesday 28 February 2018. Supported rates apply to registered charities, NGOs and students as well as private individuals not funded by or representing an organisation.
What's included?
Conference fees include all day access to the conference sessions on your chosen day(s), conference papers, choice of delicious hot and cold two-course lunch served in the magnificent Victorian Gothic Dining Hall, morning and afternoon refreshments. Conference gala dinner on the first day is optional and can be selected at the time of booking.
Accommodation is not included in the conference fees and can be booked directly with the college online: http://www.keble.ox.ac.uk/conferences/conference-accommodation at a special, discounted rate quoting promotional code: HOWARD18. Please book early as places are limited. Alternatively, delegates can arrange their own accommodation outside the college.
Event booking terms and conditions
Bursary for PhD and post-doctoral participants
We are offering a limited number of bursaries covering conference attendance fees thanks to the support of the Howard Journal of Crime and Justice's publisher Wiley.
Applicants must present a paper at the conference, be registered PhD students or have completed their PhD in the last two years and be employed in a post-doctoral position, and submit a paper based on their research to The Howard Journal of Crime and Justice in the year following the conference.
To apply, download the Bursary Application Form and email all relevant documents to: barbara.norris@howardleague.org.
Closing date: Monday 22 January 2018.
Sponsorship and exhibition
We have a number of sponsorship and exhibition opportunities available.
By sponsoring or exhibiting the Howard League conference you'll have a unique opportunity to showcase your organisation to an audience of academics, policy makers and practitioners from within, among others, the criminological and legal disciplines.
To find out more contact: barbara.norris@howardleague.org
What did our delegates say?
Here are some of the comments we received after our last conference:
 "– I thought it was a really fantastic conference, full of interesting ideas and I certainly met a lot of interesting people (and the sign of the good conference is the number of people I wish I'd found time to speak with – a good problem to have!)"
"It was terrific both in content and organisation. Much congratulations to you and the organising team!"
 "Congratulations on an excellent conference in Oxford last week. It was my first time attending a Howard League annual conference and I certainly hope I will be able to attend into the future. The quality of presentations was really high and I enjoyed many lively discussions over the course of the 3 days."
Previous conferences
Justice and Penal Reform: Re-shaping the penal landscape, Keble College Oxford, March 2016
What is justice? Re-imagining penal policy, Keble College Oxford, October 2013
Join us

Add your voice to our movement for change. Every voice counts and we hope that you will add yours.

Join us today

Support our work

Everything we do is focused on achieving less crime, safer communities, fewer people in prison. We need you to act now for penal reform.

Ways to support