17 Jun 2019
Award-winning charity to be celebrated at symposium on sexuality and learning disability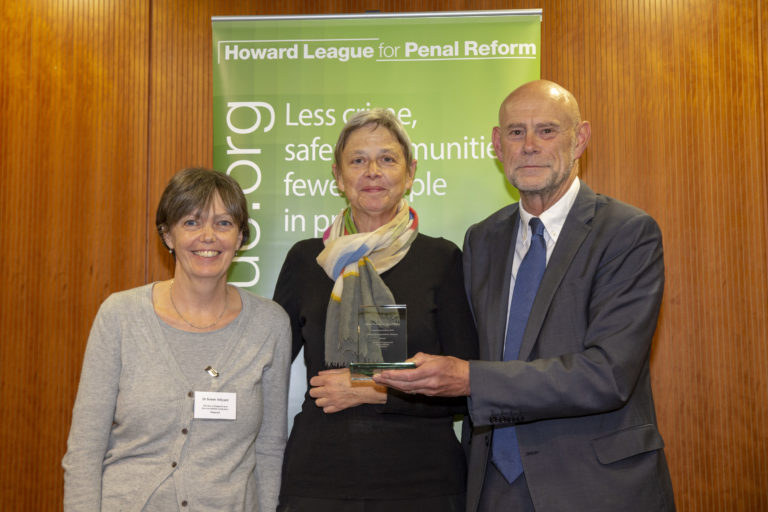 An award-winning project – which helps people with learning disabilities and autism to build safe, positive and purposeful lives – will be celebrated at an event organised by the Howard League for Penal Reform.
London-based charity RESPOND received national recognition last year when it received a Howard League Community Award for its Circles of Support & Accountability (CoSA) service.
The project, which began in 2013, supports young people and adults with learning disabilities and/or autism who display sexually harmful behaviour or have committed sexual offences. Each person is supported by a 'Circle' of five trained volunteers, whom they meet every week, for 18 months. None of the people supported by the project have gone on to reoffend.
RESPOND's success will be championed today (Monday 19 June), at a symposium focused on issues of sexuality for people with learning disabilities, autism, or both, and those who support them.
The event, to be held at Doughty Street Chambers in London, will explore how harmful sexual behaviour can be addressed outside the criminal justice system, through alternative approaches that nurture healthier relationships.
The keynote speaker is to be writer, activist and philanthropist Gina Miller, a long-time supporter of RESPOND. Other speakers scheduled to give presentations include Dr Laura Janes, Legal Director of the Howard League for Penal Reform, and Aswini Weereratne QC, of Doughty Street Chambers.
The Howard League Community Awards are presented annually to champion successful community projects that reduce crime and transform lives for the better. The judging panel praised CoSA for its innovative work with a "complex and much neglected client group".
Catryn Yousefi, Programmes Manager at the Howard League for Penal Reform, said: "Our Community Awards celebrate successful projects and pioneers who guide people away from crime and make us all safer.
"Only the very best schemes in the UK are honoured each year, and Respond's CoSA was the standout entry in our Restorative Approaches category."
Gina Miller said: "I have been both humbled and proud to have been a supporter and major donor for the RESPOND Charity. They have never shied away from confronting tough issues or pursuing innovation to improve conditions for their beneficiaries.
"Whilst as a society we thankfully openly talk about most aspects of people with learning disabilities and autism, we have not yet found the collective courage to discuss their rights to love, sexual freedom and parenthood.
"As the mother of a 32-year-old daughter with learning disabilities I am therefore delighted to be involved in this event and proud of all those involved."
Dr Noelle Blackman, Chief Executive of RESPOND, said: "For too long, the issue of sexuality and disability has been taboo.
"This event will bring together families, professionals and influencers to consider the challenges and to enable people with a learning disability or autism to have safe intimate relationships."
Case study: 'G'
G was a 17-year-old with a diagnosis of global development delay, autism and attention deficit hyperactivity disorder. From an early age, he had experienced acute neglect and emotional abuse. He was placed with a foster family when he was two. He was referred to RESPOND by his school due to his harmful sexual behavior towards young children.
Four specially trained volunteers were selected to work with G. They were made aware of his history and childhood difficulties and understood that it was a priority to ensure that he did not put others at risk. The volunteers worked in close collaboration with G's professional network to manage risk and set and review goals. These professionals included his headteacher, social worker, psychiatrist and support worker.
In the early meetings, the focus of the Circle was on creating a non-judgmental and comfortable working space. The volunteers would offer companionship and help G with his social and emotional needs.
It quickly became apparent that G communicated best via interactive play and games, so the volunteers invented creative modes of communication. They used role playing to help G understand feelings and behaviour from the perspective of others. The Circle also spoke openly about sex, relationships and friendships, and devised practical strategies to help G avoid risky situations.
To help G stay safe after the end of the Circle, the volunteers developed a toolkit of alternative strategies for managing his thoughts and emotions. This took the form of a visual wall chart for his bedroom in Easy Read.
By the end of the Circle, G was able to talk about his harmful sexual behaviour and understood its impact on others. His confidence and communication skills had improved immeasurably. His ability to express his feelings and to empathise with others, his thinking and listening skills had all developed. The game helped G to engage in real dialogues; he felt that he could talk about his feelings and learned the benefit of this.
G's experience of companionship enabled him to develop the belief that he was worthy of friendship and could attain similar relationships outside the CoSA. Following the end of his Circle, G was able to access psychotherapy.
He said that the Circle had helped him significantly: "I had someone to talk to. It's good because I don't keep it inside me. When it's something sad or something angry, I feel good when I've said it."
Note to editors
More information about the Howard League Community Awards can be found on the Howard League for Penal Reform website.
Contact
Rob Preece
Campaigns and Communications Manager
The Howard League for Penal Reform
Tel: +44 (0)20 7241 7880
Mobile: +44 (0)7714 604955
Email: robert.preece@howardleague.org
Join the Howard League

We are the world's oldest prison charity, bringing people together to advocate for change.

Join us and make your voice heard

Support our work

We safeguard our independence and do not accept any funding from government.

Make a donation