24 May 2016
Good relationships and support within prisons essential to reduce risk of suicide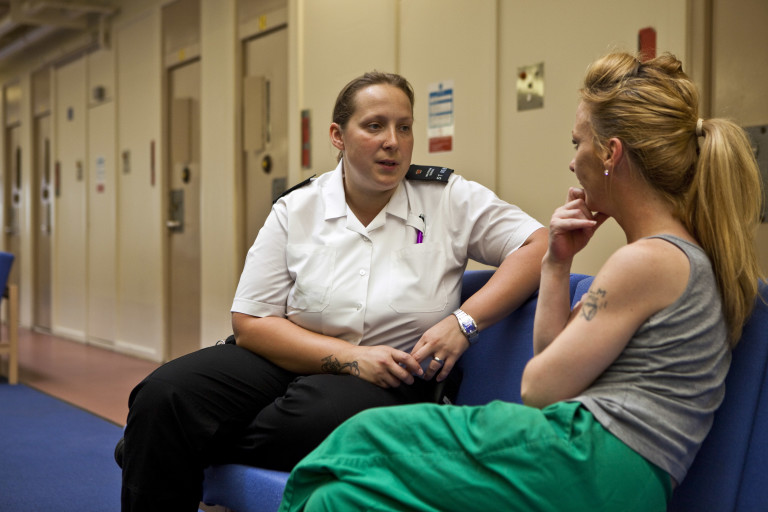 Prisons need to change to enable staff to build relationships with prisoners and reduce the risk of suicide, according to research published jointly today (Tuesday 24 May) by the Howard League for Penal Reform and Centre for Mental Health.
Preventing Prison Suicide: Perspectives from the inside focuses on the views and experiences of current and former prisoners about what contributes to vulnerability and what increases or reduces their risk of suicide. It is one of a series of briefing papers by the two charities.
The last two years have seen a marked increase in the number of suicides in English and Welsh prisons, with 89 prisoners taking their own lives in both 2014 and 2015. This was the highest number of suicides since 2007.
Preventing Prison Suicide finds that relationships between staff and prisoners are key. Prisoners need to feel supported, cared for and able to confide in and trust staff. Prisoners reported that staff shortages, inexperience and lack of training can all increase the risk of suicide.
Prisoners described a culture where distress was often not believed or responded to with compassion. Arrival, being released and being transferred were all cited as times when prisoners felt most vulnerable.
Preventing Prison Suicide concludes that change needs to happen across the system to recognise the influence of the prison environment on people's vulnerability. It finds that prisons should be Enabling Environments, striving to create a psychologically informed environment with an emphasis on the quality of relationships.
It also finds that prisons need more staff, with specialist skills, and better training in mental health awareness; more opportunities for prisoners to tackle isolation and boredom; a bigger focus on the wellbeing of prisoners, especially in the first few weeks; and better support for prisoners to transition into society upon leaving prison.
Current and former prisoners who contributed to the research told us of their experiences of imprisonment and the effects on their mental health:
"…I was in my 40s when I first went to prison, I had already had a breakdown [before prison], I didn't know what to expect…I was in a bad way and did consider suicide for the first time ever in my life…I learned to cope, but not everyone does…" 
"I was vulnerable and prison disallowed me from feeling that because I had to put on a façade that I am coping, that I am a tough inmate…"
"I wasn't once asked are you okay? How do you feel? No one ever asked me that. So I guess they never asked anyone… unless you're screaming out for help". 
"'I can't do anything for my kids, I can't help them, I can't do anything for them. What is the point?'" 
"People who do want to take their own life, quite often it happens and no one will know about it… they can't cry for help because they are not the sort of person who can, or actually, who's going to listen? It's all building up and they think, finish it…"
Dr Graham Durcan, Centre for Mental Health associate director for criminal justice, said: "With growing concerns about suicide in prison, it is vital that the experiences of prisoners are heard in devising solutions and reducing the risk of more tragic losses of life.
"Current and former prisoners are clear that good quality relationships are key to reducing the risk of suicide in prison. We also need to take action to reduce the risk of suicide among people leaving prison and provide 'through the gates' support at this critical time in their lives."
Andrew Neilson, Director of Campaigns at the Howard League for Penal Reform, said: "This report points at some key principles that should inform the government's prison reform agenda, which was announced in the Queen's Speech last week.
"Prevention of suicide in prisons is an issue of grave importance as the number of people taking their own lives behind bars is at its highest level since 2007."
Notes to editors
The Howard League for Penal Reform is the oldest penal reform charity in the world. It is a national charity working for less crime, safer communities and fewer people in prison.
The Howard League and Centre for Mental Health are working together on a joint programme on preventing people from dying by suicide in prison. Further information about the programme can be found online.
Preventing Prison Suicide: Perspectives from the inside can be read online.
The cost of prison suicide, an earlier report published as part of the programme, can be read online.
Contact
Rob Preece
Campaigns and Communications Manager
Tel: +44 (0)20 7241 7880
Mobile: +44 (0)7714 604955
Email: robert.preece@howardleague.org
ISDN line available on 020 7923 4196 – uses a G722 system
For enquiries outside normal office hours, please call +44 (0)7918 681094.
Join the Howard League

We are the world's oldest prison charity, bringing people together to advocate for change.

Join us and make your voice heard

Support our work

We safeguard our independence and do not accept any funding from government.

Make a donation