Preventing Prison Suicide: Perspectives from the inside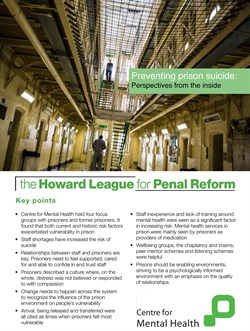 ISBN: 978-1-911114-04-8

Published: 2016

Pages: 8

Publisher: The Howard League for Penal Reform and Centre for Mental Health
Downloads
Preventing prison suicide
Prisons need to change to enable staff to build relationships with prisoners and reduce the risk of suicide, according to research published jointly by the Howard League for Penal Reform and Centre for Mental Health.
Preventing Prison Suicide: Perspectives from the inside focuses on the views and experiences of current and former prisoners about what contributes to vulnerability and what increases or reduces their risk of suicide. It is one of a series of briefing papers by the two charities.
It finds that relationships between staff and prisoners are key. Prisoners need to feel supported, cared for and able to confide in and trust staff. Prisoners reported that staff shortages, inexperience and lack of training can all increase the risk of suicide.
Prisoners described a culture where distress was often not believed or responded to with compassion. Arrival, being released and being transferred were all cited as times when prisoners felt most vulnerable.
Join the Howard League

We are the world's oldest prison charity, bringing people together to advocate for change.

Join us and make your voice heard

Support our work

We safeguard our independence and do not accept any funding from government.

Make a donation