16 Jul 2018
Howard League report explores good practice in children's homes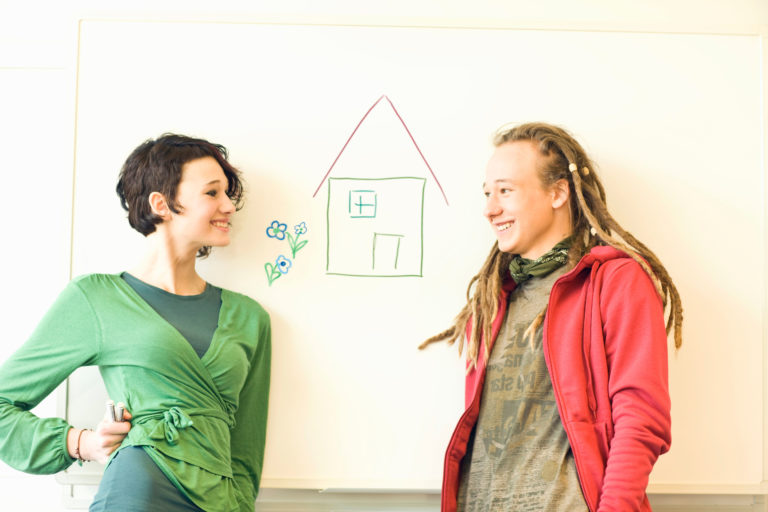 Core principles, which should be applied in all children's homes to help protect children from being criminalised, are set out today (Monday 16 July) in research published by the Howard League for Penal Reform.
The charity's report, 'Hearts and heads' – Good practice in children's homes, recommends that local authorities and companies that own children's homes should review their practices and ask themselves a simple question: "Would this be good enough for my child?"
Drawing on extensive qualitative research conducted over the last two years, the report explores factors that can contribute to the criminalisation of children and suggests ways in which it can be prevented. It comes after the Howard League found that children living in residential care were at least 13 times more likely to be criminalised than all other children.
'Hearts and Heads' is the third briefing paper to be published as part of the Howard League's programme to end the criminalisation of children in residential care.
Frances Crook, Chief Executive of the Howard League for Penal Reform, said: "Providing the very best care for children in children's homes requires hearts and heads.
"Local authorities and children's home owners must first consider the emotional needs of children – the 'hearts' principles such as good parenting, providing a homely environment, listening to children and treating them with dignity and respect.
"Next come the 'heads' principles, which deal with the business side of running a home. Good management is needed to provide stable placements for children, to value, train and support staff, and to set up proper protocols to prevent unnecessary calls to the police.
"The best scenario for a child living in a children's home is to not have any contact with the police at all, just like any child living in a family home. Instead of being criminalised, children in good homes are being loved, cared for, nurtured and supported."
The report states that some of the responsibility for putting the principles into effect will lie with children's home managers and their staff – but the power to implement ultimately rests with the owners of the homes rather than the people working in them.
Private companies own almost three-quarters of the children's homes in England, with the remainder run by the voluntary sector and local authorities. Demand is outstripping supply and, as the number of local authority-run homes continues to fall, private companies are gaining a greater share of the market.
At the end of August last year, 43 private companies ran 41 per cent of all children's homes in England, with the five largest companies accounting for about 17 per cent of all homes.
Only 14 per cent of privately-owned homes were judged to be 'outstanding' overall by Ofsted in 2016-17, compared to 25 per cent of homes run by local authorities and 19 per cent of homes run by voluntary organisations.
The report states that local authorities, as corporate parents, are legally required to ensure that the homes they are placing children in are complying with their obligations. It recommends that local authorities should be routinely asking for balance sheets from providers, which clearly show how the money they have received for each child has been spent and how much profit has been made.
The Howard League's research reveals that children's homes are only part of a bigger picture, however, and there are broader systemic issues that contribute to criminalisation. They include the market forces that lead to children's homes opening in disadvantaged areas; the number of children being placed out-of-area; frequent changes of social workers; and a lack of support from statutory services, particularly Child and Adolescent Mental Health Services.
These issues affect children's emotional well-being and make it easier for people involved in crime, including county lines gangs, to target and exploit children in residential care.
While Ofsted regulates standards of service provision, there is no national lead or direction on how the sector develops or operates as a whole, and there is a worrying lack of oversight and transparency.
The report calls on the government to take more interest in how perverse outcomes develop when the market in residential care is not properly regulated.
Direct quotes from the Howard League's qualitative research
The Howard League has conducted extensive qualitative research on good practice in the prevention of criminalisation of children in residential care. Among the several hundred people that the charity has spoken to are the owners and staff of private, voluntary and local authority homes, and children and young people who are living, or have recently lived, in children's homes.
The 'Hearts and Heads' report includes direct quotes from many of the charity's interviews and meetings:
"I always ask myself, 'What would I do if this was my own child?' I wouldn't call the police on my child."
(Children's home worker)
"One boy told me, 'My mum used to put my pants and vest on the radiator in the morning'. I thought, 'That's the sort of thing parents do and that is the sort of thing I should be doing for these boys'."
(Children's home worker)
"Like my whole life I just felt like I had never been loved. Obviously, it's just like hard. That is what kids in care need. They need a sense of love."
(Care-experienced 23-year-old man and former prisoner)
"Be honest with the kids: you need to have complete honesty and transparency the minute they walk through the door."
(Children's home manager)
"I'm coming to work in their home; they're not living in my office."
(Children's home worker)
"It changes everything if you get a good worker that listens to your views and opinions, because if your views and opinions are listened to then you are not going to behave in such a difficult manner."
(Care-experienced 18-year-old woman)
"It's complex to develop the right culture with the right team and that's your biggest challenge."
(Senior manager, children's home provider)
"I just don't think staff are trained enough. The smallest little thing and they call the police… Some of them have literally come from… one worked in a bar. One worked in a call centre and they have come straight in and got the job. No training whatsoever and they just go, there is the kids, good luck."
(Care-experienced 17-year-old girl)
"Sometimes it is just having someone to call who will understand and say, 'I know what you're going through. I've been there and it's awful'."
(Children's home manager)
"Be more supportive and ask why we ran away and don't take valuables away from us when we go missing because we have reasons why we run away."
(16-year-old girl living in a children's home)
Case study 1: New homes for Hampshire children
Hampshire County Council has knocked down three quarters of all its old children's homes and replaced them with brand new properties designed with input from children.
Children said they wanted a proper front door, a fireplace, en-suite bedrooms and for the offices to be outside the living part of the house.
Alongside this financial investment, Hampshire adopted the Pillars of Parenting model, which teaches staff to care about children rather than just caring for them. One manager described it as "corporate parenting with warmth".
Long-term staff feel that this has transformed their practice, including their approach to calling the police.
Case study 2: Co-production at St Christopher's
Co-production is about working with people who use services as equal partners in the design, development, commissioning, delivery and review of those services.
St Christopher's, a voluntary sector children's homes provider, has two full-time participation officers. They use participation and co-production techniques to make changes in homes based on what children say they want.
Children reported that they were fed up with the staff reading negative things about them that painted a false picture of who they were.
They created a template file note for describing themselves in their own words, their good points and their likes and dislikes.
They also made a section for what a bad day looked like for them, with some pointers for staff on how to deal with that.
Their work was placed at the front of the file so that it was the first thing to be read by anyone who picked up the file.
Notes to editors
The Howard League for Penal Reform is the oldest penal reform charity in the world. It is a national charity working for less crime, safer communities and fewer people in prison.
Ending the criminalisation of children in residential care – Briefing three: 'Hearts and heads' – Good practice in children's homes can be read on the Howard League website.
More information about the Howard League's programme to end the criminalisation of children in residential care can be found on the charity's website.
Updates on the programme are posted in a blog, Criminal Care?, which can be found on the Howard League website. To read blogposts, and to receive email alerts when the blog is updated, click here.
Contact
Rob Preece
Campaigns and Communications Manager
The Howard League for Penal Reform
Tel: +44 (0)20 7241 7880
Mobile: +44 (0)7714 604955
Email: robert.preece@howardleague.org
ISDN line available on 020 7923 4196 – uses a G722 system
Join the Howard League

We are the world's oldest prison charity, bringing people together to advocate for change.

Join us and make your voice heard

Support our work

We safeguard our independence and do not accept any funding from government.

Make a donation