10 Feb 2015
Imprisoning children may lead to sexual offences in adulthood
Sending children to prison may make them more likely to commit sexual offences in adulthood, Britain's first-ever independent review of sex behind bars has found.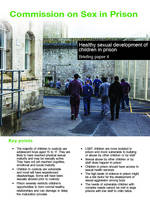 The Commission on Sex in Prison reached its conclusion after hearing evidence that the single-sex prison environment, with its high levels of violence and use of force, could lead to the development of sexual aggression.
The Commission found that the needs of vulnerable children could not be met in large prisons with low staff-to-child ratios. All prisons for boys in England hold at least 130 children, and the government plans to build an even larger institution – a secure college with a capacity of 320.
Evidence from the Bureau of Justice Statistics in the US suggests that placing children in prisons holding 100 or more puts them at risk of sexual abuse from other children and staff.
The findings are outlined in the Commission's fourth briefing paper, Healthy sexual development of children in prison, which is released today (Tuesday 10 February).
Established by the Howard League for Penal Reform, the Commission comprises eminent academics, former prison governors and health experts. It is approaching the end of a two-year inquiry into the issues and problems surrounding sex in prison.
The Commission heard that it is difficult for children in custody to develop a healthy sexual identity. Normal adolescent sexual experimentation is frowned upon in prison.
The Commission found that punishment for normal sexual behaviours could evoke feelings of guilt or shame for boys in prison and could increase the risk of sexual offending.
Homophobia in boys' prisons is common, the inquiry heard, and children can be punished for developing relationships with other prisoners. Lesbian, gay, bisexual and transgender children are more isolated in prison and more vulnerable to bullying or abuse by children and staff.
The briefing paper cites Youth Justice Board statistics which show 5 per cent of children in custody have been convicted of sexual offences. Many of these children will also have been victims of sexual abuse.
The Commission heard that children undergoing programmes in prison for sexual offences were encouraged to develop intimacy and relationship skills as part of their treatment. When these children returned to the prison wing, however, intimacy and relationship skills were not permitted by the prison regime.
The briefing paper recommends that, on the rare occasions when a child needs to be incarcerated, they should only be held in small units with highly-trained and well-managed staff, where education, therapeutic and behavioural provision can be tailored to their individual needs.
Recommendations from the Commission's two-year inquiry will be presented at a one-day conference, Behind Closed Bars, in London on Tuesday 17 March.
As well as considering the healthy sexual development of children in custody, the Commission has studied issues and problems surrounding coercive and consensual sex among adults.
Chris Sheffield, Chair of the Commission on Sex in Prison, said: "These initial findings raise serious issues which require further research and study. It is a matter of deep concern if there is an increased risk of sex offences occurring as some of the studies have indicated."
Frances Crook, Chief Executive of the Howard League for Pena Reform, said: "The evidence from this independent and expert Commission shows that sentencing boys to prison damages the individual children and could store up long-term harm for society by creating future victims. We know that prisons holding children are hotbeds of violence. We now know that they impair healthy sexual development. There is only one clear lesson – no child should be held in a prison."
Notes to editors
The Commission on Sex in Prison's fourth briefing paper, Healthy sexual development of children in prison, can be viewed online at www.howardleague.org/publications-prisons
The Commission on Sex in Prison has received written and oral evidence from voluntary and statutory agencies, prison governors and serving prisoners. It held seminars and heard evidence from key statutory stakeholders including the National Offender Management Service, Her Majesty's Inspectorate of Prisons and the Prisons and Probation Ombudsman. The briefing paper is based on the written and oral evidence submitted to the Commission.
Further information about the Commission can be viewed online at www.commissiononsexinprison.org
The Howard League for Penal Reform is the oldest penal reform charity in the world. It is a national charity working for less crime, safer communities and fewer people in prison.
Further information
Rob Preece
Press Officer
Tel: +44 (0)20 7241 7880
Mobile: +44 (0)7714 604955
Email: robert.preece@howardleague.org
For enquiries outside normal office hours, please call +44 (0)7918 681094
ISDN line available on 020 7923 4196 – uses a G722 system
Join us

Add your voice to our movement for change. Every voice counts and we hope that you will add yours.

Join us today

Support our work

Everything we do is focused on achieving less crime, safer communities, fewer people in prison. We need you to act now for penal reform.

Ways to support