Healthy sexual development of children in prison
Briefing paper by the Commission on Sex in Prison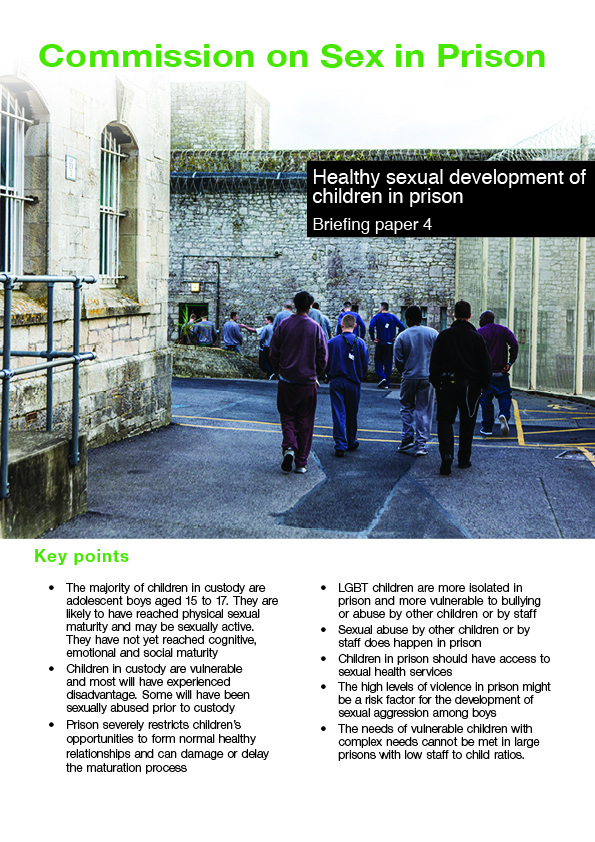 ISBN: 978-1-905994-89-2

Published: 2016

Pages: 8

Publisher: The Howard League for Penal Reform
Downloads
Healthy sexual development of children in prison
References
Sending children to prison may make them more likely to commit sexual offences in adulthood. This is the fourth in a series of briefing papers published by the Commission on Sex in Prison, established in 2013 by the Howard League for Penal Reform, to undertake the first ever review of sex inside prison.
The Commission on Sex in Prison heard evidence that the single-sex prison environment, with its high levels of violence and use of force, could lead to the development of sexual aggression.
The Commission found that the needs of vulnerable children could not be met in large prisons with low staff-to-child ratios. The briefing paper recommends that, on the rare occasions when a child needs to be incarcerated, they should only be held in small units with highly-trained and well-managed staff, where education, therapeutic and behavioural provision can be tailored to their individual needs.
The Commission on Sex in Prison focused on three broad themes:
consensual sex in prison
coercive sex in prison
healthy sexual development among young people in prison
The purpose of the Commission on Sex in Prison was to understand the nature and scale of sex in prisons, investigate the key issues and problems and make recommendations with a view to make prisons safer.
Join the Howard League

We are the world's oldest prison charity, bringing people together to advocate for change.

Join us and make your voice heard

Support our work

We safeguard our independence and do not accept any funding from government.

Make a donation