Child arrests in England and Wales 2019
Research briefing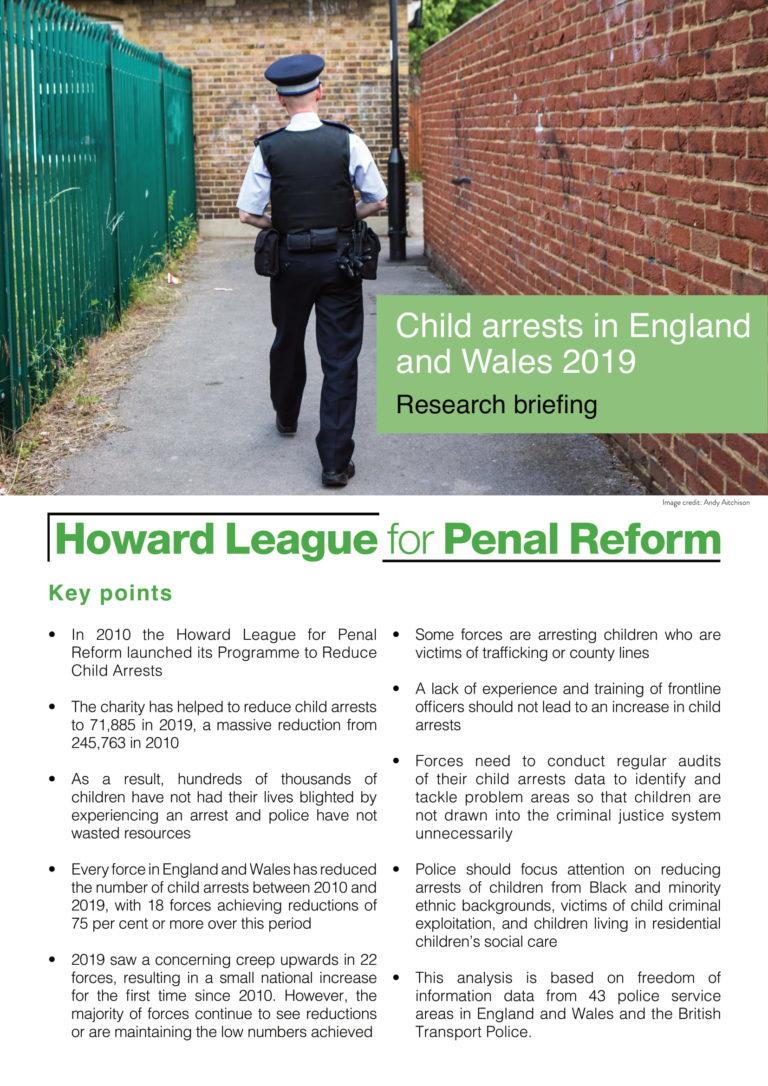 ISBN: 978-1-911114-53-6

Published: 2020

Pages: 6

Publisher: The Howard League for Penal Reform
Downloads
Child arrests in England and Wales 2019
Bibliography
In 2010 the Howard League for Penal Reform launched its Programme to Reduce Child Arrests, which has helped to reduce child arrests to 71,885 in 2019, a massive reduction from 245,763 in 2010.
Every police force in England and Wales has reduced the number of child arrests between 2010 and 2019, with 18 forces achieving reductions of 75 per cent or more.
2019 saw a concerning creep upwards in 22 forces, resulting in a small national increase for the first time since 2010. However, the majority of forces continue to see reductions or are maintaining the low numbers achieved.
The Howard League urges forces to conduct regular monitoring, as well as a comprehensive annual audit, of their child arrests data and conduct case reviews in order to identify and address problem areas. This analysis will provide focus for child-centred policing work and prevent unnecessary child arrests.
This analysis is based on freedom of information data from 43 police service areas in England and Wales and the British Transport Police.
Join the Howard League

We are the world's oldest prison charity, bringing people together to advocate for change.

Join us and make your voice heard

Support our work

We safeguard our independence and do not accept any funding from government.

Make a donation