Supervisible: Experiences of criminal justice supervision in Scotland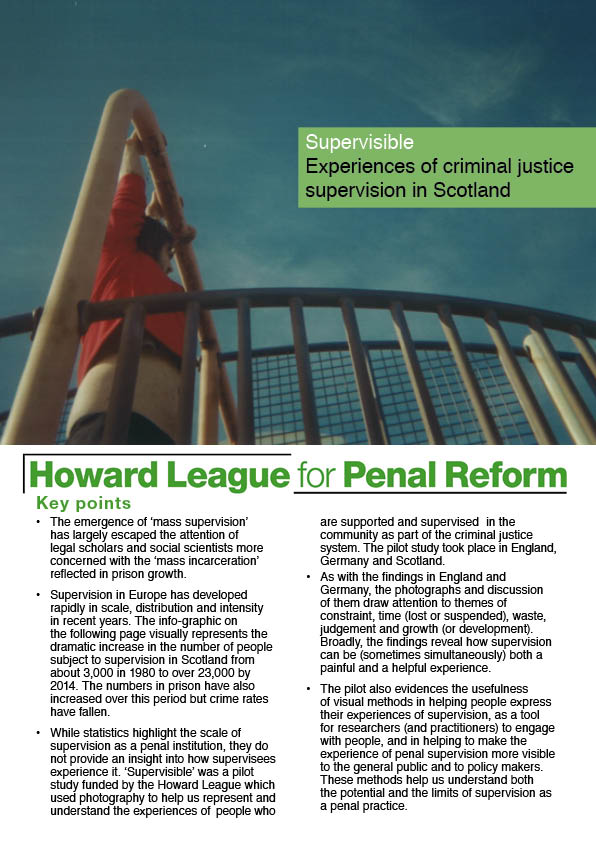 ISBN: 978-1-911114-12-3

Published: 2017

Pages: 7

Publisher: The Howard League for Penal Reform
Downloads
Supervisible: Experiences of criminal justice supervision in Scotland
Companion photovoice factsheet
Supervisible: Experiences of criminal justice supervision in Scotland, by Professor Fergus McNeill, University of Glasgow, used photovoice methodology to begin to represent and understand the experiences of people who are supported and supervised in the community as part of the criminal justice system.
In Scotland participants had diverse experiences of the justice system from supervision on community payback orders to life sentence parole supervision.
The participants' photographs and discussion drew attention to the themes of constraint, time (loss or suspended), waste, judgement and growth (or development). These finding echo those in both England and Germany.
Supervisible has revealed how supervision can be – sometimes at the same time – both a painful and helpful experience. It also demonstrates the usefulness of visual methods in helping people express their experiences of supervision, as a tool for researchers (and practitioners) to engage with people, and in helping to make the experience of penal supervision more visible.
Join the Howard League

We are the world's oldest prison charity, bringing people together to advocate for change.

Join us and make your voice heard

Support our work

We safeguard our independence and do not accept any funding from government.

Make a donation