Supervisible. Experiencing probation and supervision in Germany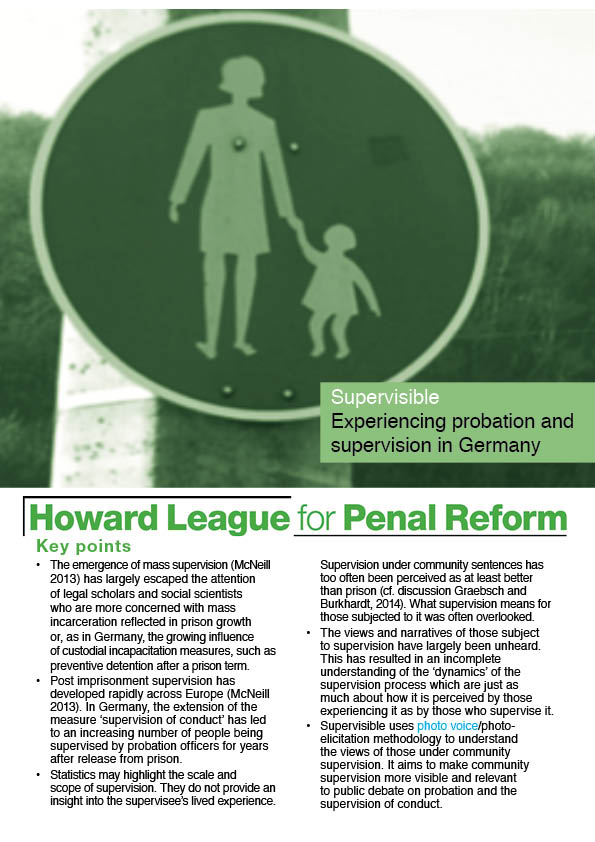 ISBN: 978-1-911114-13-0

Published: 2017

Pages: 5

Publisher: The Howard League for Penal Reform
Downloads
Supervisible. Experiencing probation and supervision in Germany
Companion photovoice factsheet
Supervisible: Experiencing probation and supervision in Germany, by Professor Christine Graebsch, Dortmund University, used photovoice methodology to understand the experience of people under supervision in three sites: halfway house, a resettlement and legal advice centre and an open prison.
The study suggested that participants' wanted help with their immediate needs but they also disclosed their aspirations. It suggests that the creativity and space engendered by photovoice methodology allows participants and their supervisors to explore issues that would otherwise remain hidden.
Participants recognised the supporting role of the probation service but suggested the support was not unconditional, that it was precarious and could be taken away if they did not behave appropriately.They also suggested that the supposedly helping hand of probation staff was infantilising guardianship and it was experienced as similar to incapacitation. A message that is conveyed in the cover photograph where Vivaldi (participant photographer) regards the woman on the street sign as Lady Justice keeping a hold on someone like him.
Join the Howard League

We are the world's oldest prison charity, bringing people together to advocate for change.

Join us and make your voice heard

Support our work

We safeguard our independence and do not accept any funding from government.

Make a donation