If we want safer prisons, we must have fewer prisoners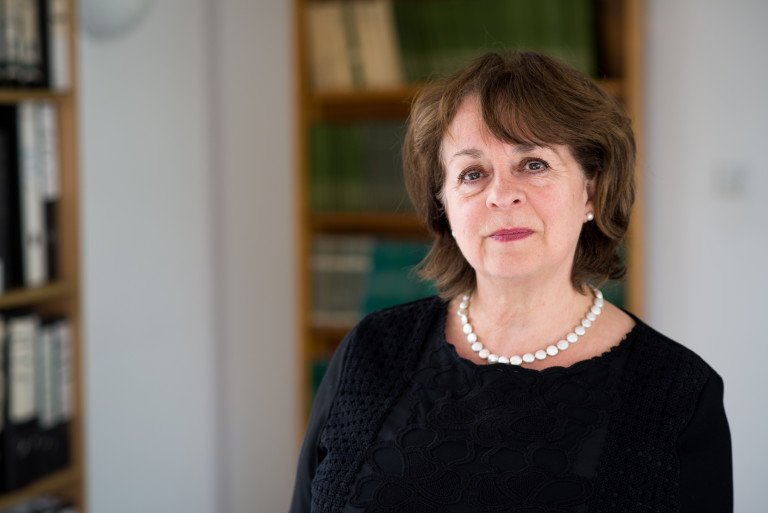 I read two documents back-to-back this morning, which prompted this blog. The first was Rory Stewart's article on Medium about reducing violence in prisons. The second was the newly released prison population projections from the Ministry of Justice.
Rory Stewart's comments about getting a grip on prison safety are welcome and I support what he is trying to do. But his department's own publication throws into sharp relief the futility of his efforts if they are not accompanied by a commensurate attempt to reduce the prison population.
The number of men, women and children in prison stood at 83,165 as of Friday 17 August 2018. The Ministry of Justice says that the population is projected to increase steadily by 3,200, reaching 86,400 people in March 2023.
This 2018 projection is much lower than last year's – 2,800 lower for June 2019 and 2,400 lower for March 2022, to be precise. At face value this is a good news story but there are a few things that require a closer look. Here are the two projections side-by-side: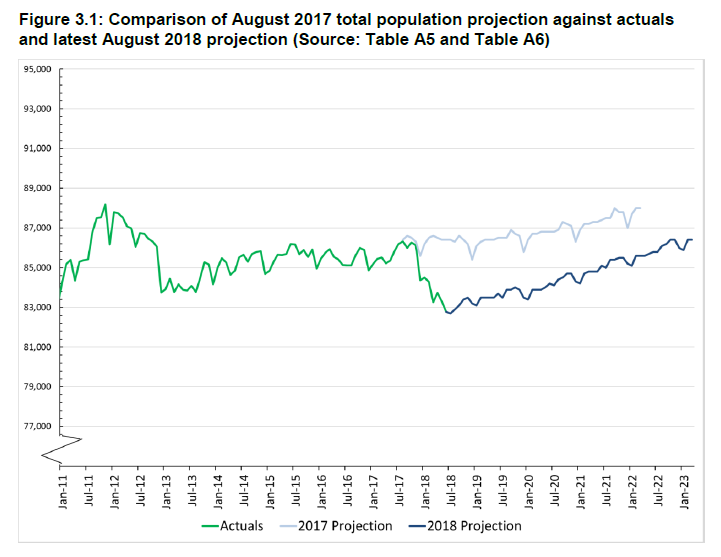 It is interesting that the slope of the blue line in this year's projection is virtually the same as it was in last year's projection. In other words, the big difference is where the projection is starting from, not in the trends it predicts around sentencing and release.
Another way of putting this: despite the dramatic, welcome and long overdue reduction in prison numbers since the start of the year, this projection does not assume that all of the drivers of this decrease will continue.
This is worrying. It speaks to a lack of concerted effort within the Ministry to pull the policy levers that would start to bring the population down in a systematic and sustained way.
Specifically, the Ministry of Justice predicts that improvements to how home detention curfew (HDC) is managed will continue – but that the phenomenon of the courts doing less business will reverse, while remands will stay flat. Worryingly, recalls are forecast to grow as prisoners serving IPP sentences are released – something that we know can have appalling consequences.
At the start of the year, the prison population was going down. It seemed that there were fewer people being pulled into the flow of the criminal justice system and into prison, as well as more effective ways of getting people out of prison. But for the fifth week in a row now, the prison population has gone up and these projections further suggest that the tide is turning. The government needs to take action now and that must involve legislative reform across sentencing, curbing recalls and abolishing short prison sentences.
Ominously, without such reform, sentence lengths and custody rates are projected to continue to increase, offsetting any small areas of respite or improvement. Over the past ten years, average sentence lengths across the board have increased by 24 per cent, and the trend continues. At one point under Margaret Thatcher the prison population was around 40,000. Now the debate is around whether it could hit 90,000.
The prisons minister's suggestions for improving safety in prisons for staff and prisoners are good ones. I am impressed by his attempts to instil a new vision and get a grip on the worst performing prisons in the estate. I hope he stays in post long enough to see these changes through. But his efforts around training, security and culture will fail if they are not accompanied by a concerted attempt to get a grip on the prison population, namely by making a proper plan for how to bring it down.
Comments
Join the Howard League

We are the world's oldest prison charity, bringing people together to advocate for change.

Join us and make your voice heard

Support our work

We safeguard our independence and do not accept any funding from government.

Make a donation