Arresting the entry of women into the criminal justice system: Briefing four
Briefing four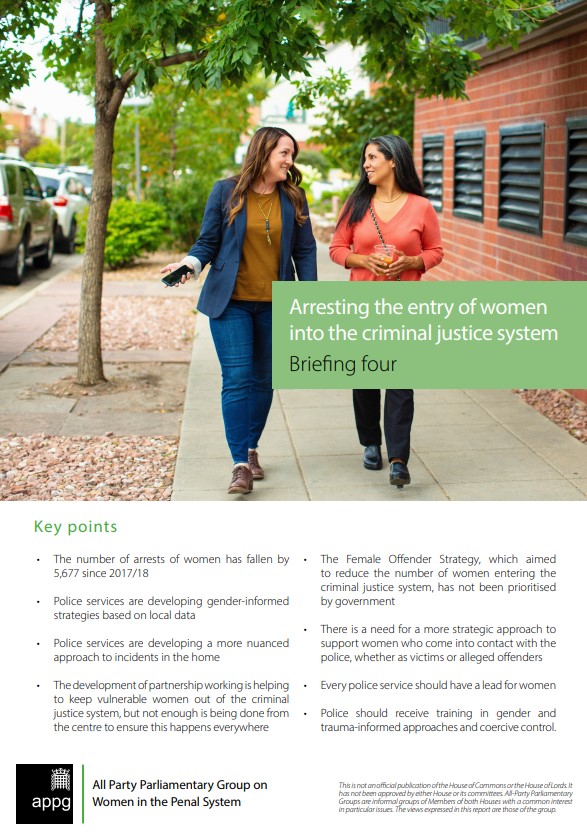 ISBN: 978-1-911114-71-0

Published: 2022

Pages: 7

Publisher: The Howard League for Penal Reform
Downloads
Arresting the entry of women into the criminal justice system: Briefing four
This is the fourth and final briefing to emerge from an inquiry into arrests of women, conducted by the All Party Parliamentary Group on Women in the Penal System (APPG).
It reveals that, while police in England and Wales have recorded a welcome reduction in unnecessary arrests of women, further work is needed to keep more women out of the criminal justice system.
The APPG found that the government's failure to prioritise its Female Offender Strategy, along with a "twin-track" approach to policing which sees women labelled either as victims or "offenders", means there is still some way to go to ensure women are not arrested when it is unnecessary or inappropriate.
Join the Howard League

We are the world's oldest prison charity, bringing people together to advocate for change.

Join us and make your voice heard

Support our work

We safeguard our independence and do not accept any funding from government.

Make a donation