Leave No Veteran Behind
The Inquiry Into Former Armed Service Personnel in Prison visits the United States of America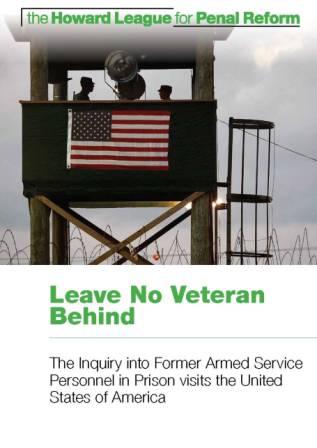 ISBN: 978-1-905994-29-8

Pages: 16

Publisher: The Howard League for Penal Reform
Downloads
Leave no veteran behind
The high numbers of veterans appearing in the criminal justice system have been a matter of concern in both the UK and in the USA in recent years.
This paper examines the American experience of the issue and its response to it, following a visit to the US by the Howard League for Penal Reform inquiry into former armed service personnel in prison.
The inquiry has revealed that veterans in both the United States of America and England and Wales are less likely to go prison than their respective civilian populations, but when they do veterans are more likely to be serving sentences for violent and sexual offences.
In many ways, veterans in the US and UK experience similar problems upon leaving the military: housing, mental health, employment, relationship breakdown and substance misuse are problems all too frequently encountered.
Join the Howard League

We are the world's oldest prison charity, bringing people together to advocate for change.

Join us and make your voice heard

Support our work

We safeguard our independence and do not accept any funding from government.

Make a donation