Preventing Prison Suicide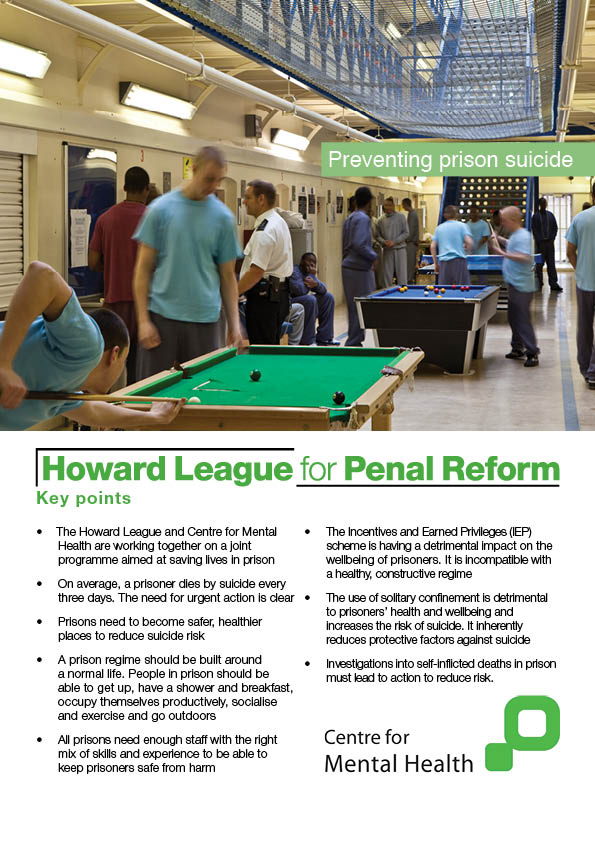 ISBN: 978-1-911114-10-9

Pages: 8

Publisher: The Howard League for Penal Reform and Centre for Mental Health
Downloads
Preventing Prison Suicide
References
This is the third in a series of reports published jointly by the Howard League for Penal Reform and Centre for Mental Health  as part of a joint programme aimed at saving lives in prison.
The report states that urgent action is needed, and that prisons must become safer, healthier places to reduce suicide risk.
The report finds that the rise in the number of prison suicides has coincided with cuts to staffing and budgets and a rise in the number of people in prison, resulting in overcrowding. Violence has increased and safety has deteriorated.
Prisoners are spending up to 23 hours a day locked in their cells, the imposition of prison punishments has increased, and a more punitive daily regime was introduced in prisons at the same time as the number of deaths by suicide began to rise.
The prison suicide rate, at 120 deaths per 100,000 people, is about 10 times higher than the rate in the general population.
The report states that investing in staffing must go hand in hand with a reduction in the prison population if prisons are to be made safer.
Join the Howard League

We are the world's oldest prison charity, bringing people together to advocate for change.

Join us and make your voice heard

Support our work

We safeguard our independence and do not accept any funding from government.

Make a donation