Sentencing principles for young adults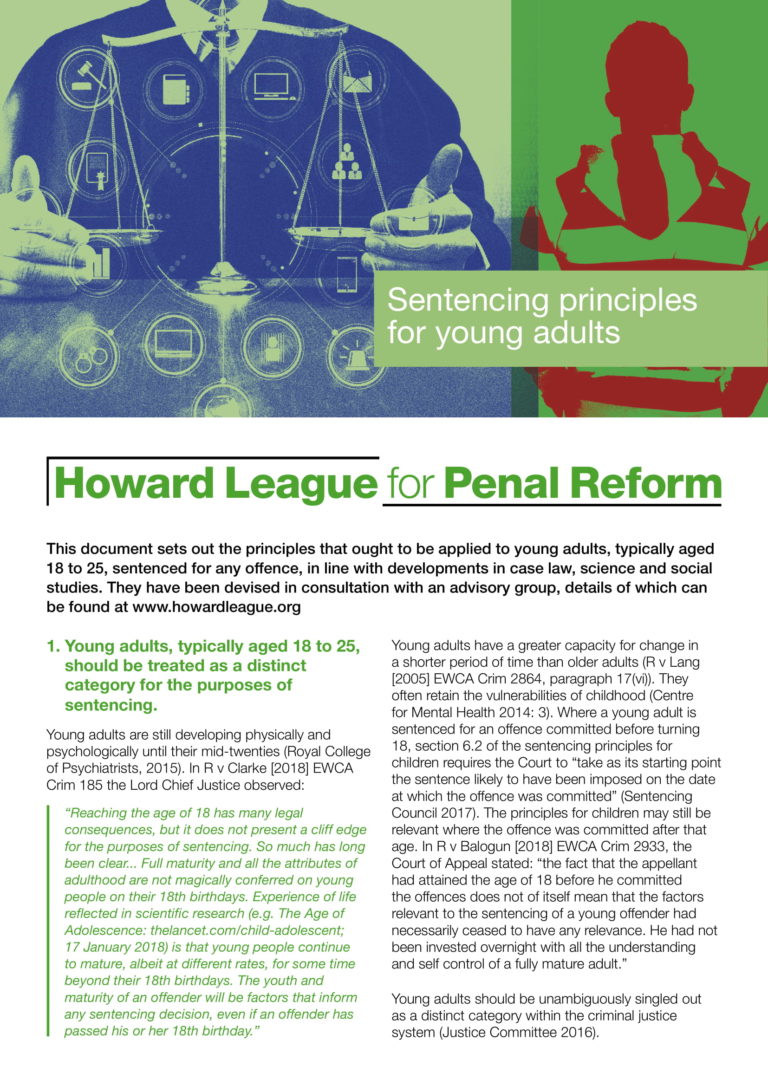 ISBN: 978-1-911114-31-4

Pages: 4

Publisher: Howard League for Penal Reform and Transition to Adulthood (T2A) Alliance
Downloads
Sentencing principles for young adults
This publication sets out key sentencing principles to help judges and magistrates to achieve better sentences for young adults.
The Howard League brought together an advisory group of experts to help draft the principles, drawing on the charity's legal and participation work and the growing knowledge base about the needs and characteristics of young people.
The proposed principles for young adults, typically aged 18 to 25, have been devised in line with developments in case law, science and social studies. If applied, they would assist the courts and improve sentencing outcomes.
The five sentencing principles:
1. Young adults, typically aged 18 to 25, should be treated as a distinct category for the purposes of sentencing.
2. Custody should be a last resort for young adults.
3. Where a custodial sentence is imposed, the term should take into account the impact of prolonged custody on the young adult's well-being and life chances.
4. The period of any custodial term should be less than that imposed on an older adult.
5. When considering mitigating factors, attention should be paid to how they particularly affect young adults. You can download a table of mitigating factors that currently apply to children and older defendants with suggestions as to how theses might be adapted for young adults.
The Howard League is a founding member of the Transition 2 Adulthood (T2A) Alliance, a broad coalition of leading charities working to evidence and promote the need for a distinct and effective approach to young adults in the transition to adulthood, throughout the criminal justice process.
Join the Howard League

We are the world's oldest prison charity, bringing people together to advocate for change.

Join us and make your voice heard

Support our work

We safeguard our independence and do not accept any funding from government.

Make a donation