Though our legal work and participation work, we have identified that the sentencing of young adults is a pivotal stage that is little understood but has life-changing, and even life threatening, consequences.
Tens of thousands of young adults, aged 18 to 25, are sentenced each year. Many will be sent to prison, sometimes with devastating consequences both for the young adult and the public. Lord Harris reviewed the 83 self-inflicted deaths of young people in prison from April 2007 to the end of 2013. One of the key conclusions of the review was to question why so many young adults are in prison in the first place.
Sentencing is not something that just happens. It is a decision that is, or ought to be made carefully, by a judge based on information and representations from a range of professionals, each with their own roles, codes, practices and duties to the young person.
As part of its work with the Transition to Adulthood Alliance, the Howard League explored this area in depth and produced a number of publications and short films to embed the growing consensus that young adults require a distinct approach within the criminal justice system.
The films provide practitioners, lawyers and sentencers with authoritative information on the distinct needs and characteristics of young adults in the criminal justice system.
Films
Why Young Adults in Conflict with the Law Must be Treated Differently
Brain Development and Maturation in Young Adults
Prevalence of Unmet Needs Among Young Adults
Distinct Legal Considerations Apply to Young Adults
Publications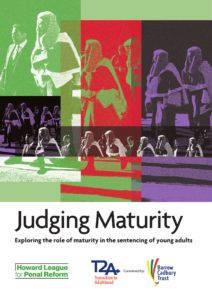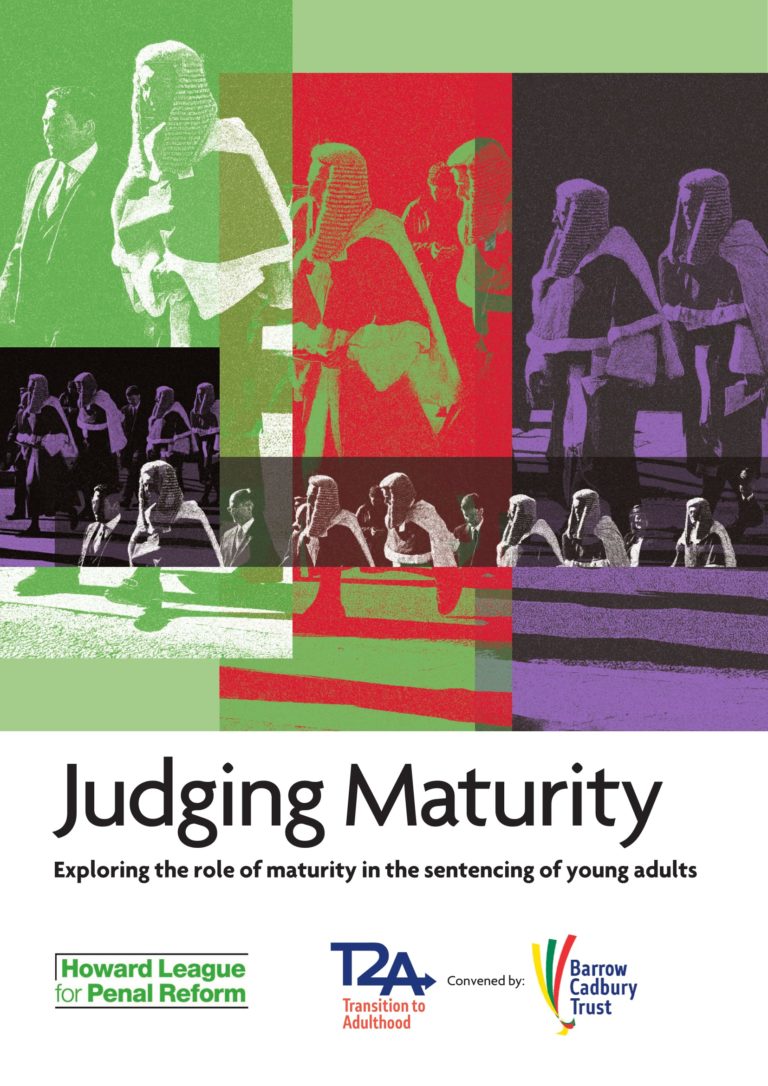 This research explores 174 senior court judgments with a view to capturing current judicial treatment of young adults, with a particular focus on how judges view the concept of maturity.
In addition, the research explored a number of references by the Attorney General in respect of sentences deemed to be unduly lenient and judgments reviewing the positive maturation of young adults who committed the offence of murder as a child. These cases illustrate that the courts are capable of taking a nuanced and thoughtful approach based on the actual development of the individual.
The research suggests that professionals need to be encouraged to bring these factors to the court's attention and sentencers need to be encouraged to consider these factors of their own will. It also indicates that guidelines can make a positive difference and empower sentencers to reduce sentences on account of lack of maturity and/or age. To bring about this change, the Sentencing Council should work towards developing formal sentencing principles for young adults, similar to the principles that are in place for children.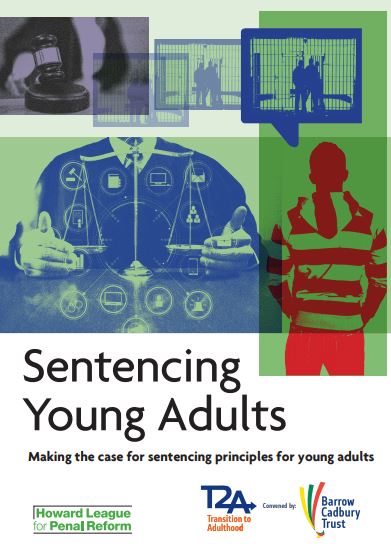 Sentencing Young Adults – Making the case for sentencing principles for young adults
The report, which draws on Howard League participation work with young adults, sets out how principled guidelines would help judges and magistrates to understand young adults better, and provide a legal framework to achieve better sentencing decisions. Our work on developing sentencing principles has been developed in consultation with an expert advisory board.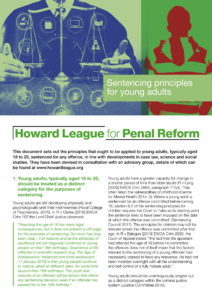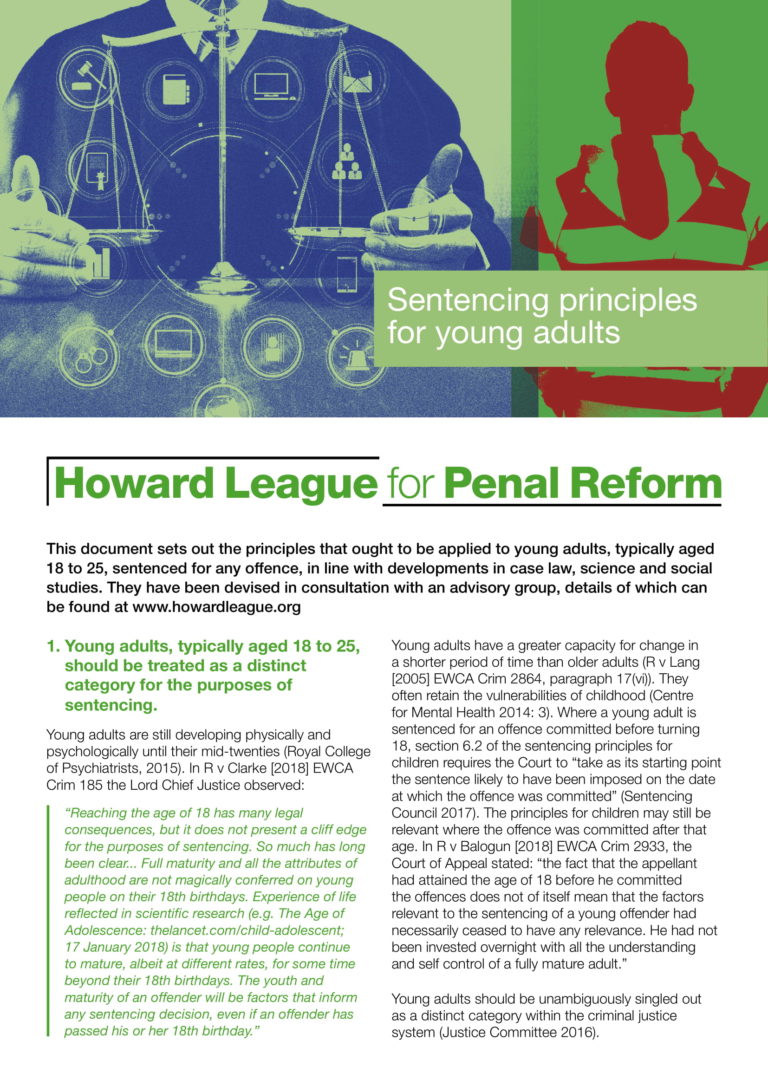 Sentencing principles for young adults
This publication sets out key sentencing principles to help judges and magistrates to achieve better sentences for young adults.
The proposed principles for young adults, typically aged 18 to 25, have been devised in line with developments in case law, science and social studies. If applied, they would assist the courts and improve sentencing outcomes.
The five sentencing principles:
1. Young adults, typically aged 18 to 25, should be treated as a distinct category for the purposes of sentencing.
2. Custody should be a last resort for young adults.
3. Where a custodial sentence is imposed, the term should take into account the impact of prolonged custody on the young adult's well-being and life chances.
4. The period of any custodial term should be less than that imposed on an older adult.
5. When considering mitigating factors, attention should be paid to how they particularly affect young adults.
You can download a table of mitigating factors that currently apply to children and older defendants with suggestions as to how theses might be adapted for young adults.
Criminal Law Review article on a distinct approach for sentencing young adults
This article by the Dr Laura Janes, Howard League's legal director and barristers Claire Mawer and David Emanuel QC describes the growing legal consensus that a distinct approach is needed for sentencing young adults. It outlines developments in caselaw and guidance from the Sentencing Council that require courts to consider the developmental stage of young adults when sentencing young adults.
This material was first published by Thomson Reuters, trading as Sweet & Maxwell, 5 Canada Square, Canary Wharf, London, E14 5AQ, in Criminal Law Review as 'The Sentencing of Young Adults: A Distinct Group Requiring a Distinct Approach' [2021] Crim L. R., Issue 3, and is reproduced by agreement with the publishers.
Advisory board for developing sentencing principles for young adults
Prof Andrew Ashworth QC, Emeritus Professor, University of Oxford
Dr Tim Bateman, University of Bedfordshire
Dr Louise Bowers, Forensic psychologist
Jo Cecil, Barrister, Garden Court Chambers
Dr Alexandra Cox, University of Essex
Dr Enys Delmage, Royal College of Psychiatrists
Claire Dissington, Solicitor, GT Stewart Solicitors & Advocates
Cindy Doyle MacRae, in a personal capacity, but with significant experience in probation and youth justice
David Emanuel QC, Garden Court Chambers
Edward Fitzgerald QC, Doughty Street Chambers
Francis Fitzgibbon QC, 23 Essex Street
Dr Andrew Forrester, Royal College of Psychiatrists
Lynda Gibbs QC, Dean at The Inns of Court College of Advocacy
Professor Nathan Hughes, University of Sheffield
Dr Shona Minson, University of Oxford
Dr Suzella Palmer, University of Bedfordshire
Professor Huw Williams, University of Exeter
Join us

Add your voice to our movement for change. Every voice counts and we hope that you will add yours.

Join us today

Support our work

Everything we do is focused on achieving less crime, safer communities, fewer people in prison. We need you to act now for penal reform.

Ways to support