Research commission: women
Exploring the lived experience of women, crime and gambling related harm
Exploring the lived experience of women, crime and gambling related harm
Research in partnership with BetKnowMore

The research
This research sought to focus on and amplify the voices of women directly affected by gambling harms, acknowledging intersectionality. It aimed to highlight the complex interplay between crime and gambling related harm through in-depth qualitative research about people's lived experiences. The overarching goal of this research was to develop and situate a knowledge base within the criminal justice system which recognises gambling harms and the specific related needs of women, thus lowering the potential for criminal justice interventions in the future.
The specific aims were to:
Identify the specific trajectories and experiences of women, acknowledging intersectionality, who are identified as experiencing gambling related harms and who have had engagement with the criminal justice system;
Provide a basis for understanding the needs of this group to raise awareness among opinion formers, professionals and the wider public; and
Highlight any deficits in criminal justice agencies' understanding and provision and signposts for change identified.
Background
The Commission on Crime and Gambling Related Harms has published an academic literature review that has shown that there is limited existing research into the relationship between crime and problem gambling (Ramanauskas, 2020). Most research has been undertaken in other jurisdictions, notably Australia, the US and Canada. The Commission seeks to understand the relationship between crime and gambling related harm in England and Wales. There is a particular gap in research and knowledge relating to the experiences of women in relation to crime and gambling harms. For example, Adolphe et al's systematic review (2018) looking at the relationship between crime and problem gambling recognised the need for research assessing the role of demographic factors.
Awareness of and research into women's experience of gambling harms is developing. GamCare (2020) reported that 'Each year at least 30 per cent of callers to the National Gambling Helpline identify as female, half of whom call about their own gambling and half about someone else's. One fifth of all clients in GamCare's treatment services are women.' Moreover, GamCare report that 23 per cent  of women surveyed discussed crime linked to gambling (ibid.).
Existing research about women, gambling related harm and crime suggests that women may commit crime to obtain money to gamble. A Canadian study (Abbott and McKenna, 2005) suggested that half of their sample (who met the criteria for problem gambling) had committed a crime to obtain money to gamble and concluded that most women in the criminal justice system were committing crimes prior to becoming problem gamblers.
The prevalence of women who have criminal justice involvement and have experienced gambling harm is being increasingly recognised. Research looking at arrests has suggested that women are as likely to have gambling problems as men (Lind and Kääriäinen, 2018) while Perrone et al (2013) found that a greater proportion of their female sample of arrestees could be classified as problem gamblers in contrast to their male sample. Research in Australia and Finland reports that problem gambling is higher among women in prison than the general population. This was not echoed in May-Chahal et al's (2012) research in two English prisons – one male and one female – where men were around twice as likely to report problem gambling. Three per cent of women in prison in this sample identified a link between their current prison sentence and gambling, while this proportion more than doubled (seven per cent) in relation to crimes committed to finance gambling or pay off gambling debts.
Report
This research was published in March 2023. Read the summary here and full report here.
The research team
Dr Julie Trebilcock and Dr Nicola Harding are working alongside a team of peer researchers, as well as researchers and advisors from Betknowmore.
Tracey Arenstein
My name is Tracey Arenstein and I am in recovery for a compulsive gambling addiction. Gambling had always been a part of my DNA, going back to my father and his father before him, but I always thought I could control it. In 2012, soon after turning 50, suffering from mental health issues caused by depression, financial stresses, office bullying, lack of self-worth and last but by no means least, the onset of menopause, my addiction to gambling spiralled out of control. I landed up stealing a huge amount from my employer over a seven year period, purely to feed this addiction, causing untold pain and suffering to everyone involved. I am not a liar or a thief but because of my addiction to gambling machines, I became both. My goal for this next chapter of my life is to bring as much awareness as possible to all kinds of gambling-related harms and above all, to help guide others into finding their own self-worth and to avoid a similar fate or worse!
Frankie Graham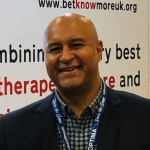 Frankie Graham is the Founder and Chief Executive of Betknowmore UK. Having previously developed a track record of designing and developing youth and community projects to support vulnerable young people and offenders, Frankie then committed to using his lived experience of personal gambling dependency to set up his social enterprise. Betknowmore UK was launched in December 2013 and has developed a reputation of addressing the growing presence of gambling-related harm in UK communities with innovative and co-produced services, such as the ACT outreach support programme, the Don't Gamble with Health project which was awarded a Public Health Award and Peer Aid – the first of its kind training and volunteering service for 'Experts by Experience'. In 2021 Betknowmore UK became a charity and under Frankie's leadership has expanded to providing expert training programmes and community-based support. Frankie provides gambling support and training consultancy to organisations in different sectors, including gambling, financial and housing providers. He is a Fellow at the School for Social Entrepreneurs and RSA and also contributed to the piloting and design of a peer support programme set up by the Kings Fund. He is a trained counsellor and business mentor, with a proven track record of project design and management.
Dr Nicola Harding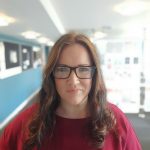 Dr Nicola Harding is a lecturer in criminology who researches the contribution of lived experiences of crime, deviance, and social control. She has a PhD in sociology that examined the experiences of criminalised women subject to community punishment and probation supervision. This research was a co-produced, feminist, participatory action research project that explored the lived experiences of criminalised women and included creative elements such as photovoice and map making. Nicola has a significant working relationship with We Fight Fraud (WFF), a unique organisation that utilises subject matter experts from police, the media, academia and criminal backgrounds to combat fraud and financial crime. With WFF, she has completed work with peer researchers, leading to the publication of two white papers that have informed government policy around fraud and financial crime. Nicola's research focus on lived experience as a form of subjugated knowledge within the discipline of criminology underpins a commitment to co-constructed research practices and narrative forms of understanding the complex lives of criminalised individuals.
Nicola Jaques
My name is Nicola Jaques. I am an 'affected other' of gambling related harms. The former wife of a gambler, with whom I share two children. I had no idea of the severity of his gambling until I discovered his addiction via a text message from a pay day loan company in late 2017. The addiction had manifested over a period of more than a decade. As with many families affected by gambling harms there were severe debts but it is the impact of legacy harms emotionally, mentally and physically on the health and wellbeing for myself and those around me that led to gain a better education and awareness of gambling addiction. It was through the daily practical challenges faced and the hours needed to work through the administration, everything from basic banking to bankruptcy, that I realised that therapy alone for an affected other was not enough. It also exposed the glaring holes that exist across all organisations even to the heart of the UK justice system, when trying to work through the aftermath of gambling harms, whilst also trying to support and care for a loved one in their time of need.
With this understanding through lived experience and minimal research into the effects on families living in the wake of legacy harms, I sought to build networks with those working towards safer gambling practices.
Within this community I found access to greater resources, professionals in the field, academic studies and more importantly priceless lessons that lived experience affords. With a professional background within media and a willingness to share my own story, I am able to communicate effectively with others affected with sensitivity and empathy, as well as professional bodies and organisations. I am dedicated to using the skills and abilities I have built in my writing to share experience but also to explore innovative ways to increase support for vulnerable families, give a platform for those voices and seek new methods of early intervention to drive down the numbers of those subject to gambling harms in the future.
Carrie Jenkins
Carrie Jenkins is a woman that has been through the wringer. After 35 years of gambling, she hit her lowest point when she was involved in financial fraud to fund her habit. She lost everything, including two years of her life when she was unable to work due to a bad car accident. However, Carrie has turned her life around and is now helping others do the same through lived experience peer support. She is living a happy life gamble free and enjoying friends and family more than ever.
Wendy Knight
My name is Wendy Knight. I am a grateful compulsive gambler. Fifth child of a black matriarch, I grew up in poverty. I under achieved at school and went on to earn my places at two universities. I became a two-time graduate in Childhood Studies (BA) and holder of a Post Graduate Diploma in Leadership and Management. I have worked at a senior level in Bradford, Leeds and Halifax Local Authority Children's Services from 1995 to 2014. I developed nine Sure Start Children's Centres across Bradford from 2004 and celebrated my success with Gordon Brown, Ed Balls and Beverley Hughes at 10 Downing Street in 2009. As such I have a wealth of experience, knowledge and skills in supporting disadvantaged children and adults.
I blew the whistle on a Headteacher who brought a gun to school in 2012 and found myself suspended in 2013 for a year where I like to think that my gambling became compulsive as I chose to escape my circumstances. I have suffered a number of gambling related harms including been dismissed from my career in 2014.
I created my business Early Knights Ltd in 2014, and 'Early Knights Productive Days' is my mantra. I have a portfolio of housing that supports vulnerable families to live better as well as those requesting "staycation" accommodation.
On the 23/06/2019 I stumbled across the threshold of a Gamblers Anonymous meeting feeling all busted and disgusted. It was here that I started my recovery from compulsive gambling.
I look forward to growing and glowing in alignment with my values, my purpose and my vision. My values are vast, but foremost are my values surrounding recovery, my value to share the experience and the joy of recovery wherein my life has changed dramatically like my day changing into a Knight. My purpose remains to level the uneven playing field called life for disadvantaged children and adults.
And…. My vision is to speak on the global stage about gambling related harms, particularly gambling related harms in relation to black women and black children's developmental outcomes.
I am being true to myself as I continue to learn, grow, share and serve
Anna Niemczewska
Anna Niemczewska is the Head of Service, Betknowmore UK. Anna led Betknowmore's Research function for two years before taking on the Head of Service role. Prior to that she gained over five years' experience as the Research and Administration Coordinator, working across a consortium of 14 charities to research, for internal professional audiences and for external academic, political and public audiences, the most effective methods for furthering these charities' missions using ICT. She leads on Betknowmore UK's safeguarding policies and processes.
Dr Liz Riley
Dr Liz Riley is the Research and Evaluation Manager at Betknowmore UK. Liz has considerable experience of conducting research on a wide range of subjects. She was a Lecturer and Researcher at UCL, where she managed and implemented research projects in a number of countries on subjects related to social policy and poverty reduction. She subsequently became a freelance researcher, undertaking projects such as diversity and equality research for a Scottish council, housing policy reviews and child protection policy research. She also has experience working in the voluntary sector with a regional drug and alcohol charity and a literacy programme for prisoners. She joined Betknowmore in January 2021 and has been conducting research into women's lived experiences of gambling support services. She has published her research in a number of peer-reviewed journals and also co-authored a book on community partnerships.
Dr Julie Trebilcock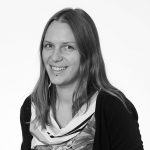 Dr Julie Trebilcock is a senior lecturer in criminology with nearly fifteen years experience of working in and conducting research in the field of forensic mental health and imprisonment. Julie's research has been primarily focused with the management of violent and sexual offenders with personality disorder. Her particular expertise is with the institutional pathways and legal authority by which high risk offenders are detained, parole board and mental health tribunal decision-making, and the staffing challenges involved with working with offenders with personality disorder. In the last five years Julie, as a co-investigator, has overseen two national evaluations of the offender personality disorder pathway (one with men, one with women). Julie has published widely in the field of mental health and offending, and has recently authored (with Dr Sam Weston) the book Mental Health and Offending: Care, Coercion and Control, which was published by Routledge in 2019. Elsewhere, Julie has been working with the Howard League for Penal Reform for more than 10 years having been successfully commissioned to undertake two pieces of research about short prison sentences, one of which was with women in prison. Julie is a current member of the Howard League's Research Advisory Group. Julie has also previously worked at the National Problem Gambling Clinic where she was heavily involved with the design of their clinical and research assessments for incoming clients. Here, Julie was able to develop an understanding of some of the critical issues surrounding 'problem' gambling and the links to other harms, including crime, personal relationships and substance use. Julie's most recent publication about the narratives students give about their pathways to studying criminology, reflects her increasing interest and experience of using narrative methods.
Join the Howard League

We are the world's oldest prison charity, bringing people together to advocate for change.

Join us and make your voice heard

Support our work

We safeguard our independence and do not accept any funding from government.

Make a donation