Advice Line
The Howard League's legal team runs a free, confidential legal service that can be accessed through our helpline.
Advice Line
The Howard League's legal team runs a free, confidential legal service that can be accessed through our helpline. The number is free to call for young people, including those in prison. Anyone can call the advice line if they think they have a problem that might have a legal answer.
Tel: 0808 801 0308
Monday and Tuesday: 9.30am to 2pm
Wednesday: Closed
Thursday and Friday: 9.30am to 12pm
You don't need to get permission from the prison to call; the number is a designated global number. If you cannot call when the lines are open, you can always leave a message: make sure that your name, prison and prison number are clearly stated.
This number is only for young people who are locked up or in the community without the means to pay to contact us. We need to keep this line as free as possible so that they are able to get through to talk to us.
If you are a professional making a referral, please call our office on our main telephone number 020 7249 7373 option 1.
Issues that we can offer initial advice on include:
Treatment and conditions
Young people who are locked up often need legal advice about treatment and their living conditions. Our legal team can offer initial advice on a number of different issues. This can include changing or challenging what happens when young people are bullied, disciplined or assaulted. The legal team can also offer initial advice with issues such as access to education, offending behaviour work, interpreters and signers, as well as release on temporary licences or escorted absences.
Health and wellbeing
We can offer initial advice where young people and children are physically or mentally ill but not getting the help they need while in custody. We can offer initial advice with ensuring young prisoners have access to the medical care they require and in the case of mentally disordered young people, we can offer initial advice with getting them transferred from secure detention to secure hospitals.
Discrimination
We work with young people and children who are unfairly treated. This may be because of their sex, race, religion or beliefs, disability, sexual orientation, age, or any protected characteristic.  We can offer initial advice to help put a stop to young prisoners being discriminated against and stop such behaviour from happening again.
Resettlement
Our legal team offers initial advice to children and young people who are locked up to ensure that their rights to accommodation and support from local authorities are enforced when they leave secure detention. We can also advise young people and children on their rights to local authority support whilst they are locked up.
Transfer
We can offer initial advice to young people and children who want to request a transfer to a different secure place. For example, young prisoners may want to move nearer to home to enable family visits, to gain access to courses that are not available, or to move away from bullying from fellow inmates. We can also advise people who are worried that they may be transferred against their will.
On some issues, we are able legally to represent our clients and in some situations we are able to get funding through the legal aid system. If we cannot help, then we will work hard to find someone who can.
Issues that we may be able to represent young people on include:
Adjudications
All children and young people are entitled to speak to a lawyer before a prison disciplinary hearing (an adjudication or "nicking") and in some situations they have the right to be represented by a lawyer at the hearing. We can advise or represent young people and children before and during external adjudication hearings (where appropriate). We can also assist with appeals against findings of guilt at adjudication hearings in certain circumstances.
Criminal appeals
A young person or child who has been sentenced to detention is entitled to a written advice from their solicitor explaining whether or not there are grounds to appeal. If a young person's criminal solicitor has not advised them, we may be able to help. We represent young people and children in the Court of Appeal and in applications to the Criminal Cases Review Commission (where people have already unsuccessfully appealed to the Court of the Appeal).
Early release
Young people and children in secure detention can be released early into the community in a number of circumstances. We can provide help where young people are not sure when they can be released or where they want to challenge a decision not to grant early release.
Parole and recall
Anyone going before the Parole Board is entitled to legal representation. Our legal team has developed expertise in this complex area of law and routinely represents young people and children going through the parole process. As a result of this work, the Parole Board has a policy of allowing young people under 18 to have oral hearings.
Issues raised in calls to the advice line
Many calls raise multiple issues; this chart shows the most common issues that lead people to contact us.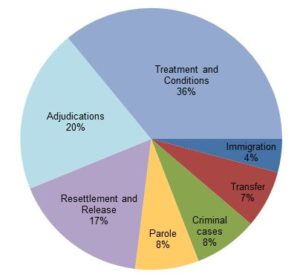 Join us

Add your voice to our movement for change. Every voice counts and we hope that you will add yours.

Join us today

Support our work

Everything we do is focused on achieving less crime, safer communities, fewer people in prison. We need you to act now for penal reform.

Ways to support